Yamaha RX-V465 5.1 Home Theater Receiver Preview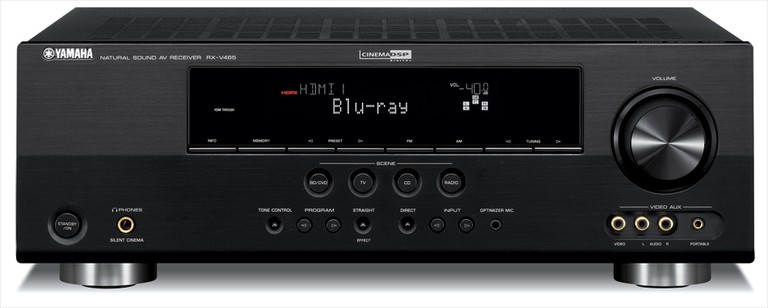 Yamaha RX-V465 5.1 Receiver
Summary
105 watts x 5 into 8 ohms (1 kHz)

Dolby TrueHD, DTS-HD Master Audio, Dolby Digital, Pro Logic IIx decoding

HDMI repeater (4 in / 1 out)

iPod integration (requires optional Yamaha YDS-11 or YBA-10)

Compressed music enhancer for MP3s
2 component video inputs
YPAO speaker calibration and room optimizer

4 optical audio inputs (2 TOSlink, 1 coax)


Surround speaker preamp outputs

Night Listening Enhancer

Digital ToP-ART design

192kHz/24-bit DACs

Silent Cinema

17-1/8"W x 6"H x 14-3/8"D

Weight: 18.5 lbs (23 lbs shipped)

Warranty: 2 years
Executive Overview
This past year we reached a place where almost anyone can enjoy surround sound. There are two paths to home theater nirvana - or at least the start if it: a home theater-in-a-box system, or building a 5.1 system from quality entry level components. Yamaha's RX-V465, with its typical selling price of just $299.95 makes it one of the least expensive ways to get into an HDMI-equipped AV receiver. The receiver has four HDMI inputs, each of which are capable of reading and decoding the new high resolution audio formats. This provides a great way to feed four components into a newer HDMI-equipped HD television. Because these 1080p-compatible HDMI inputs decode the latest HD audio formats, you can all but say goodbye to optical or multi-channel 5.1 analogue audio sources.
While entry-level products come in at very attractive price points, there are several downsides. For one, there is no video upconversion to be found on this product. This means that if you connect composite video, you'll only get the results from the composite video output. Same goes for component video and HDMI. There are also no S-video inputs on the back of the receiver - but since we absolutely hate S-video (as far as the connector is concerned) we'll call this a bonus feature. Hopefully your sources, by now, are almost exclusively either HDMI or component video (red, green, and blue, for those of you who pay more attention to colors than the official nomenclature). There are two decent quality 5-way plastic speaker binding posts on the rear of the receiver, but all other speaker connections for center and surround speakers are of the plastic spring-clip variety. These are excellent for 18 gauge and higher (smaller) wiring, but work miserably for thicker cables and anything that is pre-terminated. There are no Speaker B connections on this receiver - odd since they are included on the lesser-priced Yamaha RX-V365 receiver.
The RX-V465 has plenty of inputs and iPod functionality - thanks to a multi-pin docking interface that works with the optional YDS-11 or YBA-10 iPod/iPhone docks. Four S/PDIF inputs (two coax and two optical) ensure ample connectivity for legacy DVD players, cable set top boxes and a gaming system, but you are really in for a treat should you make use of the 4 HDMI inputs. As for analogue multi-channel audio sources - you're out of luck, since the RX-V465 doesn't support any 5.1 analogue multi-channel inputs. The bump ups in Yamaha aren't all that straightforward, however. For example, jumping from an RX-V365 to an RX-V465 picks up HDMI audio, but loses one component video input, B speaker assignment, and as we mentioned, the multi-channel analogue inputs.
The RX-V465, along with all of Yamaha's other AV receivers, features their new Compressed Music Enhancer which adds back in the missing "air" or high frequency information to MP3 and other compressed music sources. Yamaha's Cinema DSP audio processing is firmly planted on this product, giving users the ability to customize the sound field to Rock, Jazz, or German Bathroom (OK, that last one is a running joke). Silent Cinema technology is also included and essentially makes it possible to hear large-scale surround sound through standard headphones. This is really ideal for late-night home theater listening when the rest of the family is asleep. This receiver also adds YPAO, for automatic loudspeaker setup and equalization with the included microphone. You can also preamp out the surround speakers, which we find incredibly helpful for those looking to add a generic wireless surround speaker system to their setup. Yamaha's new line of receivers have switched from the traditional amber LCD front display color to blue. This is a big change which makes Yamaha's receivers look like, well, just about everyone else's.
If you are looking for a great budget HDMI-centric product you should heartily consider this receiver from Yamaha. It has the basics and offers some bonuses as well - all for under $300.

Unless otherwise indicated, this is a preview article for the featured product. A formal review may or may not follow in the future.
Confused about what AV Gear to buy or how to set it up? Join our Exclusive Audioholics E-Book Membership Program!