Yamaha RX-V2600 Remote Control and System Setup
Yamaha RX-V2600 Remote Control and System Setup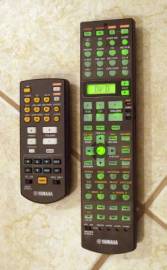 Yamaha is still making subtle improvements to its remote controls (yes, plural). This latest model shares most of the traits of the prior model except that they have finally backlit the entire remote and eliminated the lime green on-button labels that were impossible to read in the dark. In addition they have added in a rather comprehensive daughter remote for Zone 2/3 use. All you need to use it are standard IR signal receivers placed in Zones 2 and 3 and an emitter or hardwired emitter cable for sending the resulting signals back to the Yamaha. Yamaha's remote control concepts are simple: include affordable and practical remote products, but allow room for custom installers to bring in third party solutions as well. If Yamaha and these others included top-performing universal RF remotes on their mid-fi products, prices would go up and the ability of the custom installer to integrate their own solutions would be diminished. We're pretty fine with the status quo.
Zone 2/3 Video Monitor Out

Not only can you route analogue input sources to both Zones 2 and 3, but now you can also output analogue video as well. While this is limited to those signals input via the composite video inputs, Zone 2 can be used, for example to power a child's play room where a DVD player in the main room can be sent to entertain the young ones. You can even pipe out unused Presence amplifiers to drive speakers in the Second Zone. We like multi-zone receivers, and to see these kinds of features making their way into such mid-level products makes for great progress and flexibility for custom installers.
Time Base Correction

The RX-V2600 doesn't just provide archaic conversion of composite and s-video sources to high definition output. It also gives you a TBC, or time base correction circuit. A TBC is an electronic processing device intended for use with a VCR that removes or corrects the jitter generated by the expected mechanical inaccuracies in these types of recorders (helical scan). The TBC does this by automatically delaying the video signal in order to synchronize each line to the same (and correct) starting point. What this means to you: Say "bye bye" to flickering VHS tapes and "hello" to the ability to truly upconvert those tapes to 720p or 1080i output.
System Setup: Manual

The receiver itself is rather hefty, weighing in at over 38 pounds. There is a wealth of information available on the front panel, including volume, audio decoding/DSP mode, input, active speaker channels, mute status, and active HDMI input. We found the display to be very helpful, but also incredibly difficult to read from more than a few feet away.
We're not going to go through the entire setup, since that is covered in our reviews of the RX-V2500 receiver . What we will do is show you our default configuration so you can be aware of our setup for the multi-channel (movie) listening tests and subsequent comments regarding the system's performance. The system is very easy to configure manually, though we found our fair share of quirks, like having to engage the test tones before continuing to the speaker menu to set the levels. This should really be automatic as I know of no one who would seriously consider setting calibration levels by ear (sans tone). That's what on-the-fly speaker level trims are for (which, unfortunately, the Yamaha doesn't provide).
Speaker

Size

Level

Distance

Front L

Small

0.0

10.0

Front R

-1.0

10.0

Center

Small

-4.5

9.5

Surround L

Small

-1.5

9.0

Surround R

-3.0

9.0

Presence L

Yes

-3.0

13.5

Presence R

-4.0

13.5

Subwoofer

- -

0.0

9.5
Surround Back: None

Crossover frequency: 80Hz

Bass out: SWFR

Subwoofer Phase: Normal
Note: All analogue inputs bypass bass management but allow subwoofer output until you select Straight mode which engages DSP and allows bass management for all analogue inputs.
One thing that really took away from the listening experience was the absence of on-the-fly level trims. In order to change the level of a channel you have to bring up the GUI and engage several remote control functions to get to the place needed to make changes. You can also use the System Memory settings to store LFE level, YPAO, DSP or speaker settings - which is helpful - but only two of these Memory settings can be instantly recalled from the remote.
System Setup: Automatic

We ran the YPAO automatic setup to again gauge how well it performed in comparison to my manual configuration. In prior models, the Yamaha YPAO system did not configure the crossover frequency or loudspeaker sizes to our preference whereby any speaker that does not have full range (20Hz to 20kHz) response would be set to 'Small'.
The YPAO system is capable of configuring and verifying the following parameters:
Wiring
Distance
Size
Equalizing
Level
We found it to be excellent for those without SPL meters and who would like an automatic room setup system that handles configuration of your receiver for use with your room and loudspeaker. For a more detailed explanation and blow-by-blow examination of YPAO please read our review of the Yamaha RX-V2500 receiver.
Here is the comparison of the results I achieved manually compared to the Auto Setup system:
Manual Setup

Speaker

Size

Level

Distance

Front L

Small

0.0

10.0

Front R

-1.0

10.0

Center

Small

-4.5

9.5

Surround L

Small

-1.5

9.0

Surround R

-3.0

9.0

Presence L

Yes

-3.0

13.5

Presence R

-4.0

13.5

Subwoofer

- -

0.0

9.5

 

Surround Back: None
Crossover frequency: 80Hz
Bass out: SWFR
Subwoofer Phase: Normal

Auto Setup

Speaker

Size

Level

Distance

Front L

Large

+2.0

10.0

Front R

+3.0

10.0

Center

Small

-2.0

10.0

Surround L

Large

+1.5

9.0

Surround R

+1.0

9.0

Presence L

Yes

0.0

13.5

Presence R

-2.5

13.5

Subwoofer

- -

-1.5

11.0

Surround Back: None
Crossover frequency: 90Hz
Bass out: SWFR
Subwoofer Phase: Normal
YPAO took exactly 1 minute and 40 seconds to configure the receiver. Notably, the Auto Setup was pretty accurate in terms of distance to my manually configured settings. I could attribute the differences to rounding or specific mic placement versus my measurements to my ears. The Yamaha YPAO system still does not EQ below 62.5Hz and as such tends to render speakers that play down to 60Hz as Large. This is a problem as it means that full range signal could potentially go to speakers that are not equipped to handle it, causing distortion and unnecessarily using additional power from the receiver. In addition, since the frequency information is being sent to a speaker that cannot reproduce it, instead of being routed to the subwoofer - this information is essentially lost - gone forever and not reproduced in the listening environment.
While I won't go into a full rehash of YPAO, I did A-B the results in several of the modes (particularly 'Flat' and 'Front') to hear if or how the system had progressed since I last heard it. A-B comparisons are difficult, since the parametric EQ does a fair amount of boosting - and as we all know, louder tends to sound better. I was able to discern, however that the YPAO adjustments in both modes that I tested seemed to take the center channel content and brighten it up, but at the cost of also causing it to sound chesty and artificial. Live recordings sounded a bit more like they were coming through a PA system and lost a bit of their intimacy. Does this rule out the use of YPAO? Certainly not. However, your mileage will vary and you may even want to go in manually and back down some of the aggressive frequency gains made by the system. In general we have found that the better the loudspeaker is, the less your system will benefit from EQing.
Confused about what AV Gear to buy or how to set it up? Join our Exclusive Audioholics E-Book Membership Program!