Sony STR-DA7100ES Technology
Sony STR-DA7100ES Technology
For a time, Sony had actually led the industry with the introduction of the STR-DAX000 series receivers. However, it appeared there wasn't a ton of market penetration at that time, though the excitement was certainly there. Perhaps, Sony was slightly more than 15 minutes ahead of their time.
With HDMI and Firewire support, the STR-DA7100ES is certainly on par with the industry's shift towards receivers that truly function as the A/V hub within a multi-zone home theater system. The Sony has 2 HDMI inputs and a single output, allowing users to connect a couple of the newer source devices which sport this high definition-capable output. The future should be fun as manufacturers strive to find middle ground in an industry increasingly going digital. As more and more HDMI inputs are expected, something has got to give (we hope it is the composite inputs). Just as you can buy outboard HDMI/DVI switchers (such as the PureLink HDS-41R I'd like to see a product development migration where we see more included digital inputs and legacy users look to analogue outboard switchers.
Why do I even bring this up? Because the rear of the Sony is "jam-packed and jelly tight" with inputs - most of which I'll never use. Let's take a more in-depth peek at what makes this receiver stand apart in a crowd.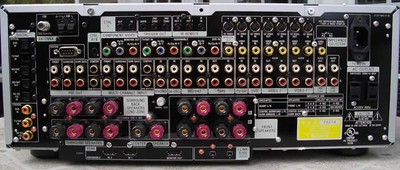 Notables: Only 2 component video inputs, separate amps for surround back speakers, i.Link (IEEE 1394) connections, 5 optical and 3 coax S/PDIF inputs, Surround Back speaker amps re-assignable to Zone 2, IR input and repeater jacks, premium (but still plastic) binding posts, gold plated connections, and support for plenty of DC triggers. The HDMI inputs and output and i.Link connections were awkwardly located below the 5-way binding posts.
Manufacturer's Note: Sony's Take on Their New "anti-resonance" Binding Posts
The engineers of Sony's ES Series try to look at everything that influences the sound quality, however subtle. Their examinations have prompted us to reconstitute the chemical composition of the speaker terminal lugs. We discovered that a resin with reduced fillers and pigments helps suppress resonance, especially when the audio program gets loud. You can actually see the result of this effort on the back panel, where the speaker terminals no longer have their customary bright red and deep black pigment!
Binding post resonance? Hmm, maybe Sony could schedule some of their engineering time working on adding a "revolutionary" new keypad to their remote control. :-)
Confused about what AV Gear to buy or how to set it up? Join our Exclusive Audioholics E-Book Membership Program!