Marantz NR1608 and NR1508 Slimline Network AV Receivers Preview

Summary
NR1608
7-channel discrete power amplifier, 50 W per channel at 8 ohms, 20 Hz~20 kHz, 0.08% THD
4K/60 Hz full-rate pass-through, 4:4:4 color resolution, HDR and BT.2020, plus Dolby Vision compatibility and Hybrid Log Gamma (HLG; via future firmware update)
8 HDMI inputs (incl. 1 front) with full HDCP 2.2 support

Analogue to HDMI conversion and SD/HD to 4K Upscaling for legacy video sources

Full HD and even Ultra HD video quality from existing DVDs or analogue sources

Dolby Atmos (up to 5.1.2) and DTS:X

Built-in Wi-Fi with 2.4GHz/5GHz dual band support
HEOS wireless multi-room integration

Combine with other HEOS speakers/devices all controlled by HEOS app



DSD (2.8/5.6MHz), FLAC, ALAC and WAV support

High Resolution audio streaming for Hi-Fi enthusiasts

Audyssey MultEQ, Dynamic Volume and Dynamic EQ

Audyssey MultEQ Editor app support (available for $ 20 US in the Appstores)

Professional fine-tuning of equalization parameters
Color-coded speaker terminals, Setup Assistant, Advanced GUI, Marantz 2016 AVR Remote App

ISF video calibration
Zone2 Audio support

Dimensions w/o Antenna: (W x D x H) in inches 17.3 x 14.8 x 4.1

Weight in lbs 18.3
NR1508
Same features as NR1608 except:
5-channel discrete power amplifier, 50 W per channel at 8 ohms, 20 Hz~20 kHz, 0.08% THD
6 HDMI inputs (incl. 1 front)
Dolby True HD and DTS-HD decoding
n/a is Dolby Atmos or DTS:X
n/a ISF video calibration
n/a Analogue to HDMI conversion and SD/HD to 4K Upscaling
n/a Remote Out, RS-232C Port
n/a Audyssey MultEQ Editor App support
Maximum Dimensions w/o Antenna:(W x D x H) in inches 17.3 x 14.8 x 4.1

Weight in lbs. 17.9

Executive Overview
At every trade show or release event A/V receivers always have key tag words to entice consumers to trade up to the newest technology. Whether it was 3D video technology a few years ago, or more recently Dolby Atmos or DTS:X; according to the receiver manufacturers and most of the AV press, if you didn't have it you might as well be listening to your music through cups and string. This year's buzz word is 4K Ultra High Definition video upscaling, Dolby Vision, and Hybrid Log Gamma.
Recently audio company Marantz released their newest slimline network AV receivers, the NR1608 and NR1508. Both receivers have many of the key features that audiophiles are looking for in a mid-priced AV receiver, but with its small stature and ability to fit into tight spaces, you have less to look at. Marantz started their slimline trend of receivers with its NR1501: a full-function receiver in a slimline package designed to fill the room with sound, not massive home theater electronics. Check out our full review of the Marantz NR1501 to see how they have upgraded their technology since then.
Both new receivers have the slimline form factor including compatibility with the newest 4K ultra high definition video content, including Dolby Vision and Hybrid Log Gamma. Both models also have a wide range of facilities to enable your favorite music to be shared and enjoyed including network streaming, Bluetooth and Airplay for playback from portable devices. For wireless multiroom audio, Marantz products are integrated into the HEOS wireless multi-room system.
Marantz NR1608  ($749)



"The NR1608 is the complete home entertainment solution made slim and stylish: Marantz has reduced the size, not the performance."
The NR1608 is Marantz' latest generation of the slimline concept, and it has all the buzzwords for an immersive home theater experience – all in a unit standing just 4.1 in. tall.  Whether it's high-definition for sound or vision the NR1608 has the processing features needed. Not only is it compatible with the full range of variations on 4K Ultra High Definition video, from 4K-60Hz video to HDR as well as Dolby Vision compatibility and Hybrid Log Gamma (HLG; via future firmware update)  it also has 4K Ultra upscaling, which makes it possible to upscale your old video sources such as DVD to 4K.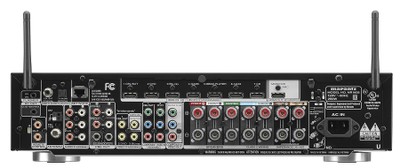 On the audio side, the NR1608 has decoders for both Dolby Atmos and DTS:X 3D surround sound, and seven channels of amplification. The NR1608 features eight HDMI inputs for a full array of high-definition sources to be connected and can be setup in a 5.1.2-channel configuration at 7x50W (8 ohms, 20 Hz~20 kHz, 0.08% THD).  There are dual subwoofer outputs and preouts for the main front channels if you decide to supplement it's power through external amplification.
The NR1608 has the ability to create immersive surround fields from older soundtracks using Dolby Surround and Neural:X processing, and  is of course compatible with Dolby TrueHD and DTS-HD soundtracks for conventional 5.1- or 7.1-channel surround.
For audio calibration the NR1608 comes with Audyssey MultEQ. The Audyssey MultEQ software simplifies set-up and calibration, while the optional Audyssey MultEQ Editor App can be used to further refine the set-up or tune it to suit personal tastes. In addition, Audyssey Dynamic EQ helps to retain clarity and impact even when the system is playing at low levels. The Dynamic Volume feature levels out annoying jumps between television programming and commercials.

The NR1608 can stream music from local network storage or the Internet, using either wired or Wi-Fi to connect to a home network as well as TuneIn Internet Radio and services including Pandora, Spotify, Amazon Prime Music, iHeart Radio, Sirius XM, Sound Cloud, Tidal, Napster, and Deezer.  It can also stream music from a computer or NAS drive at up to 192kHz/24bit and DSD5.6MHz, and of course MP3. Users can even play hi-res music from USB storage, using a convenient front-panel port, or stream music direct from a smartphone or tablet via Bluetooth or Airplay.

The NR1608 has a simple on-screen Setup Assistant to get started, color-coded speaker terminals so users don't get channels crossed up, and an Intelligent ECO mode designed to minimize power consumption without getting in the way of entertainment. Switch it to auto to save power, or turn it off to maximize a favorite blockbuster movie or music. Certified by the Imaging Science Foundation, the NR1608 also features a full suite of video calibration controls for detailed setup by an ISF technician, along with ISF Day/Night video modes.
With all these video and audio features packed into a slim 4 inch high unit, the Marantz NR1608 has all the keywords for a great receiver, we're just hoping it sounds as good in reality as it sounds on paper.
NR1508:  ($549)
The NR1508 is a simpler receiver, designed for those who don't want all the features of the NR1608.  It has a 5.2-channel design, with five discrete 50W channels (8 ohms, 20 Hz~20 kHz, 0.08% THD), it's compatible with all the same 4K ultra video formats on its six HDMI inputs, and has decoding for Dolby True HD and DTS-HD for conventional surround setups. It does NOT have coding for Dolby Atmos or DTS:X and can NOT upconvert video to 4K video. The same Audyssey MultEQ set-up and functionality is featured, and the NR1508 can also be controlled using the Marantz 2016 AVR app.
Which One Should I Get?
Both the NR1508 and NR1608 have the features and technology that Marantz is known for, but if you're looking to upgrade your receiver it would be well worth the $200 to go with the NR1608. For $749 the NR1608 is a competitive A/V receiver with all the bells and whistles including Atmos, DTS:X, and video features like Dolby Vision and HLG, and Zone 2 audio, whereas the NR1508 only has the upgraded video features. The ability to add more power for your front channels for both models is an invaluable feature for those with more power hungry speakers or higher listening requirements. Both of these receivers would serve well as an modest but sophisticated compact theater.  But, if you want to dip your toes into immersive surround sound, than the NR1608 is the way to go.

Unless otherwise indicated, this is a preview article for the featured product. A formal review may or may not follow in the future.