Harman Kardon AVR 130 Full Review
Harman Kardon AVR 130 Full Review
Connections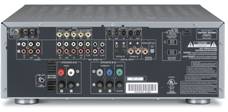 The AVR-130 hooked up quickly and easily thanks in part to the aforementioned easy set up guide and convenient color-coded input and speaker connectors. The speaker wire terminals took a penlight and a steady hand to connect, but once in, the 5-way binding posts locked down tight. With a nice amount of inputs, the AVR-130 is powerful enough to become a very affordable hub of an entertainment center. On top of the standard array of RCA ins and outs, the receiver has both three (3) optical and three (3) coaxial inputs for your digital sources as well as single respective outputs for both. While the unit does not have "on-screen" menus, it can still handle composite and s-video signal routing with three ins and outs of each. With that amount of digital inputs, this unit comes well equipped to handle some future upgrades. It may be also important to mention that the unit does have a very handy array of the same inputs on the front (optical, coaxial, s-video and RCA) for those of you guys with portable devices such as MiniDV cameras or video game systems. If you plan on connecting component video sources to your theater system, you'll want to do so directly as the AVR 130 does not support component video switching.
The receiver is eclectic, if not sleek looking in its black and silver chassis. While I can't say it fits my style 100%, it does guarantee it will match up with any of your components. Speaking for myself, this is nice as I don't think I have any two pieces of gear that match. Aesthetically speaking, the AVR-130 pulls them all together. Far be it from me to be swayed by fancy LED's and lights, but the electric blue ring on the inside of the donut shaped volume control looked great!
Setup and Configuration

Once all my cables were run and my speakers placed in the most optimum positions my room would allow, speaker setup was a snap. The AVR-130 does not feature an on-screen setup, but fear not as Harman Kardon has made the task simple (if not a little educational.) The lack of onscreen display forced me to sit a little closer and may require the user to adjust these setting by hand in front of the receiver as opposed to using the remote. I did both with little trouble, but some folks may have a hard time seeing the receivers LED display from across the room. Fear not though, as the LED menus are very easy and intuitive to navigate. The AVR-130, via a graphical display on the front of the device walked me through my entire 5.1 speaker layout and let me tell the machine what type of speakers I had and where they were located. I chose whether I had full range speakers (LARGE) or smaller satellite style speakers with limited bass frequency capacity (SMALL). This ultimately helped dictate to the receiver what range of low frequency signals it sent to my speakers VS my subwoofer. With that said, the AVR-130 utilizes great bass management technology, a triple crossover. In most units in this price range, the crossover is global, however, with Harman/Kardon's triple crossover, you can select different crossover points for the main speakers, the center channel, and surrounds. While there are some complications to this style of crossover flexibility, it is a handy feature for those systems with mixed speakers. If you are the type who likes to plug things in and just go, the device defaults to a crossover of 100 Hz, sending all frequencies below this to the sub. Should you want to take full advantage of your unit, I'd recommend setting the crossovers no more than 20hz apart from one another. In the experience of those here at Audioholics.com, this rule of thumb tends to ensure optimum bass blending with the sub. Of course, with a toy like this, it is well worth your time to take a few moments and set it up properly.
The next step involved setting the level and delay adjustment for the speakers. The manual did a nice job of explaining the importance of this often skipped step. The front panel display walked me through the process. Seated in my favorite listening spot in the room and armed with the AVR-130's remote, it took mere minutes to do this step. The AVR-130 spit out white noise from each of the speakers while highlighting which speaker I should be hearing on the front panel (this is a good time to verify that your speakers are plugged into the correct terminals). I just used my ears to get the most optimum balance I could. The channel trims allowed for adjustments in single db increments which in my situation proved to be sensitive and fine enough. You can use an SPL meter for precise adjustments, just make sure you set your meter for 75db C-Weighting with a Slow response time. Setting the delay times was simple as well. In all honesty, the size of my rooms have never really demanded I adjust delay times (delay is established to compensate for the time it takes the front speaker audio to hit your ears VS the time it takes for the rear speaker audio to hit your ears), however in larger rooms, the need to do so is very real and will enhance the listening experience. The AVR-130 allowed me to enter a user defined measurement in footage of distance to front, rear and surround speakers. I entered my measurements and the receiver did all the work for me: figuring and storing proper delay times. Keep your calculator in its drawer! Again, I will mention the device's default setting of 10 ft, but still recommend taking the time to go through with the proper steps.
Listening Modes and Musical Goodness
When it comes down to actually enjoying the unit's performance, you may be a little overwhelmed with your choice of surround modes. The manual has a great explanation of all the surround modes and their specific speaker utilization. Taking a moment to familiarize yourself with these and even to experiment with your favorite CD, DVD or TV show as it flows through the speakers is a great idea. Too many people spend too much money on units that they never take the time to truly understand or enjoy-if you take the time to familiarize yourself with the surround modes of this device, it is a guarantee your listening experience will be a much better one. The device features eight (8) surround modes as well as several variations on each. Among others, the workhouse Dolby Digital and DTS are both available, as well as Dolby Pro-Logic II for those of you who still enjoy the analog matrixed surround of your VHS library (I still do!) or listen to a lot of surround-encoded television. It also comes with Harman/Kardon's exclusive Logic 7 and VMAx modes. Both of these modes provide a digital enhancement to the traditional analog surround and stereo formats, making them bigger and crisper, and more specifically creating pseudo surround through stereo speakers or stereo headsets. While I've never been a fan of in-receiver DSP processing (adding reverb and delay to give the listener the sensation of being in a theater or stadium), I have found that a fun way to utilize it is when watching sporting events or live music events with lots of friends over. The sound replication is not necessarily accurate, but in a room full of rowdy guests, it's a fun way to liven up the listening experience.
Harman/Kardon has also included a nice feature which allows for the obvious stereo input of a specific device, but subsequently will let you bypass all digital DSP processing, keeping a strictly analog signal flow. Kind of like an "all-safe" for those who just want to hear exactly what is on their CD or cassette tape in stereo and out of two speakers! I'd like to see Harman/Kardon take this one step further and offer phonograph inputs on the device to truly take advantage of this "Stereo Direct" mode. Along these same lines, the unit also has several other surround and stereo modes to accommodate specific listening environments and specific formats, most specifically DSP created pseudo surround through stereo speakers or stereo headsets.
I spent the next few days listening to and enjoying the Harman Kardon AVR-130. The sound quality and features truly belong at a price point well above this unit. I even made an effort to walk through many of the setups once again. As with the first time, the second time was just as easy. The included remote control is sleek and smaller in design than most. A minor side note about the remote though, it tries to pack a lot of punch in a small package, and in doing so has forgone a back light. Without glowing keys, it could be a little tricky in a pitch black room. Aside from that, it is a programmable device and has the ability to control your other components effectively.
Conclusion
Harman Kardon has delivered in a big way with a small price tag. Someone who is familiar with higher end specs and performance will not be let down by it's features; but more importantly, the person looking for a great centerpiece for his first home theater has found a powerful, un-intimidating, user friendly and killer sounding receiver that can get him started and allow him to grow in the future.
The Score Card
The scoring below is based on each piece of equipment doing the duty it is designed for. The numbers are weighed heavily with respect to the individual cost of each unit, thus giving a rating roughly equal to:
Performance × Price Factor/Value = Rating
Audioholics.com note: The ratings indicated below are based on subjective listening and objective testing of the product in question. The rating scale is based on performance/value ratio. If you notice better performing products in future reviews that have lower numbers in certain areas, be aware that the value factor is most likely the culprit. Other Audioholics reviewers may rate products solely based on performance, and each reviewer has his/her own system for ratings.
Audioholics Rating Scale
— Excellent
— Very Good
— Good
— Fair
— Poor
| Metric | Rating |
| --- | --- |
| Multi-channel Audio Performance | |
| Two-channel Audio Performance | |
| Build Quality | |
| Ergonomics & Usability | |
| Ease of Setup | |
| Features | |
| Remote Control | |
| Performance | |
| Value | |
Confused about what AV Gear to buy or how to set it up? Join our Exclusive Audioholics E-Book Membership Program!