harman/kardon AVR 700 & AVR 1700 A/V Receiver Preview
harman/kardon AVR 1700
Summary
harman/kardon AVR 700
5.1-channel surround sound receiver
75 watts per channel (two channels driven @ 6 ohms, 20-20kHz, <0.1% THD)
100 watts per channel (two channels driven @ 6 ohms, 1kHz, <1.0% THD)
Three HDMI inputs with 3D, Deep Color, and Audio Return Channel
Dolby TrueHD and DTS-HD Master Audio decoding
USB port for MP3/WMA music-file playback and system upgrades
Night mode
IR remote control
Dot-matrix front-panel display
harman/kardon AVR 1700
5.1-channel surround sound receiver
100 watts per channel (two channels driven @ 6/8 ohms, 1kHz, <0.1% THD)
95 watts per channel (two channels driven @ 8 ohms, 20-20kHz, <0.07% THD)
Eco-friendly digital power supply design
Six HDMI inputs with 3D, Deep Color, and Audio Return Channel
Dolby TrueHD and DTS-HD Master Audio decoding
USB port for MP3/WMA music-file playback, i-OS docking, and system upgrades
EzSet/EQ calibration
DLNA 1.5 certified network connectivity
HARMAN Music Manager and HK remote control app
AirPlay
vTuner Internet radio
RS-232 and 12V connections
Night mode
IR remote control
Dot-matrix front-panel display
Executive Overview
Updating the budget end of their product line, the long established harman/kardon brand has announced two additions to its audio-video receiver offerings, the AVR 700 and the AVR 1700.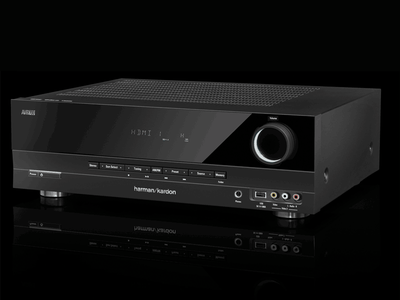 harman/kardon AVR 700 Frontpanel View
The AVR 700 and AVR 1700 receivers are both 5.1 channel configurations that support HDMI 1.4a including 3D video, Deep Color, and an audio return channel with the requisite DTS-MA and Dolby TrueHD decoding, along with the other standard Dolby and DTS modes and a number of homegrown processing modes.  Other similarities between the models include five-way binding post speaker connections, a two-prong detachable IEC power cord, and a front USB port with playback of MP3 and Windows Media audio files.
After that, the similarities end, and in many ways, the two models are different beasts. The AVR 700 & 1700 diverge from common product line schemes where slightly more of everything, in the way of features and performance, is offered at a higher price as the model number increases.  In addition to the AVR 700 and AVR 1700 featuring different amplifier power supply designs, they have a different focus on connectivity.
The physically larger AVR 1700, rated at 100 watts per channel, weighs in at 12.8 pounds, which is significantly less than the AVR 700, rated for 75 watts per channel, at 20 pounds.  Harman ascribes the difference to the use of a custom designed switching power supply in the AVR 1700 and bills this as eco-friendly due to higher efficiency, while the AVR 700 uses a traditional linear amplifier power supply design.  It is worth noting that switching power supplies, while more efficient, often involve compromises that are typically considered undesirable in audio applications when cost is a limiting factor.  Perhaps Harman has managed to overcome or minimized some of these shortcomings with a clever bit of engineering, but without independent testing and careful comparison listening, one cannot say if such is the case just based on marketing materials.
Harman has traditionally been considered conservative with wattage ratings, but we did notice that some of the published specifications leave us with questions.  The wattage ratings that are provided for both models are based on only two channels driven and not at the more common 8 ohms, but rather at 6 ohms for the 700 and an ambiguously labeled 6/8 ohms for the 1700, giving the appearance of higher output to the unaware.  One possible interpretation of the impedance ambiguity is that amplifier of the 1700 does not play nicely with lower impedance loads and is rated at the very edge of its capability.  This is supported by also considering the second measurement, which is clearly labeled as 8 ohms, but shows that an increase of just five more watts, from 95 to 100, increases the THD by two orders of magnitude.  The AVR 700, on the other hand, does not seem as highly stressed and can push out 25 more watts for only a single order of magnitude increase of THD.
We also noticed that the specifications also flip back and forth between FTC ratings at 1 kHz and wide band output over 20 - 20 kHz.  There is also some ambiguity in how the ratings are labeled, particularly on the AVR 1700, where power is cited under headings of stereo and multi-channel, but both numbers are then specified for two channels driven and not all channels.
Aside from wattage differences, the two models are focused on different methods of connectivity.  The AVR 700 features a greater number of traditional analog connections, for both video and audio, while the AVR 1700 forgoes some analog connections to focus on network connectivity and interoperability.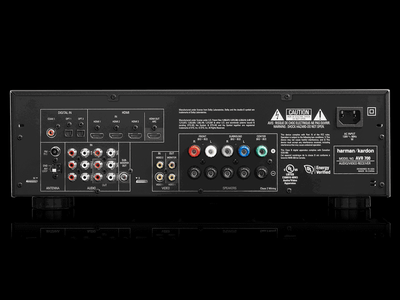 harman/kardon AVR 700 backpanel
AVR 700 Connectivity
HDMI: Three in and one out, rear
 Digital Audio: One coaxial and two optical in, rear
Analog Audio: Four stereo in and two out, rear, and one stereo in, front
Analog Video:  Two composite in and two out, rear, one composite in, front
USB: One port, front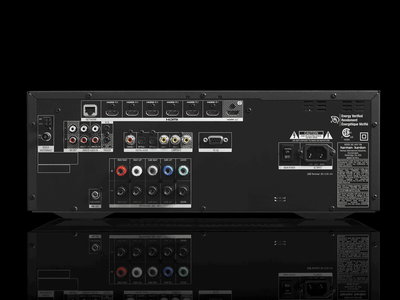 harman/kardon AVR 1700 backpanel
AVR 1700 Connectivity
HDMI: Six in and one out, rear
Digital Audio: One coaxial and two optical in, rear
Analog Audio: Two stereo in and one out, rear, and one stereo in, front
Analog Video:  Two in and one out, rear
USB: One port, front
Network: One RJ-45 Ethernet port, rear  
The most significant differences between the two models appear on the AVR 1700 with the Ethernet port and network related functionality.  When connected to a network, the AVR 1700 supports DLNA 1.5 and AirPlay as well as vTuner Internet radio.  Additionally, the front USB port supports iOS device docking, the AVR 1700 can be remotely controlled using Android and iOS devices by downloading HK remote control app, and Harman also provides a music manager app for the receiver.  Other feature differences found on the AVR 1700 include EzSet/EQ setup/calibration, RS-232 and 12V trigger connections, and a learning remote control for up to five other devices with an extensive list of compatible device codes included in the users manual.
So, there you have it, two new entry level models in the harman/kardon receiver line up and despite the apparent sequential numbering scheme, two different focuses on function sets.  The AVR 700 clearly seems rooted in a more traditional A/V setting while the AVR 1700 seams geared towards accommodating evolving entertainment options, both with limited overlap to allow for the most functionality while still meeting a budget price point.

Unless otherwise indicated, this is a preview article for the featured product. A formal review may or may not follow in the future.