NAD T-785 A/V Receiver Preview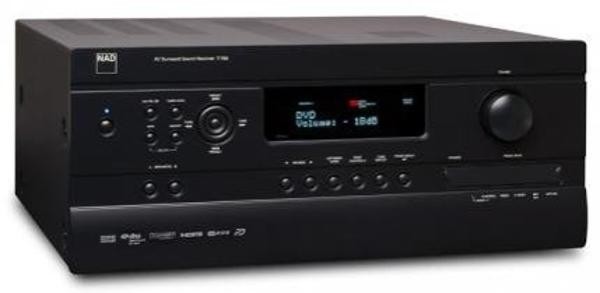 Summary
7 x 120W Simultaneous Full Disclosure Power
7 x 200W Minimum Continuous Power (FTC)
PowerDrive amplifier technology
Twin Holmgren Toroidal Power Supplies
Modular construction for simple upgrade and service
Audyssey Auto Setup and Calibration of all speaker settings using supplied microphone
Audyssey MultEQ XT Room Correction with custom NAD developed target response curves
Data Port for use with optional NAD IPD-1 Dock for iPod
Dolby Digital, Dolby Digital EX, ProLogic II, ProLogic IIx, DTS, DTS ES, DTS 24/96, DTS NEO:6, EARS and Stereo Enhanced Surround Modes
5 A/V Custom Presets store unique listening modes, DSP options, tone, speaker and display settings
Direct speaker level adjustment for surround, centre and sub
NAD Soft Clipping
Burr-Brown 24 bit 96kHz A/D converter
Burr-Brown 24 bit 192kHz Stereo D/A converters (x5)
Texas Instruments Aureus 7.1 high speed DSP (32 bit dual core floating point design)
4 v1.3 1080p HDMI Digital Audio/Video Inputs
HDMI 1080p bandwidth with full On-Screen Display (OSD)
Cross Conversion of all analogue video formats
Analogue video to HDMI Conversion
7 Analogue Stereo Audio Inputs (1 front panel)
Media Player MP front panel input
6 Analogue Video Inputs, all S-Video and Composite (1 front panel), 3 Component Video
7 Digital Audio Inputs, 3 Coax and 4 Optical (1 front panel)
3 Analogue Stereo Audio Outputs, 2 assignable as Tape Out, or as Zone 3 and Zone 4 Outputs with independent source and volume control
Back Surround Amplifier Channels can be reassigned as Zone 2, 3, or 4, or front Bi-Amp
4 Video Monitor Outputs, HDMI, Component, S-Video and Composite formats
3 Analogue Video Outputs, 2 Tape (Composite and S-Video) and 1 Zone (Composite)
2 Digital Outputs, 1 Coaxial, 1 TOSLINK
7.1 Analogue Input (for DVD Audio/SACD/ETC.)
Speaker A + B switching (Speakers B stereo only)
Zone 2 A/V Line Level Output with independent source and volume selection
Digital inputs available as 2 channel analogue mixdown on Zone 2
ZR-4 Second Zone Remote included with discrete codes for independent zone
3 x IR Outputs, 1 x IR Input
RS-232 port interface for advanced control systems
3 x 12V Output Triggers, 1 x 12V input
Preamp Outputs for all 7.2 channels (2 Subwoofers)
RDS FM/AM Tuner with 30 direct access presets
XM Ready – XM subscription and optional XM module required
DAB Ready – just add optional NAD DB1 DAB Module
HTRC-1 Illuminated Learning Remote Control with LCD display
Digital Audio Modules AM200
Dual High Speed DSPs with 32/64 bit Floating Point architecture
Dolby Digital TrueHD, Dolby Digital Plus, Dolby Digital, Dolby ProLogic IIx decoding
DTS-HD Master Audio, DTS-HD High Resolution Audio, DTS Digital Surround 96/24, DTS Neo:6 decoding
EARS, Enhanced Stereo, Enhanced Bass
Audyssey MultEQ XT room correction with support for Audyssey MultEQ Pro
Audyssey Dynamic Volume and Dynamic EQ
3 Coaxial SPDIF Inputs, 1 Output
3 Optical SPDIF Inputs, 1 Output
Digital Video Modules VM200
HDMI Repeater
4 HDMI Inputs, 1 Output
Converts analogue video to digital HDMI
OSD on HDMI
Supports all SD and HD video resolutions up to 1080p
De-interlaces 480i/576i to 480p/576p
Sigma Designs VXP broadcast studio quality image processor:
Supports all SD & HD formats up to 2048 x 2048 pixels
Motion adaptive de-interlacing with edge interpolation
Film mode detection with output cadence generation
Programmable scaling engine with aspect ratio conversion
Frame conversion to/from any refresh rate (NTSC < > PAL)
Advanced noise reduction and detail enhancement
Executive Overview
New Acoustic Dimension, NAD Electronics latest entry at the flagship A/V receiver level is the T-785 Surround Sound Receiver.  Clad in classic NAD charcoal gray, this 56 lb receiver boasts a dual toroidal transformer power supply that is rated at 120 watts full frequency range power into an 8 ohm nominal impedance.  The T-785 also features modular construction of the pre/pro circuitry that is billed as future proofing for the receiver, that can perhaps eliminate the need to otherwise replace a more than satisfactory power amplifier section just because Hollywood wants to resell all of their movies in a conveniently, for them, incompatible new format.
Audio
The audio performance of the T-785 receiver is driven by dual Holmgren toroidal transformers powering the audio amplifier section, which should supply plenty of headroom for strong performance in the dynamics department.  In a clear nod to NAD's two channel, Hi-Fi audio roots, the transformers are configured with one to drive the L/R channel and the other for everything else.  Personally, I would rather see the digital processing isolated from the analog circuitry, but at this price range, any other means of isolation employed is likely to be more than adequately handled.  However you slice it, there is still a lot of amplifier meat in a 50+ pound receiver.  The T-785 is a 7.2 design that provides a dual subwoofer pre-out along with seven amplified channels, two of which can be assigned to any one of four independent zones or used to bi-amplify the front L/R channels.
The amplifier design also includes several other NAD specific technologies, namely Soft Clipping and Power Drive.  Soft Clipping has long been established as NAD's approach to overload protection.  Rather than using any sort current limiting, NAD uses proprietary circuitry to round off clipped signals, effectively functioning as very localized signal compression, protecting the amplifier and speakers alike.  Power Drive is the evolution of NAD long standing Power Envelope amplifier design, which is said to increase amplifier stability and low impedance load capability.  By providing an additional high voltage rail in the power supply, NAD claims that this design can provide a near doubling of power under short dynamic peaks.
The amplifier section of the T-785 is capable of driving low impedance loads and is rated for 4 ohm nominal loads, but has been tested on loads as low as 2 ohm nominal impedance.  Power output by the T-785 has been rated against multiple standards, coming in at 200 watts per channel via FTC (1 kHz at 8 ohms), 120 watts multi-channel across the full audio range (20 Hz- 20 kHz), as well as 170 watts when driving a stereo configuration.
Processing and Connectivity
The pre/pro section of the T-785 is built on a modular design with six removable boards that provide all of the processing and connectivity.  Four of the boards provide all of the analog audio and video input/output connectivity that are divided into: HD component video, SD composite and s-video, two channel audio, and multi-channel audio.  The remaining boards, currently the AM200 and the VM200 in North America, provide digital audio and video processing and connectivity.  Additionally, the T-785 also supports a number of custom installation features and includes an RS-232 port and a contingent of IR in/out triggers.
A/V processing on the T-785 is handled by a dual core, 32/64 bit Texas Instruments Aureus digital signal processor.  The DSP is supported by five two channel Burr-Brown 24 bit/192 kHz D/A converters, a multi-channel Burr-Brown 24 bit/192 kHz A/D converter, and a Sigma Designs VXP image processor.  The T-785 provides support for all current digital audio formats including lossless Dolby TrueHD and DTS Master Audio.  The T-785 also provides a full compliment of Audyssey functionality including Auto Setup, MultEQ XT, support for MultEQ Pro, Dynamic Volume, and Dynamic EQ.  The Sigma Designs VXP video processor used in the T-785 features a programmable scaling engine up to a maximum 2048 x 2048 pixels resolution.  With present video specifications, the T-785 supports up to 1080p video resolution with upconverting, aspect ratio conversion, analog to digital video transcoding with HDMI output, NTSC/PAL video format conversion, as well as a host of other features.
The analog audio modules for the T-785 include the full range of standard connections.  This includes 7.1 channel input and 7.2 channel preamp output, 6/1 (rear/front) stereo inputs, and 3 stereo outputs including a zone 2 out.  The analog video modules provides three component video inputs, one component output, and 5/1 (rear/front) composite/S-video inputs and four outputs including monitor and zone 2 out.  The front panel, in addition to the auxiliary audio and video inputs, also features a headphone jack, an analog media player input jack, and an auxiliary toslink connection.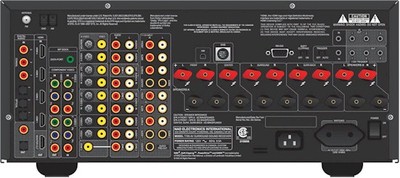 The AM200 audio module provides traditional digital audio connections for coaxial and toslink with three of each for input and one of each for output.  The VM200 module provides HDMI v1.3 connections with 4 inputs and 1 output.  Additionally, the VM200 provides a port for connectivity with a separate iPod dock.  From the NAD website, future upgrades for these cards appear to include an updated VM module to support HDMI v1.4; assuming home 3D ever really takes off.
Conclusion
With a definite focus on delivering quality audio performance, the NAD T-785 has a solid feature set compatible with current audio and video formats.  While not every feature is the absolute latest and greatest, but with an eye toward future proofing, the T-785 provides a focused upgrade path with a modular pre/pro design that limits the need for replacement to just those parts that become obsolete.  But such things make a receiver like the T-785 the antithesis of the effectively disposable mass market receivers that change model numbers like clockwork: you buy it to keep it.

Unless otherwise indicated, this is a preview article for the featured product. A formal review may or may not follow in the future.
Confused about what AV Gear to buy or how to set it up? Join our Exclusive Audioholics E-Book Membership Program!
Recent Forum Posts:
ratso posts on March 02, 2011 11:07
don't remember the details but a few years back there was another modular design with i believe an AVR that was supposed to be future proofing the receiver. wound up in a class action lawsuit when the manufacturer gave up completely on the model and no more "updates" were offered.
Alain Singapore posts on March 02, 2011 06:43
This first look comes a little bit late.

The original T785, which I own, has been around for quite a while and the HD card upgrade was released more than a year ago.

I could not find any information on NAD's website about new cards supporting 3D video format.

I am pretty happy with this receiver. The amp section works great with music and movie. The DAC is very good, but not quite as good as the one in the Oppo BDP83NE, particularly the stereo section. I do not use the Odyssey section. The pre-amp offers great flexibility. The on-screen menus look dated but are easy to configure. It is not cheap but build construction is definetly very good. I had issues with HDMI/HDCP compatibility with my HTPC (NVidia graphic card with DVI).

I agree, Audioholics should test one of those
GranteedEV posts on March 01, 2011 21:47
TLS Guy, post: 796925
The modular construction is a really good idea.

However you can by a Marantz pre/pro and still have 2.5K left for amps, which I think would be the preferred choice.
Marantz Fan that I am, my choice for a pre-pro would be a Denon 4311ci receiver with amp sections shut off. the SubEQ alone justifies that.
But yes, I'm both a fan of modular construction, and I couldn't justify spending 3-4k on a receiver.
TLS Guy posts on March 01, 2011 18:28
The modular construction is a really good idea.

However you can by a Marantz pre/pro and still have 2.5K left for amps, which I think would be the preferred choice.
OBXMAN posts on March 01, 2011 18:02
NAD - The Essence of Excellence

I am a long-time audiophile and owner of NAD equipment - absolutely LOVE all of their products - thanks for the first look - NAD is one of the few companies that allow their customers to upgrade their equipment as Hollywood and/or other standards organizations continue to change standards whenever they choose to. Overall, NAD amplifiers are some of the finest on earth. What is so "NAD" is how they create some of the most complex amplifiers/receivers and yet they keep a very clean and neat exterior. Once you own an NAD product, you become addicted. Audioholics please do a full review as soon as possible on the T-785
Post Reply