Denon AVR-3805 Receiver Review
Denon AVR-3805 Receiver Review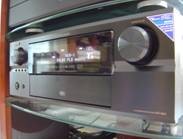 Denon AVR-3805
Product Name: AVR-3805
Manufacturer: Denon
Performance Rating:
Value Rating:
Review Date: June 08, 2004 19:00
MSRP: $ 1200
Surround Formats: Dolby Digital Surround EX, Pro Logic IIx (Cinema, Music and Game Modes), dts ES Discrete 6.1 and Matrix 6.1, dts Neo:6, dts ES 96/24, HDCD
DSP: Analog Devices HammerHead SHARC 32 bit floating point DSP processor
Power Ratings
120 watts per channel (8 ohms, 20 Hz-20 kHz, <.05%THD)
160 watts per channel (6 ohms, 1 kHz, <.7%THD)
Audio DACs: 16 Burr-Brown PCM-1791 24-bit/192 kHz on all eight channels, in differential configuration
Audio ADCs: 24-bit/192 kHz Burr-Brown PCM-1804 on all Stereo analog inputs (Not EXT. Inputs)
Crossover: 40, 60, 80, 100, 120, 150, 200, 250Hz
Remote: EL backlighting pre-programmed/learning remote
Video Inputs: 3 (assignable) 100MHz Component Video, 7 sets composite and s-video inputs
Video Outputs: 100MHz Component video output, 3 composite and s-video outputs, Multi-Zone composite video output
Audio Inputs: 7.1 external wide bandwidth (100 kHz) multi-channel inputs, 5/7 Channel Stereo, DENON Link 3rd (SACD & DVD-Audio compatible), 7 assignable digital inputs (5 optical, 2 coaxial), 10 analog inputs
Audio Outputs: 2 optical digital outputs, 2 multi-zone stereo pre-amp level audio outputs, fixed or variable level
Additional Connections: RS-232C port for third party control Systems, remote I/O ports, 2 assignable +12V triggers, detachable power cord
Dimensions: 17.1" W x 6.7" H x 16.4" D
Pros
DENON Link 3rd Edition
Component video up-conversion with OSD
Three (3) HDTV-compatible component video inputs
Can bi-amp front speakers for 240 wpc (5.1 only)
Bass output in 2-channel direct mode!
Lip Sync delay
Can monitor video other than audio source
Cons
Auto Setup doesn't set crossover point
No IEEE 1394/Firewire interface
Aggressive Room EQ (boosts up to +9 dB)
No digital sources output to Zone 2/3
Denon AVR-3805 Introduction
Ever since agreeing to take on the review of the Denon AVR-3805 I couldn't go a day (much less an hour) without getting an email or a forum post requesting info on the unit or a deadline for my review (you know who you are!) I hadn't experienced this level of anticipation on Audioholics for quite some time and wondered if the new receiver would hold up to everyone's preconceived expectations. As is typical with Audioholics, the AVR-3805 receiver would receive a thorough workout, with all of its functions dissected and exposited for all to see. Suffice it to say, at the time of this writing this review, the AVR-3805 is the most feature-rich receiver in its price class... and not by a small margin. Some of its more notable features include:
DENON Link 3rd Edition for "one-cable" SACD and DVD-Audio decoding from compatible Denon DVD players.
16 Burr Brown 192 kHz/24-bit DACs in differential configuration on all 8 channels (Note: Upon having Gene review the schematics for the AVR-5803 and this receiver, he discovered that Denon counts the + and - of each differential DAC as a separate DAC. In reality, this is still one DAC. Hence, there are really 8 DACs all configured differentially, with paralleling two DACs per channel for noise averaging in "direct stereo mode.")
 Dolby Pro Logic IIx
HDCD decoding
Auto Setup and Room EQ feature (optional Denon DM-S305 or compatible mic)
100MHz component video inputs/output (with component video up-conversion and monitor out via component video overlay)
120W x 7-channels (8 ohms, 20 Hz-20 kHz, < .05%THD; FTC spec rates with 2-channels driven)
Lip Sync delay (up to 200ms)
Confused about what AV Gear to buy or how to set it up? Join our Exclusive Audioholics E-Book Membership Program!