Denon AVR-3312CI AV Receiver Review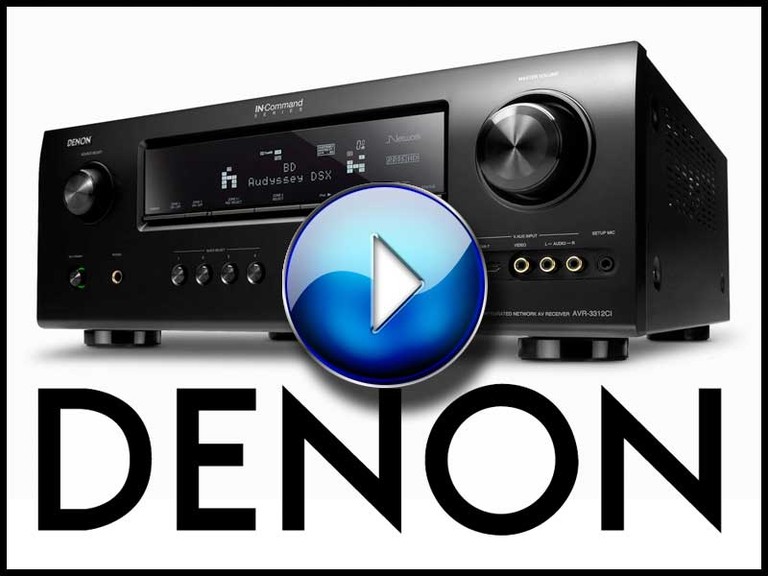 Denon AVR 3312CI AV Receiver
Summary
Equal amp power design with seven discrete channels, each rated at 125 watts*, and dual subwoofer outputs

HDMI v1.4a supports all 3D formats and Audio Return Channel

Ethernet, USB, Phono, and seven HDMI inputs for added connectivity

Supports AirPlay for wireless music streaming from iPhone, iPad, iPod touch, or iTunes

Audyssey MultEQ XT, GUI overlay, and remote control make setup and operation easy

Enhanced network capability includes Pandora, Flickr, Napster, and Rhapsody online support

Backed by a three-year warranty
AV receivers are getting more and more powerful, and their feature sets are getting more and more expansive. For some, the critical price/performance breakpoint comes at around $5-$600. At that price you start to get advanced features like video upconversion to HDMI and amplifiers that can be re-routed to a second Zone. So what does Denon have to offer above and beyond that with its AVR 3312CI receiver, that's priced at twice that. I mean what do you really get for $1,100?
Denon AVR-3312CI AV Receiver YouTube Video Review

The truth is - there's so much we can't really cover it all in this video. It'd be kinda boring and I gotta get dinner at some point. So let's start with power. While most 7.1 or 7.2 receivers around the $600 price point deliver 90 watts per channel, the AVR 3312CI puts out 125watts, rated 20-to-20, and at just .05% THD. And it puts out that power across all channels equally. Think that's easy to come by? Video processing and a few more connectors don't weigh all that much, and yet the 3312CI is a full 4-1/2 pounds heavier than the 1912. It's all in the amps. The new 3312CI also adds a second HDMI output, so it can play a movie on both a projector and a flat panel TV in another room - at the same time. It also has some pretty advanced features like digital-to-analogue conversion for analogue outputs and pre-amp outputs for multiple zones. It can even send 3 different sources to 3 different zones. There's also a composite video output for Zone 2.
On the back there are 11 speaker connections, which means that no matter how you configure your primary room and additional Zones, it is unlikely that you'll need to swap around speaker cables to get the sound where you want it. And the GUI lets you really SEE what you're setting up, so it's super-easy to configure for multiple speakers and multiple zones.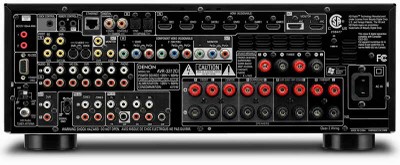 The 3312CI is, as the model number indicates, part of Denon's Custom Install series - and that means it has installer-friendly features like RS-232 control and the ability to connect to the Internet for updates and even remote configuration. This receiver is also part of the company's new IN-COMMAND series, which really speaks to its ability to network with your existing media content and playback anything from an Apple device, USB drive, or any DLNA source.
What else... oh, it can use the advanced Audyssey Pro installer package, which measures up to 32 different positions for a custom room EQ solution as well as DSX which lets you use height channels for up to 11 speakers... you know, if you happen to live in a concert hall... or you're insane. For Internet services, the 3312CI supports Pandora and Flickr, Rhapsody and Napster in addition to Internet radio.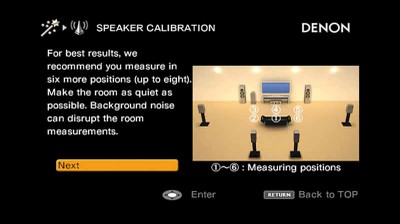 We like the Denon remote. The remote's cool. It gives you direct access over each source, and it doesn't use a funky screen or any confusing switches. You just select the Zone you want to control (Main, 2 or 3) and hit the source. You've got easy access to menu controls and there are even dedicated buttons for Internet radio - which is a HUGE upgrade over prior remotes. Gone is the dedicated Zone 2 remote, but I'm not sure we'll really miss it. The Quick Select buttons on the remote now reflect types of sources, rather than the former numbered source names only and they have icons instead of numbers which is kinda cool. The defaults are DVD, Cable/Sat, Gaming, and iPod. Those are the four biggies, so I think they nailed it.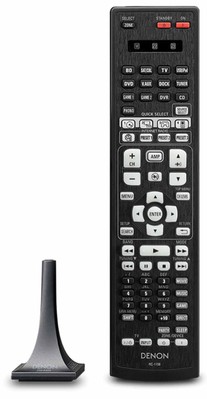 We listened to this receiver with a ton of source content. Movies sounded expansive and full - the sound quality on this receiver is well above par. Hey, there are some products priced even higher in the line that really pour a lot of money into the amplifier section, but in terms of value, the AVR 3312CI is going to be really hard to beat. Music came across as very live, particularly in the area of midrange - which was detailed. Male and female vocals sounded realistic and details like breaths and sibilance poked through the mix perfectly. At highs were very airy, with cymbal decays that didn't compress or sound shrill. This is a solid amplifier that is going to work well for all but the most demanding listeners. Add to that the almost ridiculous laundry list of features and you have a product that is easily worth the price of admission.

Unless otherwise indicated, this is a preview article for the featured product. A formal review may or may not follow in the future.