Parasound Halo C2 Processor Review
Parasound Halo C2 Processor Review
by
Steve DellaSala
—
December 07, 2006

Contributors: Gene DellaSala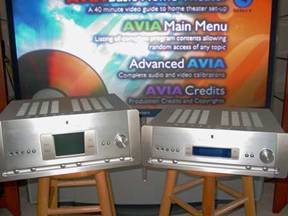 Parasound Halo C1 C2 Processors
Product Name: Halo C 2 Processor Checklist
Manufacturer: Parasound
Performance Rating:
Value Rating:
Review Date: December 07, 2006 10:45
MSRP: $ 4000
Dolby Digital EX, DTS ES, and Dolby PL II
THX Ultra2 Certified with THX Surround EX
7.5 Channel Enhanced Surround
Automatic Digital Audio and Video Input Selection
Nine balanced outputs, two balanced inputs
Four Audio Only Inputs
7.1 Analog Input for Pure Analog Path
Six Audio/Video Inputs
3 Composite Video and 3 S-Video Outputs
2 Assignable Component/RGB Video Inputs
1 component/RGB Video Output
BNC to RCA Adapters Included
Digital Inputs and Surround Modes are assignable to Sources
Component Inputs/Outputs pass 1080i and 720p signals
Automatic Calibration of Channel Levels and Delay Times
Dual Zone Control with Analog Audio and Composite Video Outputs
External IR Input Jacks
Three 12V Triggers, two Programmable Events
10 Year Warranty

Frequency Response +0 / -3 dB:
Digital Inputs: 20 Hz to 42 kHz
Analog Inputs: 20 Hz to 22 kHz
7.1 Channel In: 5 Hz to 200 kHz
Total Harmonic Distortion
All Inputs: <0.002%
Signal To Noise Ratio
Digital Inputs: 102 dB
Analog Inputs: 98 dB
7.1 Channel Inputs: 107 dB
Maximum Input Levels
Balanced: 35 V rms
Unbalanced: 3.6 V rms
7.1 Channel: 8 V rms
Maximum Output Levels
Balanced: 16 V rms
Unbalanced: 8 V rms
7.1 Channel: 8 V rms
Video Bandwidth:
Composite and S-Video: 30 MHz
Component Video: 300 MHz
Dimension: 17-1/4" w x 6" h x 16" d C 2
Dimension:17-1/4" w x 7-5/8" h x 16" d C 1
Net Weight: 18-lbs C 2; 22-lbs C 1
Pros
Automatic Speaker Distance Calibration
Automatic Speaker Level Calibration
Video Pass Through - No Power Required
BNC Video Connection Inputs and Outputs
Easy to Set-Up
THX Ultra2
On-The-Fly Channel Trims
Preset volume adjustments for analog inputs
RS-232 Interface
Software Programmable
Universal Remote MX-700 with Side-Kick
Balanced XLR Inputs and Outputs
10-year warranty
Cons
No Component Video Up-Conversion
No Dolby Pro-LogicIIx (available soon via firmware)
No 1394 IEEE Input or Output
No HDMI or DVI Inputs (unavailable during the time of design)
One Set of Global Speaker Settings
Currently Decodes DTS 96/24 as 48kHz
Only One Set of Multi-Channel Inputs
Analog Bypass only with Balanced XLR Inputs
Parasound Halo C2 Introduction
Parasound, a privately owned U.S. company located in San Francisco, was founded in 1981. From their inception by President, Richard Schram, their mission has been to provide affordable audio components for high-end audiophiles, home theater enthusiasts and custom audio/video systems designers.
During an interview, Richard Schram once stated that, "we take listening very seriously," and we're sure that this philosophy likely resulted in the fundamental reason why Parasound created high quality products made to endure the scrutiny of most audiophiles while being affordable to the budget minded enthusiast. "If I didn't listen to the products we sold, or if John Curl, our legendary chief circuit designer, didn't listen to the products he designed, then we would have never won the respect of hundreds of dealers, the praise of most of the world's audio reviewers, and the earned loyalty many thousands of critical listeners who have chosen Parasound products for their own."
Parasound's chief designer for their amplifiers was John Curl. Curl's experience included hardware such as the classic Mark Levinson JC-2, the SOTA head amplifier, and the Vendetta preamplifier. He also wrote several definitive articles on circuit design and the influence of capacitor design on sound quality. Lately however, Curl has been promoting some views on cables which Audioholics does not agree with, but we believe this seemingly new found position didn't take away from his excellent circuit designs and understanding of the important metrics governing quality amplifier designs as seen in the Parasound A 21 and A 51.
Confused about what AV Gear to buy or how to set it up? Join our Exclusive Audioholics E-Book Membership Program!