Emotiva DMC-1 Preamp Processor Review
Emotiva DMC-1 Preamp Processor Review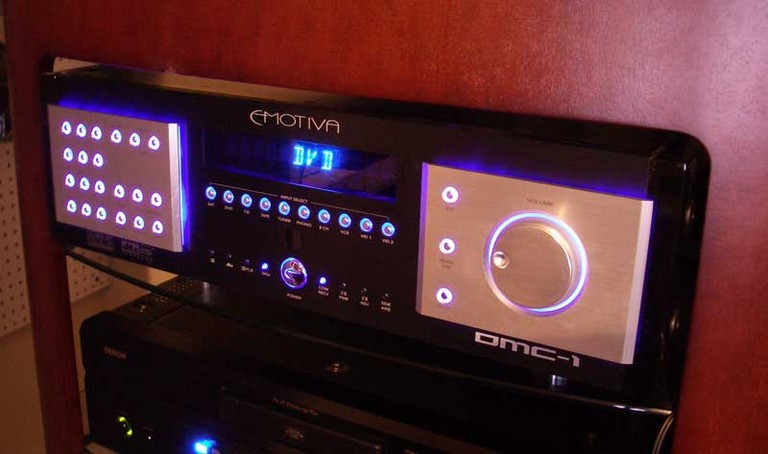 Emotiva DMC-1 Preamp Processor
Surround Formats: Dolby Digital EX, Pro Logic IIx, DTS-ES Discrete 6.1 and Matrix 6.1, DTS Neo:6, DTS ES 96/24
DSP: Motorola / Free scale DSPD56367
Audio DACs: Analog Device AD1853
Audio ADCs: CS5394
Crossover: Left/Right: 40-160Hz in 10Hz increments; Center/Surrounds: 40-160Hz in 10Hz increments
Remote: MX-500 fully-backlit pre-programmed universal learning remote
Video Inputs: 3 (assignable) 100MHz Component Video, 6 sets of composite and s-video inputs
OSD: Available on component, S-video and composite. All S-video and composite signals automatically up converted to 480i component
Video Outputs: Two (2) 100MHz Component video output, 3 composite and s-video outputs, Multi-Zone composite video output
Audio Inputs: 7.1 external multi-channel inputs, 9 assignable stereo analogue inputs, 10 digital inputs (4 optical, 6 coaxial)
Audio Outputs: 1 optical and 1 coax digital output, 5 analogue audio outputs including main and Zone2, 7.1 balanced analogue outputs, 7.1 unbalanced analogue outputs plus Left/Ride side "axis" speakers
Additional Connections: RS-232C port for third party control Systems and software updates, 12V IR main/Zone2 remote I/O ports, 2 assignable +12V triggers (Main & Zone 2), inactive IEEE connection, detachable power cord
Dimensions: 17" W x 5.75" H x 15.5" D
Weight: 22lbs
Pros
Two (2) HDTV-compatible component video outputs
Fully backlit MX-500 universal remote control
Easy to setup and use
Four (4) subwoofer outputs (3 RCA; 1 XLR)
Balanced 7.1 audio outputs
High current (250mA) 12V triggers
Phono input
Flash-upgradeable memory
5-year warranty
Cons
Quirky default remote control behavior
No active IEEE 1394/Firewire interface
No HDMI/DVI Video Switching
No subwoofer distance/delay settings
Subwoofer calibration test tone inaccurate
No optional bass management / delay compensation on EXT Analog Inputs
Emotiva DMC-1 Introduction
This was my first time using an Emotiva product, however I have thought their new line was quite beautiful and well-polished, putting form up there with function. Their upcoming Ultra-Lite series seems to extend this trend with an affordable "budget" multi-channel solution that has the appearance of a product that should cost a whole lot more. Regarding the DMC-1, first impressions abounded. The unit was simply stunning to look at. The front brushed aluminum accent panels are "lifted" from the chassis and accented by a blue LED backlight. The amount of backlit buttons and features are initially disturbing, but can be tempered or eliminated completely via a "Panel Dim" button on the front (there are three levels of dim as well as an 'off' setting).
Speaking of buttons, there seem to be a lot of them on the front of the DMC-1. But really, it's the methodical arrangement of the buttons which gives one the feeling of having a science-fiction computer device at your fingertips. The volume control is very cool in that it functions digitally and allows volume to be changed in a non-linear fashion. The faster you turn the dial, the more dramatic the volume will ramp up or down. If you turn the dial slowly, you can easily adjust volume gradually in 0.5dB steps.

Confused about what AV Gear to buy or how to set it up? Join our Exclusive Audioholics E-Book Membership Program!