Samsung And Steinway Lyngdorf Create The Ultimate Home Theater Package
Samsung And Steinway Lyngdorf Create The Ultimate Home Theater Package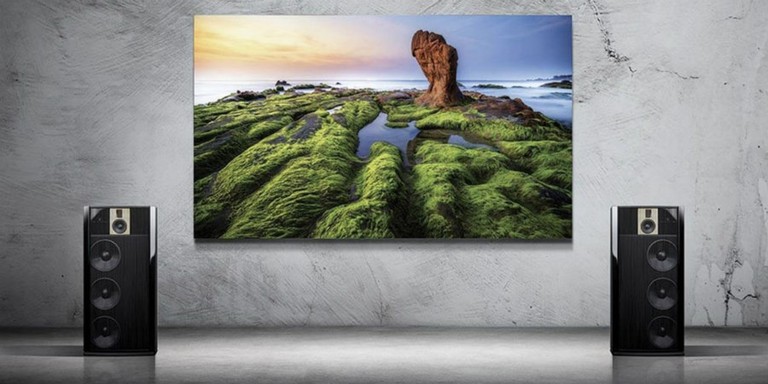 Samsung Steinway Home Theater
Samsung has joined forces with the Danish audio company Steinway Lyngdorf to deliver a complete home entertainment package that provides an "unmatched, one-of-a-kind audiovisual experience," according to Seog-gi Kim, Executive Vice President of Visual Display Business at Samsung Electronics.  The system combines a state-of-the-art micro LED display, which Samsung calls "The Wall," with a cutting-edge audio package from Steinway Lyngdorf, comprising the company's P100 processor, A2 digital amplifiers, and Model B full-range dipole loudspeakers.
Samsung first showed off The Wall, which is available for pre-order and slated for delivery at the end of this year, at CES 2018. Like the company's 34-foot Onyx cinema screens, this 146-inch display uses a micro LED array. The Wall is a modular design that combines 16 high-density micro LED "tiles," each measuring 31.75 inches wide by 17.86 inches tall. The design can be scaled upward in size, using more tiles to create even larger displays, but Samsung settled on 146 inches as the largest size that would be practical for most home users. The 16-tile screen has a resolution of 3840 by 2160 pixels. Each of these self-emanating RGB pixels is composed of three tightly-packed LEDs, which create both the light and the color for the pixel. Because each pixel creates its own light, the display is capable of delivering truly black backgrounds and tremendous contrast ratios. Like an OLED display, Samsung's micro LED display does not suffer from the washed-out colors and diminished contrast that plague back-lit LCD displays when viewed from a wide angle. Samsung claims that the new technology offers "two times superior color purity, and a wider color gamut than conventional LEDs." The display also uses a unique "ultra-low reflection technology" to deliver pure black levels and vibrant colors, even in a bright room. The Wall supports multiple HDR formats, including HDR10+, to deliver "optimum peak brightness and extremely accurate grayscale expression for crystal-clear image presentation," according to Samsung. The company claims that its new screen is robustly built, and resistant to water, dust, electrostatic discharge, and physical impact.
The audio portion of this ultimate home entertainment package is no less impressive. Steinway Lyngdorf's Model B loudspeakers may be smaller in stature than the company's enormous flagship Model D towers, but they still stand 49 inches tall and weigh an incredible 308 pounds each. The Model B is a dipole design, employing three 12-inch glass fiber honeycomb woofers on the front of the cabinet, and another three rear-firing woofers on the back. A single 5-inch aluminum-cone driver handles the midrange, while a folded ribbon AMT (Air Motion Transformer) tweeter provides the high frequencies. The Model B speakers have a frequency response of 25 Hz – 22 kHz (+-3dB), and a maximum SPL of 112 decibels at one meter, so they should be more than capable of supplying a sonic impact that matches the scale of Samsung's 146-inch display. The standard finish for the speakers is a high-gloss piano black with gold accents, but custom colors and finishes are available. The Model B speakers are powered by Steinway Lyngdorf's 4 x 400-watt Model A2 digital amplifier and outboard crossover, which the company describes as one of the "greenest and smartest amplifiers on the planet." The system is all controlled by Steinway Lyngdorf's Model P100 surround processor, which can decode Dolby Atmos, DTS:X, and Auro-3D. The number of amplifiers and speakers employed will depend on the needs of the individual space, but the processor can handle up to 256 speakers (no, that's not a typo). The Model P100 also includes Steinway Lyngdorf's sophisticated "RoomPerfect" room correction solution, which virtually eliminates the need for passive acoustic room treatments, according to the company.
How Much Does It Cost?
So, how much will this level of home theater performance cost? That remains to be seen, as pricing information is not yet available. Peter Lyngdorf, founder of Steinway Lyngdorf, simply stated that "no cost was spared to achieve the ultimate experience." Will the result will be worth the time and expense that these two companies have invested in creating the ultimate home theater? Will Samsung's micro LED display technology trickle down into smaller and more affordable products?
Share your thoughts in the related forum thread below.