THX Games Mode Overview

THX Games Mode
THX' new Games Mode is a brand new audio post-processing technology and listening feature for THX Certified Home Theatre components. Games Mode enables video game enthusiasts to experience truly immersive sound presentations on home theatre systems when their system is properly configured for ASA (Advanced Speaker Array). This newest feature is incorporated into the new Ultra2 Certification specification and technology for home theatre receivers.
THX Advanced Speaker Array (ASA) recreates the studio sound field in your home by digitally reconfiguring the surround channels for whatever content you are playing. This technology establishes THX Listening Modes, making it convenient to have one speaker setup for movies, music and games. In terms of the physical loudspeaker configuration for ASA, the setup is standard, except that the direct radiating Surround Back channels are placed directly behind the listener - side-by-side with no space in between. If this is not possible, the Ultra2 receiver will allow for some alternatives that can still make use of the THX post-processing modes.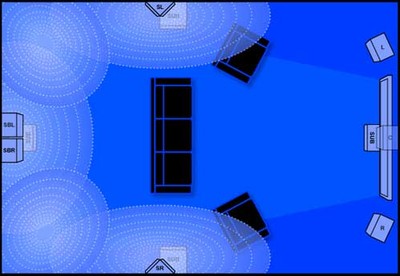 To precisely distribute the sound effects and dialogue generated by the game engine, THX Games Mode places the audio from a 5.1 mix source to the appropriate "action" location – creating a far more interactive gaming experience. Games typiclly provide a much more "point source" 360-degree surround effect with localizable audio in the surrounds - moreso than what you would look for in a music or movie surround mode.

"With more than 50 percent of home theatre owners integrating video game consoles into their home entertainment systems, THX Games Mode will provide the ultimate way to experience video game sound," said Mark Tuffy, director of advanced technology at THX Ltd. "For the first time, gamers will have access to playback systems that accurately place sound effects, music and character dialogue all around them, pulling the gamer even closer into the action." THX Games Mode was designed to accurately reproduce and distribute video game sound content the way it was intended by game developers in their audio mixing studios. It uses THX-patented, four-speaker surround sound technology called Adaptive Speaker Array (ASA) to place point sources anywhere in the surround sound field. This puts the user in the middle of the game, adding a new dimension to the game playing experience. THX Games Mode will optimize action sequences, such as car chases, sports and battle scenes, as well as enhance subtle environmental audio details that are often lost during traditional playback.

"The introduction of THX Games Mode further builds upon our recently announced THX Certified Games Program, which sets quality standards for game development environments where audio and video content is produced and edited," said Ivan Fujihara, general manager of THX Ltd. "By improving the quality of the playback technology on home theatre components, THX is taking yet another step to ensure the integrity of video game content from creation all the way through game play."

THX Games Mode will accompany THX Cinema and Music Modes on next- generation THX Ultra2 Certified home theatre components. Each feature incorporates post-processing technologies that replicate the sound experience the way it was created in the cinema dubbing stage, mixing studio or recording studio. These technologies are designed to compensate for the differences between the theatre, studio and home environments, taking into account room acoustics, and speaker and furniture placement. In addition, each THX listening mode sets specific reference levels for bass management, distortion and signal noise, as well as complements surround sound decoding technologies from Dolby® and DTS.
Confused about what AV Gear to buy or how to set it up? Join our Exclusive Audioholics E-Book Membership Program!