Dirac's New 'Panorama Sound' Technology Makes Mobile Audio More Immersive
Dirac's New 'Panorama Sound' Technology Makes Mobile Audio More Immersive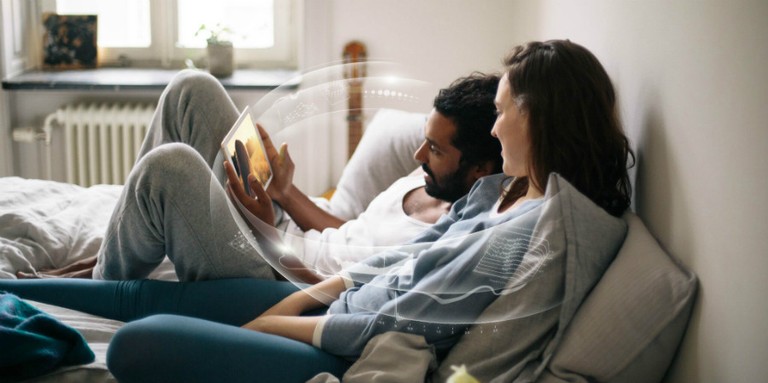 Dirac Panorama Sound
The Swedish audio technology company Dirac provides an advanced, dsp-based room correction solution for some of the best home theater gear on the market. Arcam, NAD, Emotiva, and ATI are among the growing number of electronics manufacturers that employ Dirac's digital sound optimization technology in their receivers and surround processors. Now Dirac is directing its expertise toward improving the relatively unsatisfying audio experience of watching content and playing games on portable devices such as smartphones and tablets.
As more and more people consume the bulk of their media on handheld devices, audio experts like Dolby and DTS have already moved into this space, delivering their own mobile audio processing solutions for the newest phones from Samsung and LG. Dirac's approach, which the company calls Dirac Panorama Sound, uses advanced MIMO (multiple-input and multiple-output) technology to produce an immersive audio experience from the small speakers found on portable devices. The first hardware product to feature Dirac Panorama Sound is a new smartphone called the Nut R1, from the Chinese manufacturer Smartisan.
Dirac says that its Dirac Panorama Sound solution is fundamentally different from anything else on the market. While its competitors create a sense of spaciousness by manipulating phase shift, Dirac Panorama Sound optimizes both impulse and frequency response to produce better overall sound quality, and to create an extra-wide sound stage from speakers that are positioned only inches apart. The software uses a patented "sound field control/synthesis" technology that enables a device's embedded speakers to coordinate with each other, isolating the left and right stereo channels and directing them separately toward the listener's ears.
"The advent of mobile devices and content streaming services have dissolved the walls of the traditional home theater, making its location more mobile and portable than ever before,"

- said Dirac's General Manager of Mobile, Erik Rudolphi.
In order to stay ahead of the game, Rudolphi said that hardware and software companies must:
"understand the changing nature of the industry and (prioritize) the mobile device listening experience."
It remains to be seen whether Smartisan, which already has a loyal customer base in China, will break into the crowded smartphone market in the Americas. The company's flagship Nut R1 certainly looks impressive, sporting a 6.2" display, three cameras with Sony sensors, a Snapdragon 845 processor, and up to one terabyte of internal storage. But if they want theor mobile Dirac Panorama Sound solution to compete with the likes of Dolby and DTS, it will need to secure mainstream hardware partners, as it has successfully done in the home theater market. Will these new technologies convince you to start watching movies on your phone?
For more information, visit: Dirac
Share your thoughts in the related forum thread below.