Master TVA30 Guitar Amp Measurements and Analysis
Master TVA30 Guitar Amp Measurements and Analysis
Having done all we could with my listening pleasure, we turned to some objective measurements. Using the Audio Precision APx585 HDMI Audio Analyzer, we tested the amplifier's power, frequency output, and total harmonic distortion as seen in the following measurement results.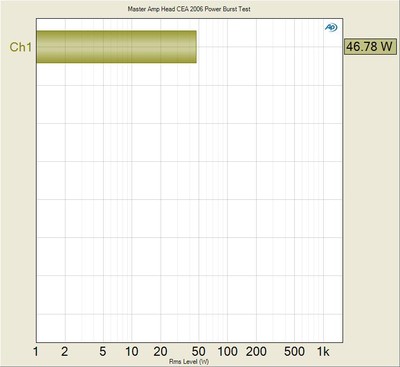 Master TVA30 Dynamic Power Output (8 ohms)
 This measurement shows a CEA 2006 Peak Power Output, which is a dynamic power rating closely resembling musical peaks. According to this measurement, the amplifier's peak power output is 46.78 Watts when driving an 8 ohm load which is what the stock speaker for this unit was rated at.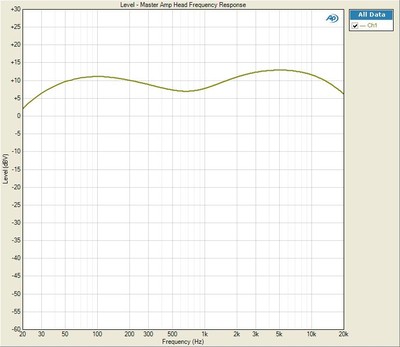 Master TVA30 Frequency Response (8 ohms)
This measure shows the frequency response of the amplifier under an 8-ohm resistive load. As you can see, it is not very linear, as expected for a tube amplifier. Some may argue that it is the non-linearity of the amplifier that defines its signature sound.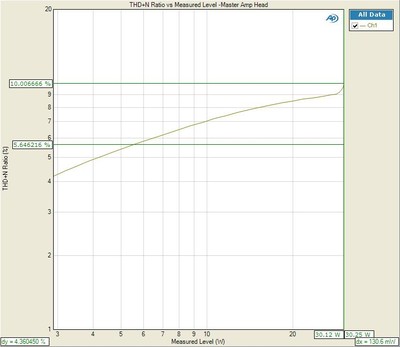 Master TVA30 Power vs Distortion (8 ohms)
This graph shows that lowest THD of the amp is 4%. It also verifies the manufacturer's spec of 30 Watts with a THD of 10%. We suspect the high distortion is common with tube guitar amplifiers; however, future testing of other amplifiers will help us verify this as fact.
Speaker Measurements
Prior to pulling the speaker for examination, we conducted a near field frequency response measurement in 1/12dB increments at three different power levels. All tone controls were set to flat.
Set up of speaker cabinet frequency response testing was with near field microphone from our LMS measurement system. The home theater room had acoustic treatment. The amp head is separated to eliminate the resonance vibration discussed earlier.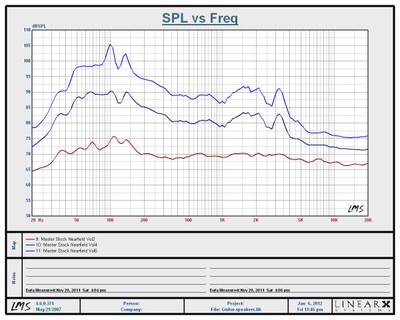 Frequency Response of Master Stock Driver Loaded in the Cabinet at various power levels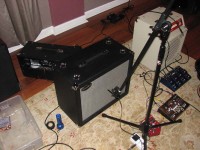 There are two spikes seen on this graph, both of which are due to resonance frequencies from a vibrating cabinet at 100Hz and most likely the speaker basket between 2kHz to 3kHz. Aside from that, the speaker's flattest response was at the lowest power setting. Once moderate volume was applied, the speaker had a large hump response that went out until about 200 Hz. This coincides with what I heard regarding the low-mids being a bit over emphasized. There's another hump around 1.5kHz which is likely attributed to the speaker as well. Overall, the system is not linear, but considering that the amp output is not linear, it wasn't a surprise.
After the measurements, I removed the speaker for further examination. I believe that this was the low point design of the entire Master TVA30 Guitar Amp as this speaker was a rather run of the mill design. The basket was thin sheet metal with very little bracing. The paper material was so pliable that you can almost shape mold your finger tip around it. Other speakers used in similar speaker cabinets appear to be much more robust than that offered here as shown in the pictures below.

Eminence DeltaPro with Cast Aluminum Basket        Master, Weber Michigan and Eminence DeltaPro
There was virtually no comparison between the Master speaker to the Eminence DeltaPro-12A. The DeltaPro-12A is a mechanical giant weighing in at 18 lbs and including a cast aluminum basket and 2.5" diameter voice coil. This beast can be found through reputable on-line stores for around $120. The picture on the right shows a notable difference in the size of the voice coils between the Weber Michigan and Delta Pro when compared to the much smaller size Master. In all cases, the paper cones were considerably stiffer as was the surrounds, than that of the Master speaker. In our next review, we intend to compare through listening tests and measurements, three other speakers including the Weber Michigan, Weber California and Eminence DeltaPro. In addition, we will be doing the same with high quality Russian made Tubes.
Confused about what AV Gear to buy or how to set it up? Join our Exclusive Audioholics E-Book Membership Program!
Recent Forum Posts: