Master TVA30 Guitar Amp Introduction
Master TVA30 Guitar Amp Introduction
The Decision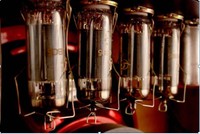 US Masters was known mainly for their US Made Guitars and Basses with various models to suite most budgets. What they may not have been known for is being a supplier of guitar amps, specifically the TVA30. This model comes either as a combo or head and cabinet retailing for $699 and $869 respectively. Upon review of their website, it was easy to notice that they were very proud of the components used in their amplifiers and the quality in which the cabinets were built. They were one of the few websites I've found that showed specifics on the amp build including torodial power transformer, output transformer, wiring methods, reverb springs, tubes, and nearly everything else. They even devoted a section of their website to help the novice understand amplifier terms. I was impressed with their story and more impressed with the price. My only hesitation was the fact that the amp was manufactured in China. For days, I continued my search for my new prize amp but was unable to find what I believed to be a close match with 30 Watts, 12" Driver, Mid / Treble / Bass Controls, Hi and Lo inputs, overdrive, effects loop send and return…..for less than $2,000. I just did not have the budget, and not being a professional musician, could not justify spending that much money. Furthermore, nearly all other amps in this price range were also made in China. So I decided to read as many reviews as possible on the TVA30 and other amps, only to learn that most "reviews" were nothing more than commentaries in blogs and forums while the rest were on websites of stores selling the actual equipment. Though lacking technical merit, I quickly learned that the blogs and forums were light up with nothing but positive feedback for the TVA30. Then, when reviewing US Master's website, I learned that they offered a 5 day return policy. I figured at that point that there was nothing to lose and everything to gain by finding a "Boutique" non-mainstream guitar amp for under $1k. I called US Masters, ordered and within a matter of minutes, my new found amp was on its way to my home.
First Impressions
The TVA30 cabinet and head arrived only three days after ordering. Without hesitation I carved my way into the boxes quickly looking at the back of the amp head to see firsthand, what the hype was regarding the electronics. Normally, I wouldn't post a Manufacturer's marketing pictures in a review; however, after studying so many amps, I found their claims and these pictures to be valid and justifiable. This amp head was clearly a beast among the norm.

Other noteworthy finds included the metal reinforced, self-aligning indents on the speaker cabinet for a perfect fit amp head to the closed back speaker cabinet. The nice thing about having this area reinforced is that it prevents wear and tear if you are one of those users who move the amp head on and off a great deal between transporting to gigs. The disadvantage was noticed when we started sending controlled frequencies through the amp during speaker measurements. We quickly found resonance frequencies in which we could actual hear ringing noises.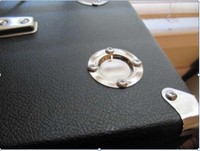 I noticed that Master used "industry standard" handles and clamps for both the speaker cabinet and head. Below are photos of what happens over time with this configuration. For the life of me, I can't understand why this design is still used by so many manufacturers. As you will notice in the picture, the handle coating binds into the metal edge of the clamp. Eventually, it starts to tear the handle as shown below.
This may be more of a personal preference than actual flaw; however, I would like to have seen the "STANDBY" back light yellow when on. Red for power and yellow for standby is very common and actually helpful when you are playing in a poorly light venue, as I often do. Such an addition would likely not add much to their costs and would have matched well with the red light for power.
Confused about what AV Gear to buy or how to set it up? Join our Exclusive Audioholics E-Book Membership Program!
Recent Forum Posts: