RealTraps MiniTraps MicroTraps MondoTraps Overview
RealTraps MiniTraps MicroTraps MondoTraps Overview
Room treatment maybe accomplished by a variety of means and one of the most effective is by absorption. Simply put, acoustic absorption works by causing sound to be exchanged for heat through friction between the material's fibers as they vibrate in sympathy with the energy in the air. As sound progressively permeates the absorptive material, ever more energy is lost to this process and the aforementioned ratio correspondingly increases.
When treating one's room with absorption, two routes are available:
DIY absorption.
Commercially manufactured absorption.
A fellow Audioholics member took the DIY route and in doing so provided others the invaluable opportunity to see, if not hear the difference room treatment makes. By the project's culmination(3), I knew that I too wanted a piece of the action, but was unsure whether to opt for the DIY route or the more costly but potentially more effective alternative route of commercially manufactured absorption. Ultimately, my decision came down to not wanting to take the DIY route, finding myself amazed by its results and then thinking 舠 I wish I had just spent that bit more and got even better results with commercially manufactured absorption". I chose the latter route.
RealTraps
I am not usually one to buy just 'good enough'. When it comes to things I am serious about, I always buy the best I can afford. Regular visitors to the Room Acoustics, System Layout & Setup Forum at Audioholics will know Ethan Winer as someone who frequently yet selflessly gives demonstrably good advice to others. For this reason above any other (though after seeing some of the alternative products commercially available it's little wonder) I decided that I'd buy either from RealTraps, Ethan's company, or not at all. Ultimately I did buy, and went with four 2' x 2' MiniTraps, the Mondo Room Kit which comprises four 4' x 2' MondoTraps, four 4' x 2' MiniTraps and three 4' x 2' MicroTraps, and six stands. Note that the difference between MicroTraps, MiniTraps and MondoTraps is principally one of panel thickness, these being 1 ¼", 3 ¼" and 4" respectively.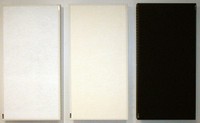 If you're lucky enough to live within driving distance from the company's factory in Wallingford, Connecticut, traps maybe picked up in person. For those like myself less fortunate, they can usually be shipped either to the nearest airport or delivered direct to the door for an additional surcharge.

After collecting the traps from the airport and getting them home the fun began! First impressions were good; the traps came in robust cardboard boxes and were internally spaced from sides and corners to prevent damage in transit. Stands were assembled quickly and easily with eight screws, the procedure intuitive. Multiple holes in the stand's legs allow vertical adjustment of panels by up to 18".
After picking an arbitrary position, the four MondoTraps and two of the MicroTraps (the third MicroTrap envisaged hung from the ceiling) were attached to stands by a further four screws each. All screws are included with stands.
Unique to the 2' x 2' MiniTraps, a 6" spring is included which allows them to be mounted as originally intended in the tri-corner formed by two of a room's walls and its ceiling.