RealTraps MiniTraps MicroTraps MondoTraps Review
RealTraps MiniTraps MicroTraps MondoTraps Review
by
Robert T Buckle
—
January 05, 2006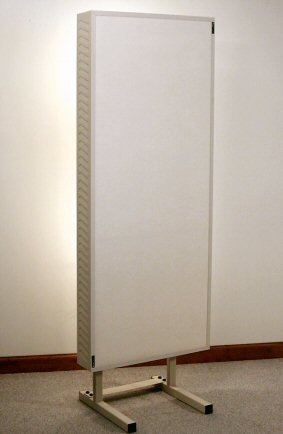 RealTraps MondoTrap
Product Name: RealTraps
Manufacturer: MondoTrap
Performance Rating:
Value Rating:
Review Date: January 05, 2006 18:00
MSRP: $ 139 and up
MicroTraps:
Absorption for mid/high frequencies
H x W x D: 2' x 4' x 1 1/4"
Weight: 8lbs
MiniTraps:
Absorption for low frequencies
H x W x D: 2' x 2' x 3 1/4", 2' x 4' x 3 1/4"
Weight: 9 lbs, 18 lbs
MondoTraps:
Enhanced absorption for low frequencies
H x W x D: 2' x 4'9" x 4"
Weight: 28lbs
Pros
As attractive as acoustic panels can be.
Available in three colors.
Ease of assembly.
Selection of traps to suit purpose.
Class A fire rating.
Cons
Expensive.
Potential consumption of floor space.
WAF (Wife Acceptance Factor).
RealTraps MiniTraps MicroTraps MondoTraps Introduction
The room is the first thing we start with and the last thing we think about (1). How true is that for the vast majority of us? And yet it is all the more surprising given that each person reading these words counts sound quality of fundamental importance to them.
In all rooms, sound reaching the ears is comprised of a combination of direct sound from the source and reflected sound that has bounced off one or more of the room's walls. Why is this important? Because in an untreated room, approximately 50% of sound heard at the listening position is comprised of the latter(2), and given its magnitude it is therefore no exaggeration to state that a room should be considered the biggest single contributor to high fidelity sound reproduction, and which consequently can make or break the quality of sound that we hear.
The goal of room treatment is not to reduce reflected sound to zero; that would result in a room equaled in its sonic accuracy only by how dead it sounded and in any event would be totally impractical for all but anechoic testing chambers. Instead, room treatment aims to increase the ratio of direct to reflected sound and in doing so flatten the frequency response as far as is practically possible whilst retaining the liveness that reflected sound adds to a room.