Audyssey MultiEQ Pro EQ Software and Setup
Audyssey MultiEQ Pro EQ Software and Setup
Audyssey Installer Kit Contents

Calibrated Microphone Preamplifier with power supply

Calibrated and Serial Numbered Microphone

Tri-Leg Microphone Stand with Boom

Serial Numbered MultEQ Pro Application CD, matched to Microphone Calibration Curve

4) 18' Microphone XLR Cables

10' USB Cable

XLR-to-RCA Adapter

Audyssey Sound Equalizer Installer Carrying Case: nylon with internal partitions
This $325 installer's kit is terrific as is: The microphone preamp comes pre-calibrated and level matched to the proprietary Audyssey-developed test tones within the MultEQ Pro routine. A Rane inline power supply with a 6' connector going to the pre-amp and a 6' power cord are included and stowed in the same small center partition in the Installer's case.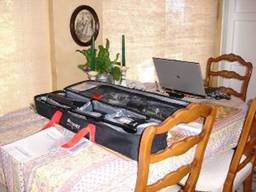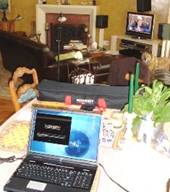 Audyssey Installer s Kit, $325. HP 8301 host computer.
The serial numbered microphone is calibrated to an $8000 Bruel & Kjaer 4136 (frequency response of 4Hz to 70kHz -3dB) with the calibration curve being stored on Audyssey's in house documentation computer for reference. The microphone comes in a foam padded plastic case along with the microphone holder and threaded attachment for screwing the mic holder to the stand.
The tri-leg boom microphone stand is a smooth operating, easy-to-adjust Samson model. The microphone holder is a shove-from-the-back friction fit affair. The pliable holder expands while gripping the microphone securely making it less prone to airborne vibration. It was a pleasure to use for quick, precise positioning.
Four 18' microphone cables fit into the last of the four compartments in the nylon Audyssey installer's kit. The cables are very pliable professional models with good quality, strain-relieved XLR male and female connectors on either end.
After setting up and running the MultEQ Pro routine a couple of times I purchased an additional 10' USB extension cord to go with the 10' cord included in the kit. This made it was easier to get my HP 8301 laptop computer further away from the Sound Equalizer. I had mounted the Sound Equalizer in the equipment rack underneath our (front-of-room) video display. Adding the 10' extension allowed me to place the laptop back on our dining room table.
Our open floorplan living room, dining room and rear-of-living room stairwell measure 21' wide by 24' long with our ceiling gently sloping up from the front door/left surround speaker wall to the corner mounted L/C/R video display/picture window wall. Ceiling height averages 8' in height. This gives a rough cubic volume of over 4000 cubic feet.
My main audio goal with this, my personal home install, was to be able to incorporate the highest performance components available at superb value price points. The target was $10,000 (at full list prices) for all audio components including the $2500 Audyssey Sound Equalizer. In a future article I plan to evaluate the sound performance of the receiver-based Audyssey MultEQ XT versus the stand-alone Sound Equalizer with MultEQ Pro and the Outlaw Audio 7075 amplifier. The table below breaks down the full list price costs of the review system with and without the Audyssey Sound Controller ($2500 SRP) + Outlaw Audio 7075 ($699 SRP).
Under $10K Surround Audio System with & without Audyssey Sound Equalizer
Manufacturer

Model

Description

MSRP

Denon

3806

Pre-amp Processor w/MultEQ XT disabled

$1,300

Audyssey

Sound Equalizer

MultEQ Pro Speaker/Room Calibration 8ch.in/8ch.out

2,500

Outlaw Audio

7075

7x 75 watts power amplifier

699

Toshiba

SD-K860

DVD player

80

Tripp-Lite

1000VA

1000VA Surge suppressor with battery back up

100

JBL

SP5 SoundPoint series

5 1/4" two-way in-walls 3pr. @ $175/pr.

525

Infinity

Intermezzo 1.2

850 watt subwoofer

1800

Infinity

CSW-10

650 watt subwoofer

1000

Impact Acoustics

SonicWave

"Y" Interconnect x 2

38

Impact Acoustics

SonicWave

Stereo Audio Interconnect $33/pair x 8

264

DH Labs

Silver Sonic T-14

14 gauge twisted pair wire (10 x 3) @ $3.50/foot

105

Monster Cable

off-the-roll 2 conductor

135' twisted 14-gauge speaker wire (45' x 3) @ $.50/ft

68

DH Labs

cable terminations

bananna plugs & spade connectors

15

TOTAL: Audio system w/ Audyssey Sound Equalizer

$8,494

TOTAL: Audio system w/o Audyssey Sound Equalizer

$5,295
For consistency's sake the Sound Equalizer's eight channels were configured in the same standard rotation format as is built into most receivers and pro-pros. Starting with the Denon AVR-3806's eight external outputs going to the Audyssey Sound Equalizer's eight analog inputs the channel assignments are:
Denon left front ext out > Audyssey analog input #1
Denon center ext out > Audyssey analog input #2
Denon right front ext out > Audyssey analog input #3
Denon right surround ext out > Audyssey analog input #4
Denon right rear/left rear ext outs > Y-connector > Audyssey analog input #5
Denon left surround ext out > Audyssey analog input #6
Denon subwoofer ext out > Y-connector > Audyssey analog inputs #7 & #8
Assignments from the Audyssey to the Outlaw Audio 7075 amplifier or direct to the front and rear subwoofers were:
Audyssey analog out. #1 > Outlaw Audio 7075 left front input
Audyssey analog out #2 > Outlaw Audio 7075 center input
Audyssey analog out #3 > Outlaw Audio 7075 right front input
Audyssey analog out #4 > Outlaw Audio 7075 right surround input
Audyssey analog out #5 > Outlaw Audio 7075 right rear surround input
Audyssey analog out #6 > Outlaw Audio 7075 left surround
Audyssey analog out #7 > Front Infinity Intermezzo 1.2 subwoofer
Audyssey analog out #8 > Rear Infinity CSW-10 subwoofer
This type of interconnect info looks fairly simple here. But it's handy info to have stored on the Audyssey site should a future problem arise with one of your installations.
Installing the MultEQ Pro software
Setting up the Mic, Stand, Mic-Pre and XLRs; tieing the Sound Equalizer to a PC via USB
The Installer kit comes with a well-written, easy to understand spiral-bound Installation Manual. And because the actual calibration routine is so easy I'll just touch on a few of the highlights here. Mike Thuresson, Audyssey Installer Program Manager has told me that by the time this article is in print many of the suggestions which I'll highlight here may have already made it into the first revision of the Manual.
Installing the MultEQ Pro application on your computer is a simple as any professionally produced CD-based application. Once you insert the disc you're greeted with a MultEQ Pro Setup Wizard . And after you're done with the Setup a MultEQ Pro launch icon will appear in the Start Menu. I dragged my MultEQ Pro icon to the right side of my desktop for convenience.
The MultEQ Pro CD that comes in your Installer's Kit is serial-number-matched to the microphone. The Audyssey microphone is calibrated to an $8000 Bruel & Kjaer 4136 reference. Each individual microphone's calibration-to-the-4136 data package is stored on the like serial numbered MultEQ Pro installation disc that comes as part of the kit. In my experience with measurement microphones the sample-to-sample variation between installer's microphones may be almost nil. But keeping matched serial number CDs and microphones together insures the absolute closest adherence to the B & K standard.

Confused about what AV Gear to buy or how to set it up? Join our Exclusive Audioholics E-Book Membership Program!