iPhone-based Remote Controls Review
Summary
Product Name: iPhone-base Remote Controls
Manufacturer: Misc
Review Date: April 24, 2012 10:05
MSRP: $50-$150
First Impression:

Pretty Cool

Specifications

Three technologies: IR, Bluetooth, Wi-Fi
Battery life varies
Functionality of multiple remotes
Only some include macros
Sophisticated models include program guides and "show-based" icon-driven entertainment selection

Executive Overview
This is a weird review. We are looking at an assortment of remote controls. Some may not even look like remote controls, but they are. So for this video, we're not reviewing a product per se, but more of a genre. Let me tell you first how it came about. There are a myriad of iPhone-based remote controls on the market right now. We don't have all of them here, but we've sampled quite a few and we've formed more than a few opinions on the topic. I wanted to do this review because, well, the remote control market is a mess right now. Most companies don't quite get it. And the range of "not getting it" goes from "could use a little work" to "completely clueless". With that said, let's review the types of remotes... Because there are really only three: IR-based, Bluetooth-based and WiFi-based. Now all of these remotes ultimately convert some kind of signal into the IR or infrared signals that all of our AV equipment expects to see. That's what your standard remote control puts out. Since everything is built for IR, a good remote has to eventually end up there. A good remote also combines the 4 to 6 remote controls you may have lying around the living room into a single cohesive piece of software.
Co-he-sive. See that's where most companies fail. A very basic universal remote control app would just give you virtual representations of each remote on your iPhone or iPod and that would be the end of it. But a more advanced app might do something completely different, leveraging macro commands and the power of the Internet to bring you more capabilities than you would ever get off a physical remote control.
IR-Direct Remote Controls

So the most basic iPhone-based IR remote would be something like the Ri remote with its free iOS app. The Ri software functions like a remote aggregator, giving you a virtual remote for each piece of gear. The problem is, each remote has to load and it can take three remote controls to do some very basic tasks, like turn on the TV, and turn up the volume on your A/V receiver while watching DISH Network via a set top box or DVR. The Ri remote also works using your headphone jack, but while that gives it an almost nonexistent drain on your iDevice's battery, it also requires you turn the volume up all the way and makes it near-impossible to take calls while using the remote app. This $30 remote probably isn't worth your time as it doesn't simplify the process, and in our opinion creates just as many, if not more, headaches than using 5 different remotes.
The next step up for direct IR-based remotes would be the $70 VooMote Zapper, which connects into your iPhone or iPod's docking port and uses wizards to program remotes into your iOS device. It's a tad more refined, but ultimately it still just combines a bunch of digital remotes into one accessible pile. There are no macros, no program guide and the app seemed to have difficulty getting all the controls right (though you can learn your remotes into it). It's more flexible and consistent, but still very limited in scope.
Bluetooth-based Remote Controls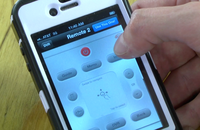 This brings us to the worst category of remotes. The category of remotes that we should force captured terrorists to use as punishment for their crimes. That's the Bluetooth-connected remote. Remotes in this category, like the $70 Griffin Beacon and the $80 Gear4 UnityRemote use the temperamental Bluetooth to connect your iPhone or iPod Touch to the base station which then issues IR commands to your gear. While the software for these devices tends to get more sophisticated, the hardware sucks down batteries like an RV drinks gas. On top of that, products like the Beacon require you to tap them on the top to wake them up after 60 minutes as they try to sleep to conserve battery power. The problem is that under real-world use they still need to have their batteries changed every 3-4 weeks and we've even seen them go dead while sitting dormant. Bluetooth is also a limiting factor in that you can only connect one device at a time and the connection is more than a little flakey.
Wi-Fi Remote Controls
Which brings us to the final category: WiFi remotes. WiFi remotes are extremely promising, limited only by the software. The way this remote works is that you set up an IR emitter, but you also inject a device that receives commands from your WiFi-connected iOS device. That way, you're able to connect over your local network and not the more power-hungry and unreliable Bluetooth. One such device, the $99 Peel Universal Remote Control (which we did a written review of) does two things well. First, it incorporates this WiFi connectivity flawlessly, and it also uses an IR base station that seems to hold its charge for a good amount of time. It also is program-centric, so the very visual program guide drives all your viewing decisions, be they movies or TV. Of course, if you want to watch a Blu-ray you can always call up the direct remote functions and switch to that activity - automatically and without having to use 3 -4 different screens or virtual remotes.
So what are we saying? Keep your eyes open for new advances in remote technology, but our recommendation is to steer clear of anything Bluetooth-based and watch those products that require lots of batteries. Over the course of a year that may be a bit of a pain. As for traditional remotes, we still love Logitech's Harmony products, but the growing interactivity afforded by the iOS is delivering at least the potential for stiff competition in the consumer marketplace.
If you like universal remotes, go buy one... But first 'Like' this video and subscribe to our AudioholicsLive YouTube channel. And be sure to 'Like' us at Facebook.com/Audioholics... And... if you're a real glutton for up-to-the-minute reporting, you can Follow us on Twitter @AudioholicsLive. For extra credit, use a universal remote control.