$6,000 Recommended Two-Channel Stereo System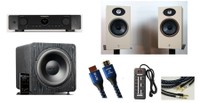 Listening to music on headphones, car speakers or a boom box is how most people have grown accustomed too. Unfortunately, none of these methods can evoke the emotion or sense of realism that comes in a properly setup two-channel stereo system. For many people, listening to music on a great two-channel system for the first time is like rediscovering their music collection. There are innumerable combinations of equipment that one could choose and it can be a very daunting task for anyone to sift through the options and put together a well rounded system. It is possible to put together a great budget stereo system, but this is not that system. We chose to put together a system that will allow someone to take a leap into high-end audio with confidence that the end result will be sonic bliss. If you want a serious music listening rig that looks good, sounds great, and is properly matched, then here is our recommended 5k-6k two-channel setup.
Our goals were to:
Build a system that will last for many years, much longer than typical home theater equipment
Put together a balanced system so there is no "weakest link" in the chain, every piece must be high quality
Allow listeners to experience music in a way that they likely never have before
Be aesthetically pleasing on the eyes and evoke a sense of pride in ownership
Speakers and Amplifier
Speakers - Martin Logan ElectroMotion ESL ($2,200/pr)
Let's cover the most subjective and expensive piece of the system first, the speakers. There are a lot of great choices on the market, but we decided on the Martin Logan ElectroMotion ESL speakers for a number of reasons. Elecrostatic (ESL) speakers have historically been very expensive, but Martin Logan has brought that price down to $2200/pr and advanced the technology more than any other ESL speaker manufacturer. With the ElectroMotion you can step into the exact same ESL technology used in their $25k/pr CLX loudspeakers for much, much less. When properly setup these speakers have very clear highs, an airy sound quality and excellent imaging. The ESL panel handles frequencies down to 500Hz, below which an 8" paper cone driver takes over and plays down to 42Hz. The cabinet is bottom ported for added bass response. They are pretty easy speakers to drive thanks to a 6 Ohm impedance and 91 dB sensitivity, which means you should have plenty of headroom with the recommended amp. In addition to superb sound quality, these speakers are visually striking, especially for anyone who has never seen an ESL speaker before. The only real knock against these speakers is that you need to be pretty much on axis for optimal listening, but with critical two-channel listening that shouldn't be a problem. Also, they are not made to play quite as loud as some other speakers in this price range. If you want speakers with a wider dispersion pattern and that can play to ridiculous volume levels, then some of the alternatives below should meet your needs nicely.
Alternatives:Salk SongTower QWT | Aperion Verus Grand | PSB Imagine T
Integrated Amplifier - Yamaha A-S1000 ($1,799)
A quality amplifier is likely to outlast everything else in your system, we so felt that it was necessary to recommend an amplifier that is robust enough to handle almost any speakers you might purchase in the future. Yamaha has gotten back to their HiFi roots with the A-S1000 2ch. integrated amplifier. This 48.5lb amplifier puts out 90w per channel at 8 ohms and 140w per channel at 4 ohms. While many amplifiers fudge their amplifier ratings with high THD or other marketing gimmicks, the 90w and 140w ratings are full bandwidth 20Hz-20kHz at 0.02% THD RMS power ratings with both channels driven. This amplifier supports A and B channel connections for bi-wiring. On the back of this amp is a dedicated phono input with ground and 4 other line-level inputs. There are also bass, treble and balance controls. A ¼" headphone jack is available for use if you want to listen to music without bothering anyone else.


Yamaha A-S1000 Front Panel View and Top Down View
Sources
SACD Player - Marantz SA8004 ($999)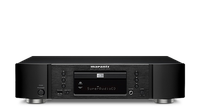 In this setup we are relying on each source to have the same build quality as the speakers and amp. The Marantz SA8004 not only supports CD and SACD formats, but also brings this system into the 21st century with the inclusion of a USB input. We know that SACD is a limited format but thought it necessary to include it because so many extremely high quality recordings are available on SACD. However, we also know that many new recordings are available in Hi-Resolution digital downloads and wanted to make sure all of the new music would also work with this system. The front and rear USB ports on the SA8004 can be hooked up to a computer, flash drive, or iPod for music. They also support 24-bit 96kHz files for lossless or uncompressed audio. If you don't need SACD support or would rather forgo a USB input for a focus on CD and SACDs, then check out some of the alternatives below.
Turntable - Pro-Ject Debut Carbon ($399)
The Pro-Ject Debut Carbon is widely regarded as a great record player for the money. The Debut Carbon is an updated version of the Debut iii. It has a 8.6" carbon tonearm, sorbothane motor suspension and precision belt drive with synchronous motor. The main platter is also improved over the Debut iii with higher diameter and more weight. It also comes with a high quality cartridge from Ortofon. Finally, because vinyl is just as much about style as anything else, it is available in 7 different high-gloss colors


Cables and Protection
Speaker Wire - SonicWave 10AWG ($55/ea)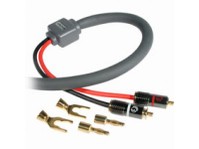 There is a lot of pseudo science and misleading marketing material in the high-end audio market about speaker cables, so we side stepped a lot of the gimmicks and chose a set of speaker cables that are of sufficient gauge, pre-terminated, and reasonably priced. The SonicWave speaker cables come pre-terminated with a special screw-type connector that allow you to easily switch between using spade lugs or banana plugs. This is a great feature because some speakers work better with spade lugs and most amplifiers work better with banana plugs. The wire is available in 6, 8, 10, 12, or 18 foot lengths. You should only need two sets of wires ($110) but if you want to bi-wire your speakers then order four sets ($220).
Analog Interconnects - Tributaries Series 5 ($55/ea)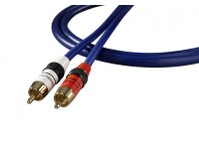 Just like speaker wire, it is easy to spend an absurd amount of money of RCA cables. The Tributaries Series 5 RCA cables provide sufficient shielding from RF and EM interference without breaking the bank. They come in 1, 1.5, 2, and 3 meter lengths. Depending on your AV rack,you may need the 2 meter length in order to route the cables away from the power cords.
Power Center - Panamax MR4300 ($399)


If you are going to put thousands of dollars into an awesome stereo system it would be foolish to not spend a few hundred dollars to protect the equipment. The Panamax MR4300 is an updated model of the M4300-PM and will allow you to rest easy during a big storm. Unlike a basic surge protector, it constantly monitors the incoming voltage and will automatically disconnect and reconnect power to your equipment if the voltage is too high or too low. It addition to bullet-proof protection, it also has two isolated filtering banks (one of which is high-current) to make sure any noise present in the electrical lines is removed. Finally, the MR4300 has a few convenience features, such as two front mounted LED lights that shine down on your equipment (45 degree rotation) and an extra outlet and USB charging port on front.
Alternatives: Panamax M8-AV-Pro | Ultralink HDC-150
System Break Down & Conclusion

| | | |
| --- | --- | --- |
| Speakers | Martin Logan Electromotion ESL | $2,200 |
| Amp | Yamaha A-S1000 | $1,799 |
| SACD Player | Marantz SA8004 | $999 |
| Turntable | Pro-Ject Debut Carbon | $399 |
| Speaker Wire | Sonicwave 10AWG | $55 x2 |
| Audio Interconnects | Tributaries Series 5 | $55 x2 |
| Power Center | Panamax MR4300 | $399 |
| Total | Buy Now at Special Price | $6,016 |
If you purchase everything at MSRP this system will set you back $6,016, sans tax. However, in general we don't expect it to cost that much. As of writing this article, the Yamaha A-S1000 is on sale for $1,299, bringing the cost of the system down to $5,516. If you decided that you didn't want SACD playback, you could save another few hundred dollars by going with one of the other recommended CD players. Less costly alternatives are also recommended for speakers, turntable, and power center. All in all, you should be comfortable mixing and matching any of the equipment on this list and still be confident that you will end up with a great sounding two-channel music system that will last you for many years.
jandrewyang posts on October 10, 2012 09:30
That'd be my vote for an integrated amp and speakers in a dedicated stereo system. I was a straight up digital and solid state man until I had the chance to listen to these.
gene posts on October 07, 2012 22:25
Hot off the presses, a $2k two-channel system:
$2,000 Recommended Two-Channel Stereo System — Reviews and News from Audioholics
[audioholics.com]
If you want a digital input, the HK 3490 is the ONLY viable solution I've found. It's a great receiver and I reviewed and bench tested it too.
These Boston Acoustics speakers sounded great at CEDIA and they use excellent components and very good build quality. They also have nice aesthetics. I have a pair coming in for review next month too.
gene posts on October 07, 2012 22:21
haraldo;912509
Thx Gene

Perhaps an idea is to make it very clear when it's E store recommended systems and AH recommended systems, then these issues would simply not be disclosed at all.

When this is said I really think it's good these efforts with recommended systems, but it's always room for improvement
As I said before the ones written by the E-Store say "Audioholics E-store" such as this one:
Audioholics Store $750 Audio System — Reviews and News from Audioholics
[audioholics.com]
There were 3 other systems but it looks like they retracted them to update obsolete components. Those should go online in a week or two I'd imagine.
slipperybidness posts on October 07, 2012 22:15
Adam;912503
I liked the idea of going back in time better...I'm not much for being formal.

I wish that I could put a recommended system together, but my experience is pretty limited.
Perhaps after the first one, it would be formerly.
haraldo posts on October 07, 2012 22:13
Thx Gene

Perhaps an idea is to make it very clear when it's E store recommended systems and AH recommended systems, then these issues would simply not be disclosed at all.

When this is said I really think it's good these efforts with recommended systems, but it's always room for improvement