Surfer Dude - Part 2
Medic!
I almost fell through the ceiling. Almost. I caught myself, but not before I heard and felt a strange sensation in my shoulder. For those who want the more comical, but extended version of the story, head on over to AVRant.com.
I managed to get down through the attic - I have no idea how other than I was sure the pain would be far greater once I stopped moving around (it was). I successfully pulled out the extension pole by grabbing onto it with a small piece of ground wire (from a length of romex) which I bent into a hook. I undid the tape holding both wires and grabbed my Makita for some ceiling drilling...
Things Are Looking Up - Literally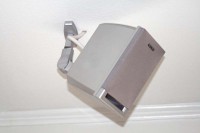 I moved the ladder over to the living room and marked off my four ceiling speaker positions. Unfortunately, I hit a stud on the first hole (left front). Moving over 2 inches I got a clean hole. I was using a bit that was just big enough to get the wire through as I didn't want air escaping from the attic and would like as clean a look as I could get (you can always caulk afterwards). Working my way around the room I got the remaining holes drilled with little difficulty (though there was lots of dust.) To mark each position in the attic, I inserted a piece of electrical wire (either hot, neutral or ground) from a short pierce of romex. To hold the wire in place I simply bent the bottom end in a loop so that it caught in the hole when fully inserted.
Now that everything was in place I moved the ladder back and cut and rolled two more lengths of Impact Acoustics CL2-rated speaker wire. I dreaded the dead-lift I had to take into the attic, but I didn't have a second option if I wanted to finish - and by then I really wanted to finish.
Luke, You Switched Off Your Targeting Computer. What's Wrong?
Things were slowing down as I braced for the actual lift. I'd decided to just do whatever it took and get 'er done. I pulled up, which turned out to be not so bad and headed in to locate my positions, drop the other speaker cable pair and run all four ends through the holes.
Getting the other two pieces of wire into the hole along with the "weight" was a tight fit, in fact it was too tight. Aargh. I suddenly realized I had earned a bonus trip downstairs to retrieve my cordless drill and create a separate hole. At this point I knew my goal and so I was pretty much running on auto-pilot and ignoring my shoulder…
Back in the Saddle Again
It didn't take long to sling up my spade bit and get back into the attic. I moved over to my first hole and drilled another just like it. Looking in I saw the light at the bottom and the new cable assembly dropped down easily enough.
Rather than take another trip downstairs to pull it out I ran the other ends through the four holes positioned around the attic (I had already located and identified the four romex wires.) This was an easy process and it all looked to be going smoothly at this point. I fed the cables all the way through until there was no slack left in the attic - less to trip over.
The Home Stretch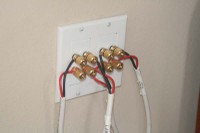 This time I was out of the attic for good and I could see that the second drop was in the right place to be easily extracted. All four pieces of Romex had fallen to the floor, having been pushed out with the wire insertion. I had an average of 3 feet too much cable in each spot - easily trimmed.
The final step for today was "pinning out" the wires and labeling them as I put on the wall plate. To do this I simply stripped the wires which were coming out of the ceiling, leaving about 18 inches. I connected the red and black wires to form a short (on purpose). Going back to my plate location where all four wires come together I used my voltmeter's audible short-tester mode to see which of the four cables was shorted. Once I found it, I labeled it accordingly. Rinse, repeat. I used a Rhino 3000 labeler (oh my goodness this thing is convenient) which was supplied with the C.I.T.S. kit and marked the physical cables in the event we had to go back and diagnose anything that might be amiss.
Clean Up
It would be Miller Time if I drank. Almost. As much as I would have loved to leave I still needed to clean up the dust and droppings left by my drill and the ceiling. When I came back, I planned to mount the speakers and tweak out the system.
Install 2, Day Two - Surfer Boy Gets a Home Theater
Ummm… Mounts!
With all the hard work completed, I arrived at the home to mount the four speakers and place the center channel and subwoofer. Stripping the cables took me longer than I expected, but it was done quickly enough and I was ready to secure the mounts to the ceiling. We used a set of Sanus WMS5 mounts in silver which matched the Sony speakers we were installing and promised to be both flexible and secure enough to handle the satellites.
Mounting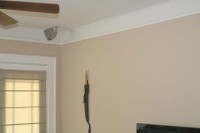 Once each mount was mounted (we found studs for all 4 positions to ensure we wouldn't have to worry about falling speakers) we then took each of the speakers and secured the surface mount clips to the single threaded mounting socket of each. This made mounting the final speaker easy as it simply entailed using an allen wrench (provided) to secure the speaker to the ceiling bracket. We placed the center channel directly underneath the display (now a Panasonic plasma display) and the sub was located to the right of the display stand on the floor.
Conclusion, Calibration and Engage!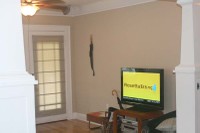 Wow, 44 minutes and we were ready for calibration. I set up my SPL meter and navigated yet another awful Sony system menu, setting levels and speaker sizes. Once everything was configured we placed a little Saving Private Ryan into the DVD player and I made sure everything was sounding as good as could be. Overall, the system sounded pretty decent - a huge step up from the television and miscellaneous speakers being used previously. Even if you don't like big speakers you will do well to step up to any type of dedicated system to improve the sound quality you'd get from a television. Let's call this job a success and soon we'll move on to our next project which involves a stepped up system and some different parameters.
See also:
cwall99 posts on September 15, 2008 12:40
So, I've been lucky in that my wife has let me buy all the gear for my system that I want. Actually, she bought me a 57-inch Sony RPTV for my 40th birthday, and while the technology that's out now (I'm almost 46) eclipses what was available then, I still think she's at least a finalist for the "Coolest Wife Ever" award for that one (granted, I did spend the night before camped outside the Palace in Auburn Hills with her so she could get second row, dead center seats to see Bon Jovi - a band I've seen too many times... you mean once?). But I digress....
So, right now, I'm feeling inspired by these articles, and I'm considering re-running my surround speaker cables (my back speakers are a pair of old, but still very capable, NHT 1.3As).
My questions:
How do I determine where to drill down into the wall header? More specifically, from what point in the attic do I measure to have any sort of realistic chance of drilling down between the same two wall joists where I cut my hole in the wall?

Is it easier just to run the cables through the attic over the listening room/family room and dropping the cables, or is it easier to just do the crown molding trick? I figure that if I do the crown molding trick, locating the holes through which I need to run the wires ought to be pretty easy as I don't have to go up into the ceiling and then try to make sure my holes in the header are between the same two joists where I cut into the dry wall to put my plates.

Oh, I'm not very handy. I'm hoping that if I buy the materials and some good beer, my handy buddies can help me out with the carpentry work.
Thanks.
mjsmith posts on September 15, 2008 12:10
These install articles are great but I was hoping they would differ a little. This last one is very similar to the first one.

Are you going to showcase any that are a little more difficult? In my current situation I just bought a two-story home and the living room has a high ceiling. I think I can hide most of the cable in molding but it is going to be tricky.
Matt34 posts on September 15, 2008 11:33
My only install story comes from when I was running cable from my satallite dish to my TV in the living room. My house's foundation is three feet tall(flood zone) so there is a crawl space underneath.

After overcoming my fear of the black widows that call it space home I began crawling from one end of the house to the middle where I had already drilled a hole and my wife was now shinning a flashlight through. I get about a quarter of the way there and hear something coming up behind me! It's pitch black under there and I'm only wearing my headlamp so I spin around as quick as I can to look at what's coming up on me and all I can see is the green reflection of my german shepards eyes! I guess he thought he could help and followed me in.
Clint DeBoer posts on September 15, 2008 11:10
No doubt. I actually have a 3-LED one. I want to get one of those safety glasses with the ones built into the side, though. Very cool!
Matt34 posts on September 15, 2008 09:18
Clint, for those attics without lights.