Multiple Subwoofer - Initial Setup & Measurements
Step 3: Make sure all of your subs are playing the same tune
Trust me on this one. It becomes quite problematic trying to integrate multiple subs if they aren't playing the identical signal. Stereo subs can work if your processor accommodates such a provision while also sending LFE signal to both, but at that point its really no longer stereo since the subs share mixed L/R info. Most processors don't - and even the ones that do usually don't accommodate simultaneous calibration of both subs, a critical measure we will get into in step 6 when using auto EQ systems.

Make sure you disable the internal Low Pass Filter (LPF) of each of your subwoofers or set them to the highest frequency setting to avoid deleterious interactions with the bass management of your receiver/processor. Also set the phase to each sub to zero degrees. In only rare instances do we suggest trying to gang the crossovers or vary phase, which is discussed later in this article (step 5).
Editorial Note on Multiple Subwoofer Connections and Setup

Set up your A/V processor/receiver so it's playing in "stereo" mode with the main channels and subwoofer channel both active. On some processors you must set the bass management to "Both" or "LFE + main" in order to ensure the subwoofers are active for two-channel sources, especially if you decide to set the main speakers to "Large". In most cases, we recommend setting all speakers to "Small" when using dedicated subwoofers to avoid overlapping of bass frequencies between the speakers and subwoofers below the crossover transition region. However there are instances where setting the main speakers to Large can provide a better blend with the subwoofers at and slightly below the crossover frequency. Assuming the speakers can handle a full range signal at reference levels, this option should not be ignored.


If your processor has only one subwoofer output, its time to get a y-splitter to feed that output to all of your subwoofers. If your processor has multi subwoofer outputs and can be configured to play the exact same signal for each output, use it. The bottom line is you want all of your subwoofers playing a mono signal that consists of all channels set to "Small" plus LFE info. Some processors/receivers like those from Denon allow for multiple subwoofer outputs where they assign two of the subs for stereo operation and a 3rd sub for LFE. The problem with this is when listening to two-channel sources, only the stereo subs will play and when listening to sources with LFE info, only the LFE sub will playback that info. The other problem with separate Sub and LFE assignments is that they can share bass signals and interact destructively. If you are relying on the modal averaging from all the subs, they must be playing the exact same signal all of the time for all sources. Use the "mono" feature to accomplish this.
As a side note, the new THX Big Room specification calls for four sub outputs from a single summed bass crossover with separate delays and level for each sub, but no individual EQ. This is a great step forward and we can't wait to review products that are designed to this specification. Users must be warned however that using different levels and time delays for each subwoofer requires a computer and sophisticated software such as the SFM system from JBL Synthesis to determine the best alignment in order to realize the standing wave reducing benefits multiple subwoofers properly positioned can offer.
Step 4: Level Match ALL of the subs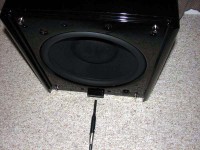 It's important to level match all of the subs relative to each other as closely as possible. Failing to do so may result in poor integration and even cause the ones set higher than the others to be overdriven during loud passages. This can result in considerably higher distortion than your system is capable of for a given SPL. The proper way to level match your subs is to use the internal pink noise generator of your processor and an SPL meter set for slow response "C-weighted". Check the level of each sub independently by turning off all of the other subs not under test. Verify the level equidistant for each sub. Alternatively if you want an easy quick way to level match subs, measure each subwoofer's nearfield SPL by placing the microphone on the floor, about 4 inches from the surface of the cabinet that contains the subwoofer. If the system is a vented one, the mike should be approximately halfway between the center of the woofer cone, and the center of the port. For subwoofers with multiple drivers, this may not give you the most accurate results which is why we usually recommend measuring SPL at equidistant positions for each sub which may not be at the primary listening seats. Once you have all of the subs playing at the same output level with respect to each other, its time to calibrate the summed subwoofer level to the main channels or center channel.

Verify the SPL level at the primary and secondary listening positions for your main channels, center channel and combined subwoofers. Write this down and chart the SPL levels so you can make final adjustments more accurately. Ideally you want the subs each playing at the same level but you can boost their summed output a few dB above your main speakers once you flatten their summed response out which we will get to in step 6. It's a good idea to measure the SPL at least two locations and calibrate them to within 1-2dB of each other to ensure they are more closely level matched for your listening area. In fact THX suggests that you shouldn't rush your measurements. Take your time when performing SPL and RTA measurements. THX recommends each measurement take at least 20 seconds. Some professional calibrators recommend up to 1 minute. This ensures you get an accurate measurement at each subwoofer position. Why? Pink noise isn't always steady at low frequencies. Noise is by definition, random. The longer the analyzer spends averaging the signal from the pink noise, the less likely the SPL measurements are to contain errors due to the random nature of pink noise. Take your time to get a good average measurement. It's worth it in the long run.

Chart your results in a table as shown below.
| | | | |
| --- | --- | --- | --- |
| Subwoofer | Seat #1 | Seat #2 | Notes |
| Sub #1 | | | |
| Sub #2 | | | |
| Sub #3 | | | |
| Sub #4 | | | |
| Main L/R | | | |
| Center | | | |
Note: some calibrators match the sub levels to the main channels while others match to the main channels with the center channel running. We have found this to be a subjective preference that you must determine what sounds best to you.
Step 5: Measure the Initial Results
Before we start getting into auto setup or active equalization, let's get a level set for where we are. It's critical that we get the best possible blend between our main front speakers and the subwoofers. Some would argue the center channel to subwoofer splice is most critical. If you primarily listen to multi-channel music and movies, this may well be the case. However, we tend to be far more critical of two-channel audio listening than trying to determine if we are not getting a good bass blend between the center channel and the subs during instantaneous action scenes in movies. If you're listening habits favor two channel music sources, then it's best to calibrate the subs to the front main channels. If you favor more movie watching over music, then calibrate with respect to the center channel.

Plug in your RTA or FFT analyzer to an unused analog left and right input of your processor, position your mic at the primary listening position at ear height and let the fun begin. (If one is doing a high Q tuning, ear level is likely appropriate. If one had only a few filter sections of relatively low Q available for tuning, putting the mic on the floor at the listening location will probably give you a better measure of the overall power output of the system at low frequencies.)


Set the frequency response scale of your RTA to plot between 10Hz to 200Hz with a 60dB range of the amplitude scale to get a clear picture of what is going on with your systems bass response. Make sure you have a resolution setting of at least 1/12th octave resolution or better. I see so many people using the display from the Velodyne SMS-1 as a method of measuring their system's bass response - not realizing the resolution of their display is a smoothed 1/3rd octave which is virtually useless at determining how to properly equalize and fix bass issues. Such low resolution measurement systems do a poor job of seeing the much higher Q problems which typically plague rooms, and need to be removed with a scalpel, not a saw. It's important to have enough resolution to accurately dial in the response.
Editorial Note about Resolution by. Dr. Floyd Toole
1/3-octave resolution is a crude approximation of "critical bandwidths" which represent the bandwidths over which loudness summation occurs. However, within a critical band multiple tones or overtones interact with each other to produce beats and something called "roughness", both of which are important contributors to timbre/sound quality. The engineering reality is that bass room modes behave as minimum phase systems and it is necessary to be able to match the shape of a parametric EQ to a peak so that the resonance is damped, not just turned down. This requires high resolution data.

After taking a baseline measurement of your primary listening position, try varying the following parameters to see if you can achieve measurable improvements (ie. Smoother and flatter bass response, less peaks and less nulls).
Main speaker size: Large / Small (only consider the "Large" setting if its measurably beneficial and your speakers can handle full range signals at your highest preferred listening level without bottoming out)
Main speaker crossover setting (for multi crossover receivers/processors)
Subwoofer distance
Subwoofer phase (typically most effectively manipulated to find the best blend between the subwoofer/satellite system at the crossover frequency). You can have success using this adjustment as a tool for better bass integration as well since most phase switches on subs are 0 to 180 degree switches, which affect ALL the frequencies. Further, the variable phase controls found on some subs affect at least an octave on either side of the crossover frequency. We usually recommend leaving this at the zero setting for all subs but you can experiment by varying the phase of one sub at a time to see if it makes a measurable improvement to the combined output.

I don't recommend varying the crossovers of your A/V processor more than 20Hz from the usually optimal and THX recommended 80Hz setting. We have found some processors have a tendency to truncate LFE info if you set the crossover below 80Hz. Setting the crossover too high causes the subwoofers to be localized especially if some of them are collocated near the listening area. It is entirely feasible however that 100Hz may work better with the small satellites. The stereo effect below 150Hz is very minor, and depending on the sensitivity, distortion and native cutoff frequency of the mid-high speaker, a crossover point at 100Hz may give you the best overall sound. Experimentation is the key here. If you're running really small satellite speakers that require a higher setting than you should consider replacing those speakers or placing your subs as far away from the listening area as possible to avoid localization.

Again it's usually recommended to keep all of your speakers set to "Small" to achieve the most optimal blend to your subwoofers and to ensure maximum dynamic range from your speakers by taking the heavy bass duties away from them. Removing the lowest frequencies from the mid-high speakers will lessen the distortion of those speakers and driving amplifiers!

Subwoofer distance is critical to ensure proper blending with the speakers and also each other. If you're running independent subwoofer outputs from your processor for each of your subs, properly set the distance to each respective subwoofer. If your subs are perfectly placed in a rectangular room than a single delay setting will work for all four subs and is in fact essential to maximize standing wave reduction.

However if your placement options are less than ideal, you may have to manipulate delay settings for each sub. In such cases, try averaging the distances between grouped subs (that share the same sub out of your processor) and your listening area. Basically if you have sub 1 located 10ft away from the listening area and sub2 located 8ft from the listening area, enter the average distance into your A/V receiver/processor (10+8)/2 = 9ft as a starting point. This can vary a bit depending on any added group delay caused by the subwoofers internal DSP processing (if any) as well as room interactions. In speaking with Gerry Lemay of HAA, he recommends measuring the combined (LCR plus Subs) output at the crossover frequency and adjust the time delay until you achieve the highest sound level.

Editorial Note on Subwoofer Distance:
If we are using an 80 Hz sub crossover frequency we can create a 180 degree phase change for the sub channel in the pre/pro by adding or subtracting a distance of half of the crossover's wavelength (for 80 Hz that corresponds to 7 foot). It makes little sense to add or subtract more that 7 feet in this instance because you've run through 180 degrees of phase change.

Once you've achieved the best measurable response at the primary listening position, repeat this procedure for the next best seat or secondary listening position. Try to find a combination of settings that yield the best response for both locations. You can expand this for more seats but in my experience if you've done a good job for the two main seats (ie. front center row and back center row) the other seats will usually benefit as well. Again the better you properly position your subs, the less guess work and tweaking you will have to do to attain consistent and optimal frequency response for all listening seats.
Real In-Room Measurements
My theater room is very challenging due to the asymmetry of the front which makes it L shaped. Thus I was unable to take full advantage of modal averaging multi subs offer properly placed in a perfectly rectangular room. My room was a challenge not only for bass but for getting the main channels to image well. I was very fortunate to have Auralex Acoustics help me bring back some symmetry in my room with passive acoustical treatments. However there are almost no passive treatments effective below 100Hz so I had to get clever by tactically placing four subwoofers in my room and equalizing them with Audyssey MultEQ Pro. The big help was placing two subs in pressure zones of the room that are close to the listening area. As long as you cross them over low enough (80Hz or lower), they won't be localizable.

Using LMS, I measured the frequency response at the two most important seats in my theater room, the front row center, and back row center. I measured the response at these two locations when playing the front left sub, both front subs and all 4 subs with the main speakers set to "Small" and the crossover set to 80Hz.


Frequency Response vs SPL - Front Row (1/12th Octave smoothed)
Green: all 4 subs; Red: front subs, Blue: Front Left sub
The bass response for just the Front Left RBH T-30LSE subwoofer (Blue trace) exhibits lots of peaks and nulls yielding a bass response of +-7.5dB from 17Hz to 150Hz which while not quite terrible is certainly not the best we can do. Introducing the Right Front RBH T-30LSE subwoofer (Red trace) into the mix adds significantly more output below 40Hz, but didn't help much to smooth out the bass response. Unfortunately since the RBH subs are part of the front speakers, I was limited in what I could do to optimize their position for the smoothest bass, so EQ is a must to better integrate them; but should not be used before we have all 4 subs playing nicely together. Having all 4 subs playing together (Green trace) helped to smooth out the bass response in the front row, although there was a lot of room gain below 40Hz. This is where EQ is a needed tool as can be seen in the next section where we employ Audyssey MultEQ room correction.

Let's move on to our second most important seat my theater room, the back center row. This is where I sit mostly when viewing movies or listening to multi channel music since this row offers more surround sound immersion and is also a bit more tactile response due to it being closer to the back wall and also being propped up on my riser platform.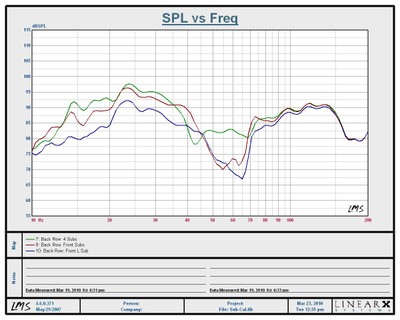 Frequency Response vs SPL - Back Row (1/12th Octave smoothed)
Green: all 4 subs; Red: front subs, Blue: Front Left sub
The response of just one front subwoofer is pretty bad. This is partly because the back row is so close to the back wall which excites the low frequency room modes. In this case we are looking at +-12dB from 20Hz to 150Hz. Adding the second front sub helped to boost gain below 45Hz for a more matched level at higher bass frequencies but there was still an unacceptably wide dip centered around 60Hz that needed to be dealt with. Adding the two Velodyne subs in the mix (Green trace) really helped this out but without EQ, we still had too much bass below 35Hz. Thus at this point we need to rely on our EQ to resolve the remaining bass issues as you will see in the next section of this article when we engage Audyssey MultEQ room correction.
Advanced Calibration Notes
For more advanced users utilizing subwoofers with built in equalization and or adjustable subsonic filters and crossover slopes, you may consider manipulating one sub at a ti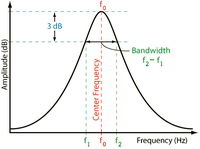 me to better tune in your response but there is a lot of guess work by doing so don't waste a lot of time tweaking if you aren't seeing measurably better results.

For example, if you have a measurable bass peak centered at 40Hz that is 10Hz wide, you can setup an EQ band of 40Hz with a Q of 4 to reduce this problem.

Where Q = fo / BW ; fo = center frequency and BW = bandwidth

To determine BW, mark -3dB high (f2) and -3dB low point (f1) of the problematic mode and subtract F1 from F2. Once you have that number, use that for the denominator and the center frequency (fo) of the peak or dip for the numerator and you will find the Q. (Note: This mathematical method works better for high Q and high amplitude resonances than it does for low Q low amplitude peaks and dips.)



I recommend boost limits of +3dB (for low Q gains). As a general rule, try to flatten the overall response out with wide dips, than by adding narrow peaks in the response as that is a method less likely to overdrive the speaker or amplifier. However, if one has a good handle on the dynamic range of their system, and the Q of the band adjusted is high enough, a higher Q higher amplitude boost is going to be well tolerated. If you see no measurable improvements with boosting, don't do it. You have run into a room null that cannot be fixed with EQing and you will essentially be wasting amplifier power and headroom if you boost it. Keep your cuts limited to -10 to -15dB. If you need to cut more than that, then something else is going on. Try relocating the problematic sub or subs or even your listening seats to reduce the modal peaks. If you are finding poor integration at the system roll off points of your subs, try adjusting the subsonic filter 3dB point and slope, one at a time for each sub until you achieve a better blend. If your sub doesn't have this feature, you may have to keep experimenting with position or delay settings in your processor. Realize if you're using unequal subs you can expect to lose some bottom end as the phase shifts at or below resonance will cause subtraction from the output of subs having a lower F3 point). The optimum configuration would be to have all subs with the same system type and order as well as the same low frequency limit. (In short, if you have a vented or sealed box or bandpass box, they should all be the same. If one sub rolls off at 25 Hz, they all should.)

The bottom line is don't chase your tail. Only try to fix low to medium Q dips and peaks. I recommend revisiting step 2 one more time before proceeding. Once you've exhausted all of your manual options, proceed to step 6.


See also:
jp_over posts on March 30, 2013 13:12
Pottscb posts on March 30, 2013 08:43
The only problem I see is that these analyzers run $3K, unless there are cheaper ones I don't know about. I guess the rest of us will have to trust Audyssey until something changes...
l0gikal1 posts on January 31, 2013 20:12
Very useful article gene, plenty of detail stated.
Arlene468 posts on September 10, 2012 20:41
I didn't read the article, but just counted the words. 5,999... You are slacking!
neverfinished94 posts on September 09, 2012 21:21
This forum is great with lots of helpful info. I was hoping someone can point me in the right direction and I am having a dedicated home theater built in my new house.

My plan is to eventually have 2 subs but I will only have one to begin with. My dilema is that all the wires will need to be ran prior to setup since all wires will be in wall and terminated at wall plates. So I will need to have a good idea of where both subs will be at before listening to them to figure out the best location. I hope this makes sense.

My initial plan was to have both subs at the back of the room.

This is the layout of the room (15x17) and this is where I would place the 1st sub.



Then add an additional sub here.



But after some research, I am confused as to where the subs should go.

Would option 2 be better



Or maybe option 3.



If option 2 or 3 is better where do I need to add the additional sub when I get it down the road.

Thanks in advance for your help