LT-46148 Build Quality and Remote Control
The display arrived in a well-protected box that opened by sliding the box up over the display and off the separate bottom part of the box.  This eliminates any awkwardness in trying to get a large display out of the typical box.  With a nice assist from my wife we quickly had the display out of the carton and set up on the AV rack.  The display is referred to by Mitsubishi as a SuperSlim LCD HDTV, and has the following measurements:  46" diagonal screen size, height with base was 28" (w/o the base, just the display measured about 26-1/2"); width on the base is about 11" (w/o the base, just 5"); and the width is 42".  SuperSlim describes the area around the display more than it does the thinness/depth of the total display. The total weight of the display is almost 62 pounds.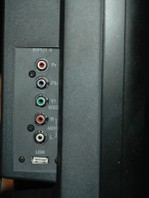 The cabinet features the platinum black Ultra-Thin Frame (bevel), which around the top and sides of the picture is only about 3/4" thick.  This feature leaves little to distract you from the sharp 1080p picture. The swivel base (+/- 30 degrees) gives you a little advantage when connecting cables to the back or side of the unit during setup.  If you utilize the display in a multipurpose area, it could also improve the view from several different viewing spots.  Not the case in my viewing room, but this feature could also be very useful for applications where you might have more than one viewing area - sofa, kitchen, etc.  Also, the left side of the cabinet includes a component and composite video input, analog stereo input, and USB input.  These well-placed inputs makes it very convenient to hook up a camcorder or video game console for occasional use.  The USB input is utilized for viewing photos (JPEG images) from a thumb drive or even, apparently, a USB card reader.
If you opt to wall mount the unit, Mitsubishi recommends the Peerless Wall Mounting Kit, model ST650.

Remote Control

The remote control for this display is a pretty basic, vanilla remote. There was nothing to complain about, but it also had nothing that really blew me away either. It was nice to see that it was at least partially backlit, so you weren't stuck fumbling in the dark to do basic tweaking, or channel surfing. The basic video menus were all accessible either by the Menu button, bringing up the main menu, or you could scroll through all the available options by pressing the Video button.  During my calibration process I typically found myself scrolling through Video menu options until I got to the one I needed using the Video button. The remote also features NetCommand with IR learning capabilities. This allows the Mitsubishi's remote to control other components in your system by way of external IR emitters (supplied).