Power Sound Audio XV15 Subwoofer Conclusion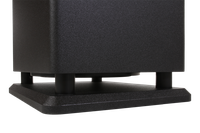 Power Sound has come out swinging with the XV15 and if the rest of their line-up is as good as the XV15 is I'd expect they will be doing quite well for themselves in their first year of operation. The previous experiences that the founders of Power Sound had producing powered subwoofers is evident in the XV15 in the protection circuits, the internal equalization and the overall design. It is not a small sub or the prettiest on the block but there are plenty of choices that fit into that mold and that market segment is not who this subwoofer was designed for to begin with. Don't get me wrong I actually liked the finish and look of the XV15 a lot more than I thought I would, but it is still a large black box at the end of the day. What the XV15 does do is make large amounts of bass for not a lot of money. In that regard the XV-15 brings it with a 15" heavy duty driver, 500 watt amplifier and solidly built ported enclosure all tuned together into a well functioning complete system. Not to mention the 5 year bumper to bumper warranty. The fact that it utilizes primarily US sourced components and assembly is icing on the cake for a person like me who cares about such things. Apparently $799 can buy an astonishing amount of performance in the subwoofer kingdom these days.
The Power Sound XV15 easily meets the required output thresholds to receive the Audioholics Bassaholic Large Room rating, but was just a little short of making the more difficult Extreme room rating. It would have been the least expensive unit to do so by far. The Large room rating indicates that this sub is recommended as maintaining adequate headroom in rooms or spaces of between 3,000 to 5,000 cubic feet and/or for users who usually listen at moderate to high volume levels. For further information in how we make these recommendations see the full article here.
See: Audioholics Subwoofer Room Size Rating Protocol
Power Sound Audio XV15 Review
Power Sound Audio
sales@powersoundaudio.com
Phone: (330)349-0943
MSRP: $799 (Shipping Included)
The Score Card
The scoring below is based on each piece of equipment doing the duty it is designed for. The numbers are weighed heavily with respect to the individual cost of each unit, thus giving a rating roughly equal to:
Performance × Price Factor/Value = Rating
Audioholics.com note: The ratings indicated below are based on subjective listening and objective testing of the product in question. The rating scale is based on performance/value ratio. If you notice better performing products in future reviews that have lower numbers in certain areas, be aware that the value factor is most likely the culprit. Other Audioholics reviewers may rate products solely based on performance, and each reviewer has his/her own system for ratings.
Audioholics Rating Scale
— Excellent
— Very Good
— Good
— Fair
— Poor
| Metric | Rating |
| --- | --- |
| Bass Extension | |
| Bass Accuracy | |
| Build Quality | |
| Fit and Finish | |
| Ergonomics & Usability | |
| Features | |
| Dynamic Range | |
| Performance | |
| Value | |
See also:

gajenn posts on February 16, 2013 09:09
Just got mine yesterday, what a difference a sub makes...doesn't over power my other speakers. fills the sound,makes my b&w speakers sound 10x better. I play mostly movies with my 65" panny plasma, for ht this just totally rocks, but it's Massive. Looks good though, don't know why some knock its looks. It's not a highend wooden piece of furniture and unless you live in a warehouse its very large and noticable,but if you like deep clean bass then get one...
Steve81 posts on December 18, 2012 02:02
Coult_45 posts on December 17, 2012 22:29
There should be a running list of sub-woofers and their bassaholic rating. Maybe they should be listed in alphabetical order for each room size. This would really help the average person that is shopping for a subwoofer. It would give them a list of subs (older models and newer) that they should be thinking about based on their room size. It should be located in the what to buy tab. Is their a list that gets updated?
jbrown15 posts on December 05, 2012 10:55
PSA has excellent customer service. Before I made my mind up on buying one I emailed Tom and told him I was looking at upgrading the subs in my theater and I was looking at about 6-7 different subs anywhere from $1500 to $2500.

Not once did he put down any of the other manufactures subs that I was interested in. All he did was ask for a drawing layout of my room and gave me an honest opinion on how the different PSA subs would perform in my room. And gave a small comparison of some of the subs that he had heard from the list of subs I was looking at. If he wasn't familiar with one of the subs he would actually go and do a little research on that sub to get an idea of how it would compare to a PSA sub.

I really considered a Funk Audio 18.0C because I live in Canada and they are manufactured not that far away from me. But after dealing with Tom I felt totally sold on his customer service and what looks to be a great product.
psbfan9 posts on December 05, 2012 08:42
I emailed Power Sound last night around 7-7:30pm and I had a reply by 10:30pm the same night.

Tom asked questions about room size, other speakers, and lay out of the room. When I've emailed other sub builders,the response was, "Our subs are great, just buy one."

So plus one for Power Sound Audio customer service.