Emotiva X-Ref 10 Subwoofer Build Quality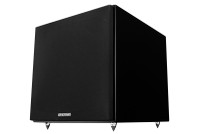 Lately we've been reviewing a lot of big box, refrigerator size subwoofers. These products proved to be sheer beasts in terms of output and extension. The laws of physics are on their side. But what about subwoofers that occupy less real estate? Enter Emotiva. Their mission when it comes to subs is to manufacture reasonably small, but potent, products while making them inexpensive enough for the customer to purchase two. Dual subs are advantageous both in achieving more output but also in smoother frequency response across a wider listening area. Emotiva's latest designs include the X-Ref 10 and 12. We chose to review the X-Ref 10 which is said to be a notch up in performance from its predecessor Ultra 10. The X-Ref series feature a more robust driver and more powerful amplifier than the Ultra series. Better parts require more $$$ spent on the product, hence the associated price increase. Twice the motor force and twice the power of the Ultra 10 with a modest cost increase of $100, the X-Ref 10 looks impressive on paper. Let's take a closer look at this brawny little sub.
Build Quality and Features
We were impressed with the Ultra Series subwoofer's build quality when we reviewed the Ultra 12, so we expected nothing less of Emotiva with their new X-Ref 10 subwoofer. The X-Ref 10 uses a high efficiency 300 watt (continuous rated) power amplifier with high current switch mode power supply. It appears to be a clean design just as we've come to expect from a company specializing in quality, yet affordable, amplification.
The 10" driver is a high mass paper cone which Emotiva calls a "proprietary para-aramid blended fiber" cone. It sports a 2" voice coil and a large dust cap and 1" butyl rubber surround to help it reach long excursions. The driver frame is constructed of a rigid die-cast basket with a vented motor assembly and tinsel leads to reduce mechanical distortions. I measured the effective cone area to be around 8" and the rubber surround to be about 1". These are pretty standard dimensions for a heavy duty 10" cone.
Like the Ultra series driver, the X-Ref driver employs tinsel leads to help eliminate the worry of lead slapping against the driver during high excursion, while also proving more travel. Looking at this baby out of the box is like a work of art. We've seen subwoofer drivers from competing products costing 3-4 times the price that employed generic stamped frames and conventional cone geometries. Emotiva has obviously invested much of the budget in this product into the actual parts.
Emotiva X-Ref 10 Sub Driver (notice cast basket and tinsel leads)
T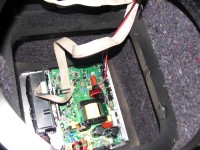 he cabinet appears to have a 1" thick front baffle and ¾" side panels with very ample bracing and acoustical dampening materials batting the sidewalls. The bracing is even rounded off on the interior corners providing additional reinforcement. The rounded braces are a nice touch and you can tell that Emotiva has a pride in workmanship that you don't always see with subwoofer manufacturers. The knock test all around proved this sub had a very inert enclosure. The woofer is flush mounted with 8 threaded screws and inserts rather than just bare MDF for a more snug and reliable fit.
The sub includes both rubber and aluminum feet, so you can use it on carpet or hardwood and tile floors. The box is finished in their Studio Black Satin Lacquer.
The Ultra X-Ref 10 is essentially a compact 13" cube and weighs 33lbs. It has usable in-room extension down in the 30Hz range and Emotiva specs typical in-room output at about 112-115dB which we will elaborate on in the measurements section of this review.
On the back you've got both balanced (a rare find on any consumer subs, especially at this price) and unbalanced inputs and one balanced output to daisy chain more X-Ref subs. A trigger input and power toggle on/off and a detachable power receptacle are the only other interfaces on the back panel of the X-Ref 10.
There is no "auto" setting for power. The unit simply goes into standby mode after about 10 minutes of inactivity. You can observe this by the color change of the back panel LED which is green when the sub is active and red when it's in standby mode.
Make sure you make all of your connections with the subwoofer turned off to avoid a loud humming sound when connecting the line level inputs if the sub is not in standby mode.
Emotiva X-Ref 10 Back panel
About the only thing you won't be able to do with this subwoofer is feed it speaker level inputs or use it to crossover full-range frequencies to a pair of satellite speakers (there are no speaker level inputs or outputs whatsoever). With a modern AV receiver this shouldn't be a problem, but if you have a lower-tech integrated amplifier or a true legacy system or audiophile rig, you may need to look into an external crossover.
Unlike the Ultra series, the X-Ref moved all of the level controls, crossover settings and EQ functions into a digital display which is mounted at the top of the cabinet. It's operated with a jog shuttle that you press down on to choose your options. Personally I'd prefer to still have level control as a rotary knob or up/down pushable buttons on the back panel for quicker access. But, the digital display integration is much neater and easier to access than a back panel, especially if the sub is placed against a wall.
The adjustment options are more elaborate than appearance upon first glance. You can adjust phase from 0 to 315 degrees in 45 degree steps while also adjusting the LPF from bypass to 40-150Hz in 1Hz step sizes. There are two preprogrammed presets "Movie" and "Flat". The only difference between the two modes is "Movie" boosts the overall level. Unfortunately you cannot edit the presets to store EQ or other setup data. Perhaps Emotiva will expand upon this feature set in future products.
The PEQ incorporated into the X-Ref10 can come in quite handy for fine tuning system response, especially considering most A/V receiver auto-EQ's do very little EQ'ing of the subwoofer channel. Emotiva incorporates a two band PEQ adjustable from 25Hz to 150Hz in 1 Hz step sizes with -12dB to +3dB of gain in 1dB step sizes and a Q of 0.5 to 5.0 in 0.1 step sizes. This is a tool all subwoofers should have and it's quite a rare find in a product at this price point. The Emotiva website states +6dB boost is possible but that's only true if you gang up both EQ's at the same frequency and Q while setting each of them to +3dB.
See also:
Krusty Blade posts on November 09, 2011 03:17
I ordered the X-REF 12 not too long ago, and to say that it shakes the house up is an understatement.

The people from Emotiva is very efficient and a pleasure to work with. My order was delivered all the way up here in deep dark Africa and everything arrived in perfect condition.
kevon27 posts on November 08, 2011 19:34
Excellent review. Emotiva does it again. Since this the first review of Emo's X-Ref speakers, when can Audioholics expect to review the full suite of X-Ref speakers. Their towers look very attractive (price and looks).