Velodyne DD-15+ Setup & Installation
Moving the DD-15+ subs around was no easy task. At nearly 120lbs each, it was challenging carrying these babies up two flights of steps into my main theater room. Velodyne recommends having two able-bodied people move these subs and I wholeheartedly agree.
I placed the pair of DD-15+ subwoofers in the exact spots my DD-15's were occupying for the last few years in the Audioholics Showcase Home theater system. One of the subs was placed on the left rear corner of the room while the other sub was placed about mid-wall on the left side of the room. Since my room is "L" shaped, finding the best locations to place subs isn't an exact science, but I used the techniques discussed in our Home Theater Setup Guide for a Multi Subwoofer System article (to help achieve the best possible results. The dual DD-15+ subs were connected to my Denon AVP-A1HDCI A/V Pre/Pro in mono and in conjunction with the dual subs integrated into my RBH Signature T30-LSE system. For the majority of my listening tests, I ran direct comparisons between having the original DD-15 and new DD-15+ subs integrated into my system and level matched appropriately. I also conducted listening tests with just one DD-15+ in place which is noted in the Listening Tests portion of the review.
Velodyne ships each DD+ sub with a calibrated microphone and connection cables, USB cable, the Digital Drive+ PC software (sorry Mac users) the user manual via CD Rom and a remote control. The user manual is quite comprehensive providing suggested subwoofer placements and setup. It's definitely worth a once-over even if you are familiar with operating prior Velodyne DD subwoofers.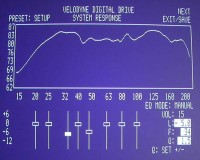 Since we've already covered Velodyne's EQ and auto set-up system to death in prior reviews, I will only discuss what's new and encourage the reader to check out our review of Velodyne's SMS-1 EQ system.
In the original DD series of subs, the user was able to connect their sub via composite or S-video to their display to obtain a graphical interface for adjusting the various parameters such as level, phase, EQ, subsonic filter, crossover slopes, etc. This system displayed measurement sweeps real time using the subs internal sweep generator. The new DD-15+ does all of this, but also adds a refresh to the interface by allowing the user to instead connect their DD+ sub to their laptop. Instead of manually tweaking EQ bands, you can literally shape the curve to your desired output while watching the results real time via the measurement sweeps displayed on your screen.
The user is given three options:
Auto EQ - when used in conjunction with the included sweeptone CD, sweeps system response and attempts to adjust crossover, slope, phase and EQ.
Self EQ - uses the internal sweep tones and attempts to calibrate the sub similar to the Auto-EQ option but without factoring in contribution of the satellite speakers or other subs connected to the system
Manual EQ - fully adjustable by the user
None of these EQ modes attempts to adjust subsonic slope, which I found quite necessary when mating multiple DD+ subs to my system, most especially since the other two subs in my system are vented and have different roll off slopes than the sealed DD-15+'s.
Velodyne DD+ PC Interface Software Display
While this new interface software is cool, Velodyne really missed the boat by not incorporating a higher resolution display output to actually produce usable measurements (something we've been requesting for many years now). Once again we are limited to virtually useless 1/3 octave smoothed graphs. While these graphs look impressive by giving bragging rights to fellow DD+ owners on the forums, they do little to actually show you what's going on in the room. Velodyne acknowledges this tool is meant to assist setup and not serve as a measurement device, but my argument is, why not go all the way and provide better ability for installers and more tech savvy consumers?
The blue curve below in my LMS plot is the actual in-room response measured after the DD+ software ran auto-EQ for just one DD-15+. As you can see this looks much different than the extremely smoothed and prettier curve above generated by Velodyne.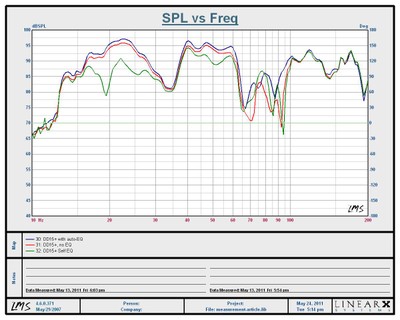 In-Room EQ Results for DD-15+
Red - no EQ, Blue - auto-EQ, Green - self-EQ
I wasn't able to produce beneficial results using Velodyne's auto-EQ system. I attempted to run it twice and both times it did NOT adjust EQ settings, just level, phase and crossover settings seemed to be affected. Self-EQ actually came closer to giving a better "after" result by taming a room mode in the 20-30Hz range.
I found the manual EQ to be the best option for my setup and proceeded accordingly for integrating both DD-15+ subs into my reference system.
I initially attached my portable LG DVD player to a DD-15+ to begin setting it up only to find the sub kept resetting itself every few seconds. I confirmed with Velodyne this was normal behavior if you didn't have a microphone plugged in while simultaneously playing sweep tones. I found this both perplexing and annoying since the old DD-15's didn't exhibit this behavior. It basically makes using the old method of manually EQing these subs impossible, unless you are willing to plug in a mic and make constant noise while trying to fiddle with the EQ settings. Velodyne is looking into offering a manual calibration mode without the CD sync for legacy users based on our feedback. However, I wanted to try their new PC interface so I instead opted to use the USB interface to customize the settings for each sub. Just like the old DD series, you can store customized settings in up to 5 user presets. I setup a different calibration file for each sub and saved them in separate folders on my laptop. This ensured, I didn't accidentally override the stored results of a calibrated sub with a file meant for the other sub. I recommend closing the program down each time you connect to a different sub in the system to again ensure you don't unintentionally override the calibration file of the wrong sub.
Editorial Note on Why Velodyne Offers CD Calibration

The idea here was to address one big objection installers had in that they had to connect L+R outputs from the sub into an available input channel in their electronics. Not only was the L+R cable a pain to run (and later remove), the setup technician must switch to that input channel, which usually exhibits a whole different set of setup parameters than either their DVD or 2 channel music inputs. By playing a CD, we can get the sub to adjust more accurately to the mains and the room since they are using inputs they actually use during playback. This also means we must "sync" the sweep tone cursor on the screen with the CD.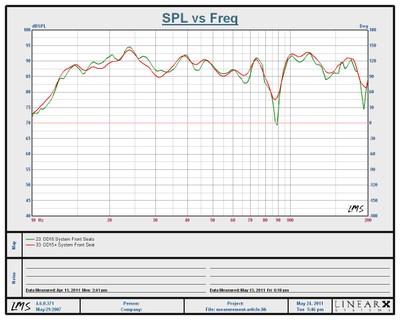 In-Room Frequency Response Comparison (DD-15s - Green trace) and (DD-15+ Red trace)
I took comparative in-room measurements of my system at the front seat with the DD-15s (green trace) and DD-15+s (red trace) using the manual EQ functions of both subs to optimize the response for my listening area. As you can see the overall measured response for both subs is similar with minor differences likely attributed to slightly different microphone positions. In both cases, I achieved bass output from 12Hz to 80Hz within +-5dB which is quite extraordinary for a high resolution in-room measurement at the listening area. You really don't see the benefit of the DD+ subs until you crank the drive levels up as we did with our outdoor groundplane measurements. Hence why a single steady state measurement at low SPL like most manufacturers publish on their websites or product literature never gives you a full picture of product performance.
See also:
j_garcia posts on November 01, 2012 16:54
Elemental Designs Turns out to be a brand of ill repute. Research the warning signs.

You just responded to a response that is a year old.

eD no longer exists as well.
endless ent posts on November 01, 2012 16:27
kevon27;814774
Wow.. impressive sub. But for $5000, that's a bit much. If someone has the space, the Elemental Designs subs should be able to best the DD+ easily, but they are not pretty and weigh in at 200+ lbs (A7-350 to the monster A7-900).
Elemental Designs Turns out to be a brand of ill repute. Research the warning signs.
See Forum link
What happened to Elemental Designs?
[polkaudio.com]
screen_x posts on September 13, 2012 20:39
It is interesting that the DB1 was briefly compared to the DD18, but not the 18+.

As this article states "In fact, the DD15+ has about a 3dB output advantage at 20Hz to the original DD-18 we reviewed a few years back"

Is it fair/safe to assume the DD15+ is there abouts with the DB1 in a proper test environment? I'm clearly confused...
screen_x posts on September 13, 2012 18:04
Initially, they were not EQ'd. The DB1 sounded below average then but the Velo sounded great in the "out of the box" state. They did EQ them both afterwards. The DB1's sound did improve. But still wasn't enough to sound great at normal listening level as the Velo...
Matt34 posts on September 13, 2012 01:48
screen_x;906720
Had the opportunity to listen to the B&W DB1 and the Velodyne DD12+ side by side. The B&W didn't sound that great until it was turned up really loud (too loud for a domestic setup). If I turn it up that high my wife will kill me and if the wife wont kill me I can see the roof collapsing on me.

Both subs shook the entire demo room (felt like we were being attacked by two dozen angry baboons). The DD12+ was nice and smooth what ever the volume. Demo was provided by a leading av/hifi dealer here in Melbourne, Australia. Even they agreed that the B&W wasn't that impressive until the volume was cranked up. How about that??
Do you know if they actually EQ'd the setup?
I controlled the DB1 with B&W's SubApp program, which is compatible with Windows XP as well as Vista and Windows 7 (both 32 and 64-bit versions). Not shipped with the subwoofer, it must be downloaded from B&W Group North America Service & Support Homepage [bwgroup-support.com]. SubApp provides graphical user interface controls for the DB1's gain, phase, polarity, and equalization, and enables two additional functions not available on the control panel: naming the presets, and launching the DB1's Room Acoustics Compensation routine. The tools needed to run that last item—a calibration microphone, four connector cables, and a USB-connected soundcard that generates the necessary test signals—are included with the subwoofer. With SubApp, the DB1 can take measurements of the room, then adjust its internal equalizer to compensate for up to four room-mode peaks within its operating range