Klipsch SW-311 Subwoofer Review Listening Session
For all of the listening sessions the SW-311 was placed in the front right corner of the room firing into the corner about 6 inches from the wall. I have determined this to be the best available single subwoofer placement in my room. Audyssey was run on the system to allow it to integrate the SW-311. Afterwards I ran Klipsch's ARC II automatic equalization to allow it to further smooth any major res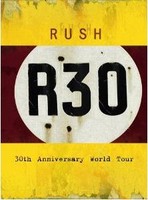 ponse issues at the listening position. This was followed by a check and recalibration of the subwoofer and speaker levels.
Blu-ray: Rush – R30 30th Anniversary World Tour
I have always been a fan of the bass guitar tone that Gedee Lee produces out of his Fender for the simple fact that he is quite the accomplished player and virtually every note that he plays is clearly distinguishable. On this disc it is as prominent in the mix as ever and the SW-311 easily reproduced it with clarity and proper tone. It also remained punchy and provided the proper weight to Neil Peart's kick drums and toms. At first I was concerned that the small size of this sub might cause it to struggle to produce proper volume in my room, but after it cruised through a couple of songs I started turning up the overall system volume to see how it would react. I ended up at a fairly loud volume and the SW-311 seemed unperturbed, as it still sounded great and was pumping out the bass without missing a beat. I was impressed at the quality and amount of bass emanating from such a tiny cube. The SW-311 definitely exceeded my expectations here and was able to maintain a clean and coherent sound even while being asked to put out a lot of energy.
Blu-ray: Kung Fu Panda
For the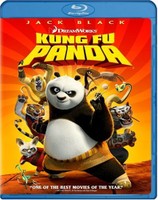 movie listening session I decided on Kung Fu Panda as it is a fun movie that I have seen many times, which nonetheless packs a great surround mix and a large amount of bass information. After the SW-311 performance on the Rush R30 concert disc, I was interested to see how it would handle the much deeper, louder transients of this movie. I set the master volume to -15 from reference level which is a pretty typical listening volume for me. During the opening sequences where Po is daydreaming about kung fu and during the dragon warrior ceremony where Po ignites the fireworks under his chair in an attempt to make it into the stadium, the SW-311 did a good job of providing bass presence in the room, but it seemed to lack the depth and extension that I am used to hearing, particularly when Po is skittering along the wall strapped to the chair. Later on in the movie there is a sequence where Thai Lung escapes from his imprisonment, which is a demo worthy section. The SW-311 did well at reproducing the various rumbles, thumps and groans present during this part, but I did detect what seemed to be some squashing of the overall dynamics on the loudest effects. The little Klipsch may have been at the end of its rope a few times during this section. Also there is one point when Thai Lung is racing up the falling rock slabs and on the final rock he gathers himself for a great leap. When he springs off there is a very low frequency pulse, without a lot of upper frequency masking content. The SW-311 largely missed this bit of information, probably due to the sound effect being below its effective range. Towards the end of the film there is the infamous "ska-doosh" during the final battle scene between Thai Lung and Po, which is the loudest bass effect in the entire movie. If I remember right it is centered at roughly 25Hz. The SW-311 gave a valiant attempt at reproducing this, but I could tell that it was missing a little of the bottom range of the effect and it was clearly at its limits. It did not produce scary overload noises or anything like that and I probably wouldn't even have noted a difference in the reproduction of this part if I hadn't heard it many times with much larger, more powerful subwoofers. I don't want you to think that the SW-311 did badly here, quite the contrary it did rather better than I thought possible. Any subwoofer this size will struggle at loud home theater play back levels in a big room such as mine.
See also:
Ricci posts on September 06, 2012 12:14
KEW;904560
I would say ARC could easily be worth $500 if there is no other EQ system in play - especially if location possibilities for the sub are limited, but does Audyssey leave us short such that ARC adds an audible improvement?
ARC is one of the better built in auto-EQ systems that I have encountered thus far and I would agree with your assessment. If you already have EQing capabilities whether automatic in a reciever, or manual through an EQ unit with measurements, then ARC is not so important. However if you have neither of these, such as with many 2 channel systems, ARC could make a very large improvement in the response in that case.
gtpsuper24 posts on September 02, 2012 14:08
KEW posts on September 02, 2012 14:04
Can you comment on the benefit realized from running ARC after Audyssey (and which version of Audyssey you used) for your listening test?

The weight and appearance suggest that the Klipsch SUB-310 may be essentially equivalent in cabinet and drivers to the 311 - except without ARC and 400W instead 500W. If this is the case, it begs the question of whether the ARC system is worth $500 to people who already have Audyssey.

I would say ARC could easily be worth $500 if there is no other EQ system in play - especially if location possibilities for the sub are limited, but does Audyssey leave us short such that ARC adds an audible improvement?
robc1976 posts on October 17, 2011 20:01
agarwalro;834464
This sub hot on the heels of the SVS review simply reminds me of...


Not that it is a slouch, but at $1600 it leaves a lot to be desired.
I have a entire 9.1 system klipsch reference sysytem but I must say there subs are terrible! I returned this sub the instant I heard it. You can get a A5-350 for 1/2 that price and it will make the 311 look like it is off. Only okay sub they made is the RSW-15.
shadyJ posts on October 05, 2011 03:31
It doesn't look bad for a sub of it's size and shouldn't be compared to something like the PB13. It should be compared to the correspondingly priced/sized subs from Velodyne, Sunfire, JL Audio, and so on. Not many people can fit a PB13 in their living space, we don't all live in large houses in the suburbs.