Rythmik FV15HP Subwoofer Measurements and Analysis
By
info@audioholics.com
—
The first part of testing was to measure the frequency response from a modest output, all the way to the point where the system was clearly compressing and had hit the output wall, so to speak.
Rythmik FV15HP Subwoofer Frequency Response at Various Output Levels
The Rythmik sub was unique in one way during the compression testing vs frequency. As you can see from the curve above, at the highest output level (the gray curve, as this sweep, 14 seconds long from 400 Hz to 10 Hz) triggered the sensor or compressor about the time we hit 80 Hz. As the signal continued to sweep lower, in a very short period of time, the compression released, allowing the signal to peak again right at about 60 Hz, and then before it got down to 50 Hz, the compressor becomes active again. This happens AGAIN at about 32 Hz, and as you can see as the sweep runs lower, the compressor releases and then returns several times in quick succession. Now it could be argued that music does not have any sweeping tones that range across more than a decade (400 to 40 Hz is one decade) and last 14 seconds in length. They would be quite correct. However, I cannot help but relate this to instances where I was listening to music and the output seemed to suddenly jump out as if the volume control was being rotated without any help from my fingers. I would suggest that the use of a longer hold time or integration time be considered based not so much on the signal sweep test shown above, but on my own sense that the sub seemed to go from too quiet, to just too loud all on its own frequently during its operation.
As we can clearly see from the curves above, frequency response is NOT independent of level, and if the system is pushed hard enough, it will roll off below 30 Hz, yet at lower power outputs, is certainly flat down to 20 Hz. (Red curve) at the bottom.
Editorial Note about the Limiter Feature of the FV15HP Subwoofer

The limiter in FV15HP is defeatable. However, I had chosen to test the subwoofer with limiter ON. The curves with limiter off should be smoother and without this short hold time issue I noted. As for this hold time duration issue, it is a design trade-off. Shorter hold time can recover fast and provides more output over the same period of time. On the other hand, my preference is to have longer hold time duration as I stated above. I tested the H600PEQ amplifier with my review unit which engaged the limiter with the power switch set to "auto". Since that time, the amp has been updated to the H600PEQ2 model with a discrete on/off switch for the limiter.
CEA-2010 Test Results
On to the CEA 2010 testing. To understand the meaning behind the graphics below and testing methods used, please refer to the prior article (Subwoofer Shootout Measurements Overview) on this method. The process is a simple one. Drive the input to the system to the point where either the amp, its compressor, or its speaker simply refuses to give you more output, or the distortion created at that output level exceeds the CEA "redline". In EVERY system tested, the result (if not the peak SPL) was similar in one regard. At the highest frequencies in the sub's bandwidth, we ran out of amplifier power, or the compressor refused to put out more power than the amp could cleanly deliver. At the lowest frequencies, the subwoofer runs out of excursion. This is completely normal and what is to be expected. It may also explain why the CEA standard does not bother testing higher than the center frequency of 63 Hz. Below is a spectrum capture of the Rythmik FV15HP system at maximum usable output from 20 to 63 Hz in 1/3rd octave steps.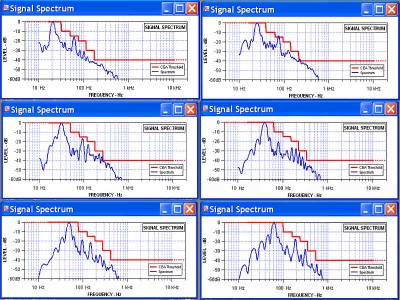 Rythmik FV-15HP CEA-2010 Distortion Test Results
| | | |
| --- | --- | --- |
| Rythmik FV-15HP | CEA Test Performance | |
| Frequency | Maximum Peak SPL @ 1 Meter | RMS SPL @ 2 Meters |
| 20 Hz | 116.5 dB | 107.5 dB |
| 25 Hz | 122.0 dB | 113 dB |
| 32 Hz | 126.8 dB | 117.8 dB |
| 40 Hz | 129.0 dB | 120 dB |
| 50 Hz | 128.9 dB | 119.9 dB |
| 63 Hz | 128.7 dB | 119.7 dB |
Max SPL Output Data of the Rythmik FV15HP Subwoofer (1 meter groundplane)
Update: 3/08/12
In order to make it easier for our readers to compare our CEA data between subwoofers tested prior to our new Subwoofer Measurement Protocol, we scaled our 1 meter peak CEA data to 2 meter RMS by subtracting 9dB for each frequency. We also corrected our 1 meter data to peak by adding +3db from our first review which more closely matches the test data collected by Josh Ricci on the same review sample.
Discussion of Measurements
What is noteworthy about this sub, is that the second order distortion components at the three lowest test frequencies, are extremely low. Usually, 2nd order distortion components are those which are the most prevalent, and arguably the least objectionable. Removing them creates the largest measurable reduction in THD (in almost all circumstances) yet second order is the least objectionable of all the harmonics, hence the CEA tolerance of it is in excess of the tolerance for any other components. (Music is, mostly harmonics after all.) Second order distortion at 20, 25 and 32 Hz were so low in fact that with the normal 1/12th octave smoothing, the second harmonic is no where to be found in the spectrum curves. It appears that this is where the servo-feedback excels and Rythmik's claims of low distortion are validated.
The differences in outputs between 40, 50 and 63 Hz should be considered so small as to be negligible. Any decrease from one frequency to the other is likely caused by a small amount of VC heating, such that if I had tested from higher to lower frequency, these three numbers would likely have been reversed. In fact, the repeatability of these numbers should be considered no greater than within 1db. While I am listing them to three significant figures, we need to remember that precision is not accuracy, and that any other speaker within a db of these numbers is likely to be close enough that we will not be able to reliably or consistently hear a difference.
See also:
Theresa posts on February 28, 2011 05:15
ntrain42;787570
I disagree. Most xovers are slope and band limited. Many do not allow you to crossover lower than 80hz, many offer only a few fixed points. What if I want to change the highpass to smaller mains to 24db instead of 12? Or set the lowpass to the sub to 12db instead of 24db?

Regardless I'd like to have a small list of the processors or recievers that do offer what I would consider excellent flexibility. One processor that I know of that does offer excellent hi/low pass xover settings is the UMC-1. You can ajust the slope and have a dozen or so band points to select from starting around 30-40hz all the way up past 150hz if I recall. But even this bass management system in itself is flawed still due to the sub channel EQ not working for 2 channel music.


The previous statement had a typo, I meant the other way around.


Like? Examples please. And what specific bands? Are we talking about near worthless octave or higher spacing?

Well if you can't adjust a boost or dip in the frequency response at the specific point needed or the with the proper Q, then no its not necessarily better at all.

I have a pair of Onkyo SC 886's and even the 15 band eq it has per channel(and 6 bands for the sub) is kind of limited for my need to maximum fine tuning. I could get the in room response relatively smooth with it(A hell of alot better than Audessy XT ever will)but I ended up with some dips and boosts that were not at the EQ points, so I went with 3 Rane DEQ 60L(2 channels per) 1/3 octave 30 band EQ's instead(5 channels for the mains, 1 for the sub) and the response in room is now near perfect. Something I cannot do with the typical run of the mill processors and recievers on the market. The only home processor I feel is audio worthy is the AudioControl Diva, but unfortunately its major $$$. But there should be more products like that on the market.
You could check out miniDSPs for equalization. They have many bands of parametric equalization and their interface allows going as low as 10Hz. I use that to impose a high pass at 16Hz. I use them for both crossovers and equalization and for my sub it's mostly equalization with the crossover being handled by my UMC-1. It can set crossovers to 40Hz, maybe lower but I haven't checked.
Theresa posts on February 28, 2011 05:09
ntrain42;786568
Decent recievers and processors normally have pretty cr@ppy and limited "bass management" systems built in. Even alot of the upper tier recievers and processors are highly limited.

WHat if I want a 24db low pass filter at 50hz? How many recievers or processors can YOU think of off the top of your head that will give me a steeper slope other than the typical 12db slope found, or a lowpass point lower than 80hz?

How many recievers processors offer a fully 3 way adjustable 1 band PEQ?

How many recievers or processors offer a rumble filter for people who use records? How about extension/damping controls?

TO people who know how to use these "switches and controls" these are highly desireable and useful controls. This is why the RYthmik is considered a ture audiophile sub. Its not the typical boom boom HT ported sub you find from companies like HSU,eD,Epik etc which are designed more around big bang for the buck output, and not subtle fine tuning controls for high resolution bass resolve.

Its nice to know that Rythmik now has a killer sub that is good enough to satisfy the serious audiophiles, yet has great output for HT systems in a single sub solution.
One of the least expensive pre/pros, the Emotiva UMC-1, has such flexibility in bass management allowing to specify crossovers with either 12db or 24db/octave at many frequencies.
Theresa posts on February 28, 2011 04:56
I support Rythmik for including the flexibility that they have. Why does everything have to be dumbed down for it to be acceptable? I built my own with a competitor's drivers but Rythmik was my second choice partially because its flexible setup.
AVRat posts on February 23, 2011 12:00
To the top again
H Stevens posts on February 07, 2011 17:02
Scott911, go here to the FAQ. He addresses that issue and many more.

rythmikaudio.com/faq