Outlaw Audio LFM-1 EX Review Introduction
Outlaw Audio is an audio company that has been dealing to consumers in an internet direct only manner for over 13 years. Their range of offerings ranges from pre-amplifiers to multi channel amplifiers, to speakers and powered subwoofers. Outlaw focuses on providing solidly engineered products with a very high value. Today we will be reviewing their top of the line powered subwoofer the LFM-1 EX, which is a bass reflex subwoofer built around a 12" driver and powered by a 350 watt rated amplifier.
Unpacking and Initial Thoughts
Th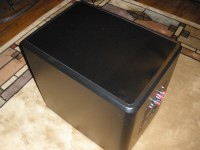 e Outlaw arrived in a generous sized double box and was very thoroughly packaged. Protections for the subwoofer seemed to be more than adequate and the LFM-1 EX arrived largely devoid of markings to even the outer cardboard. Inside of the packing materials was the LFM-1 EX wrapped in a cloth bag, the power cord, the owner manual, the port bung and a packet containing the floor spikes and plastic cups for them. Unpacking was an easy one person job.
The LFM-1 EX is what I would consider to be an average to large size for a consumer level powered subwoofer. At 80lbs it is no lightweight but not what I would consider a back breaker either. The finish is a nice flat black which is not reflective. The glass top was covered with a peel off protective sticker which reveals a very nice looking, glossy and deep black color when removed. The cabinet corners are each rounded off with a large radius and the floor spikes are very large, heavy and high quality units. The unit has no grill since both ports and the driver are all down firing. The total package is a rather good looking affair in my estimation. I had no troubles moving the LFM-1-EX by myself but the floor spikes will mark any hard surface if you are not careful.
Design Overview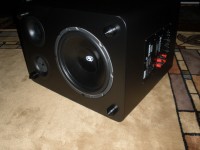 Outlaw's LFM-1 EX is a bass reflex design utilizing a single 12" driver and two 3" flared ports in a down firing configuration. The system can be configured for a 25Hz tune with both ports open, or an 18Hz tuning with one port blocked via the supplied port plug. There is a switch on the amplifier which operates the necessary high pass filter for each tuning.
After pulling the driver out of the enclosure to examine it further it could be seen that it was a well built and substantial unit but of moderate cost. The 12" driver is built on a stamped steel frame and a good sized motor of roughly 6" in diameter with dual stacked ferrite magnets. The back plate is bumped and has a small pole vent with a screen to prevent debris from entering the gap. The cone appears to be pressed and coated paper attached to a 2" diameter voice coil and former. The suspension consists of what appears to be a 6" diameter single spider and a rubber half roll surround. Interestingly the motor also has a large bucking magnet attached to the back of it for magnetic shielding purposes. This is increasingly less of a concern since CRT televisions are becoming much less common. The driver is of a very humble pedigree and built of unassuming components but is not out of character for a subwoofer in this price range and appears to do the job well, which is what matters.
The BASH amplifier is rated for 350 watts. The literature also makes mention of the amplifier being capable of reaching peaks of 1300 watts but this seems to be a nebulous claim at best. In any event most other manufacturers do not list peak power of their amplifiers any more for comparison. As with most BASH designs this is a relatively simply constructed and very lightweight unit. There was no internal heat sinking other than the large aluminum faceplate of the amplifier. Two large reserve capacitors were in evidence.
Editorial Note about BASH Peak Power Rating by Gene DellaSala
We find the 1300 watt rating to be bunk. Even if the amp operates as an ideal voltage source doubling down power with halving load impedance, it would require the amplifier to see a 1 ohm load in order to achieve its 1300 watt peak rating. This is impossible since the driver impedance is 4 ohms. Alternatively if the rail voltage is high enough and the amplifier is able to take full advantage of it briefly, that would imply the amp is severely current limited. The fact that this amp had virtually no heat sinking on it makes it apparent it can't produce more than about 40-45V across its rails when driving a 4 ohm load. In any event, we would really like to see BASH amps rated more honestly. If the amp does in fact deliver 350 watts continuously, then it should at best be able to deliver 700 watts peak for very short durations.

The LFM-1 EX enclosure is constructed of what looks like ¾" MDF but the driver baffle appears to be a slightly thicker 1" material. Internally the ports are also flared and have plenty of clearance from the enclosure walls. There are small corner reinforcements glued to the enclosure panels and there is one large brace that connects the center of the 2 largest side panels. There is some fiberglass damping material behind the driver and on the panel opposite of the amplifier. The amplifier and driver are countersunk into their respective panels. The cabinet corners have a nice round over and the finish is an unassuming black. The glass top panel with its glossy black appearance contrasts well with it. Overall appearance, parts and build quality is good especially considering the cost of the unit.
See also:
jaramill posts on January 28, 2012 18:41
Yeah I just purchased it after recommendation from guys on the AVSForum and they were selling like hot cakes! So hot that they're on back-order and the sale isn't over yet 'til Monday. Luckily I got my order in time.
its phillip posts on January 20, 2012 09:35
GEN II posts on December 24, 2011 13:32
Ok, I got 2 LMX plus's on it sounds much better to me. I found it sounds and feels better with the positioned in the rear vs on the front in the traditional place. So right now one is in the back left corner and the other is 3/4 done the right wall ( 4' from the corner).

Is it odd to find it to sound better in these places?

Crossover
Front 90hz
Center 90hz
Surround 60hz

Frts -2.0
Center -1.0
Rears -3.0
Sub -4.0

Sub at 10 o'clock
DVDIT posts on December 05, 2011 14:28
I am wondering if I give up much at all if I went with the LFM-1 Plus over the EX in my 20 x 18 x 8 HT room for 100% movies only use. I live in a town home so I don't get to crack volume nowhere near reference and the size of the EX is a real issue around here. Suggestion ?
GEN II posts on November 30, 2011 06:56
Are both drivers on the Empire working? Yes

If you put your hands on both while its playing can you tell if they are in phase with eachother? Yes

What are the knob settings on the plate amp & what are the settings for it in your receiver?

Subwoofer=Crossover is all the way to the right (LFE input being used, so this should not matter). Output level is 10 o'clock, phase is @ 0.


Receiver = Level is 3.0, crossover is 120hz, LFE+main, placed about 8-10' from primary listening area and currently underneath TV / Front mains. ( I have also placed it in the rear of the room)