Outlaw Audio LFM-1 EX Review Conclusion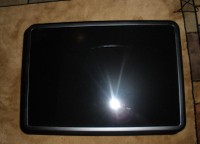 Outlaw Audio has created an over achiever with the LFM-1 EX by following a proven formula. A bass reflex enclosure slightly larger than normal with a decent sized amplifier and a cost effective driver. I really don't have a lot of negative things to comment on about it considering the total cost of the unit. The finish looked nice but did appear to be perhaps slightly uneven and had a slightly cloudy or uneven appearance to it. I thought that I detected some panel buzz from the enclosure during the highest level sine wave sweeps but there isn't much program material that is similar to that signal and there is also usually masking content, not to mention rattles and vibrations from the typical room or objects in it. The ports did overload and limit the low bass output some, especially in one port mode where chuffing was audible at times. Again this might be masked in a typical scenario. Perhaps if they redesign the unit they could add a few more internal braces, beef up the driver some and increase the vent area. The LFM-1 EX also does not offer a lot in the way of connectivity or user adjustment. This sort of thing does not bother me particularly but I would like to see a line out to daisy chain other subwoofers from at least.
Looking at the sum of the measurements the LFM-1 EX performs well in almost every major metric. The response is smooth enough and flat enough to be crossed over well above 120Hz. The output compression performance is not great due to the ports, but is not bad either. It has good THD performance especially in two ports operation where it is essentially below 10% everywhere at 25Hz and above even during the 110db nominal sweep level. The maximum sweep level and the CEA2010 results show that the LFM-1 EX has a generous amount of output and not just at the upper bass frequencies like many "subwoofers", it has deep extension and produces an honest to goodness 100dB+ at 20Hz. There is a little bit of delay near the vent tunings when looking at the time domain measurements but certainly nothing out of the ordinary for a vented subwoofer. I do have to say that I would recommend running this subwoofer with both ports open as the single port mode is simply overloaded and compressed too easily in comparison. On top of that the maximum headroom at 20Hz and above is better as is the distortion performance with both ports open.
Taken as a whole the Outlaw Audio LFM-1 EX performed very well, but when you add in the fact that it came from a subwoofer which retails for under $650 it takes on a new aspect. I have a few things that I think could be improved sure like more bracing, a little higher quality finish, more flexible amplifier connections, more substantial driver, etc, but they are understandable traits when put in perspective of the cost of the LFM-1 EX. Don't get me wrong the Outlaw looks great and didn't have any serious cosmetic or build flaws, but it's not quite as buttoned up as some multi thousand dollar subwoofers, which is understandable certainly. I thoroughly enjoyed listening to the Outlaw on movie night where it really did well reproducing a very strenuous movie sound track in a large room, including some solid deep bass. It also managed to sound very natural and just plain old good with music. Not the most articulate bass ever , but quite good. I still could use more output headroom for my listening habits and room but the LFM-1 EX makes a strong case for multiples with its frugal price point. The LFM-1 EX does a lot right and makes no major mistakes all while providing huge bang for the buck value. Outlaw has knocked this one out of the park as far as I'm concerned. Budget conscious sub shoppers looking to fill a large space take note.
The Outlaw Audio LFM-1 EX receives the Audioholics Bassoholic Large room rating, which means that this sub is recommended as maintaining adequate headroom in rooms or spaces of 3,000 to 5,000 cubic feet and/or for users who usually listen at moderate to high volume levels. For further information in how we make these recommendations see the full article here.
See: Audioholics Subwoofer Room Size Rating Protocol
Outlaw Audio LFM-1 EX Review
MSRP: $649
Phone: 866-OUTLAWS (688-5297)
Web: outlawaudio.com
Outlaw Audio Support: Support.OutlawAudio.com
Mailing address: Outlaw Audio
P.O. Box 975
Easton, MA 02334
The Outlaw Audio LFM-1 EX is a moderately large 12" ported powered subwoofer with a built in 350 watt rated amplifier. We found it to be an overachiever earning our "Large Room" Bassaholic rating.
The Score Card
The scoring below is based on each piece of equipment doing the duty it is designed for. The numbers are weighed heavily with respect to the individual cost of each unit, thus giving a rating roughly equal to:
Performance × Price Factor/Value = Rating
Audioholics.com note: The ratings indicated below are based on subjective listening and objective testing of the product in question. The rating scale is based on performance/value ratio. If you notice better performing products in future reviews that have lower numbers in certain areas, be aware that the value factor is most likely the culprit. Other Audioholics reviewers may rate products solely based on performance, and each reviewer has his/her own system for ratings.
Audioholics Rating Scale
— Excellent
— Very Good
— Good
— Fair
— Poor
| Metric | Rating |
| --- | --- |
| Bass Extension | |
| Bass Accuracy | |
| Build Quality | |
| Fit and Finish | |
| Features | |
| Ergonomics & Usability | |
| Dynamic Range | |
| Performance | |
| Value | |
See also:

jaramill posts on January 28, 2012 18:41
Yeah I just purchased it after recommendation from guys on the AVSForum and they were selling like hot cakes! So hot that they're on back-order and the sale isn't over yet 'til Monday. Luckily I got my order in time.
its phillip posts on January 20, 2012 09:35
GEN II posts on December 24, 2011 13:32
Ok, I got 2 LMX plus's on it sounds much better to me. I found it sounds and feels better with the positioned in the rear vs on the front in the traditional place. So right now one is in the back left corner and the other is 3/4 done the right wall ( 4' from the corner).

Is it odd to find it to sound better in these places?

Crossover
Front 90hz
Center 90hz
Surround 60hz

Frts -2.0
Center -1.0
Rears -3.0
Sub -4.0

Sub at 10 o'clock
DVDIT posts on December 05, 2011 14:28
I am wondering if I give up much at all if I went with the LFM-1 Plus over the EX in my 20 x 18 x 8 HT room for 100% movies only use. I live in a town home so I don't get to crack volume nowhere near reference and the size of the EX is a real issue around here. Suggestion ?
GEN II posts on November 30, 2011 06:56
Are both drivers on the Empire working? Yes

If you put your hands on both while its playing can you tell if they are in phase with eachother? Yes

What are the knob settings on the plate amp & what are the settings for it in your receiver?

Subwoofer=Crossover is all the way to the right (LFE input being used, so this should not matter). Output level is 10 o'clock, phase is @ 0.


Receiver = Level is 3.0, crossover is 120hz, LFE+main, placed about 8-10' from primary listening area and currently underneath TV / Front mains. ( I have also placed it in the rear of the room)