Boston Acoustics RS 334 Build Quality
I have a bit of history with Boston Acoustics. A few years ago I was lucky enough to attend one of their press events in their lovely namesake city and got to see a few of their new speaker offerings before they hit the shelves. They are also part of the D&M Holdings brand which also has such names at Denon, Snell, McIntosh, and more. Boston has a long history in consumer electronics. This comes with a lot of name recognition. For many consumers, name recognition equates to quality. That's why manufacturers spend millions on advertising. They might not convince you that they are the best, but if they can get their name in your head then perhaps you'll pick them simply because you recognize the name over the other guy.
The Reflection Series speakers (indicated with the RS nomenclature in the model number) is a fairly new offering from the venerable manufacturer. Boston was looking to create "Good, Better, Best" lines of speakers. The VS (Vista Series though I'm not sure they are calling it that any more) represents the "Best" with the CS (Classic Series) representing the "Good." This has the RS series falling right in the middle in the "Better" category. Apparently, according to Boston, Good costs $229 each, Best costs $1250 or $1699 each (depending on the "Best" model) while Better cashes out at $700 each. While we haven't seen a lot of speakers with "each" pricing, it doesn't take a mathematician to figure out the per pair pricing. Perhaps they give a discount if you buy more than one. We doubt it but maybe.
First Impressions and Build Quality
The Boston RS 334 speakers came individually boxed and well protected. Each box clearly outlined what was in it so if you are having these speakers shipped, you might want to make sure you are home to sign for them. Inside, the speakers are well protected around the top and bottom by foam with a middle section of cardboard for added benefit. The speaker is wrapped in a cotton sock and Boston even included a pair of Boston-branded cotton gloves to handle them with. I can remember the first time I received a pair of speakers wrapped in a cotton sock with the gloves. I was so impressed. But after years of doing this, let me say that the cotton sock is probably the number one over-hyped indicator of quality in all of electronics. I've had everything from DVD players to HDMI switches arrive in the dreaded sock. Yes, I said dreaded. While smaller devices just look ridiculous, large, heavy speakers, I'm semi-convinced, are wrapped just to cut down on minor blemish returns because you are certain to drop them.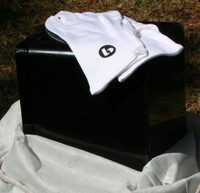 The thing is the sock is useless. It's actually less than useless. If it was useless, it would do nothing but the sock does have an affect - actually a few. First, it virtually guarantees that your speaker will arrive with a dusting of fuzz all over it (especially on the grill). The point (I think) of the sock is that it supposedly protects the finish. Well, maybe at the contact points with the packing material but it certainly isn't doing much more. Foam paper (for lack of a better term) is just as effective and can be removed much more easily. Lastly, if your speaker is at all unwieldy (and believe me, they just about all are) the sock is akin to lathering it up with baby lotion. Sure, you might not drop it but in my experience you, at the very least, almost will. With every cotton-wrapped speaker I've ever received I've either almost or actually did drop it while unpacking or repacking.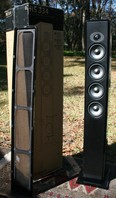 On top (or technically under) the sock, Boston has included an additional layer of protection for it's "elegant, scratch resistant high gloss black lacquer" finish - tape. I'm not sure the technical name but for those that have received a TV with a high-gloss bevel, you know what I'm talking about. It is that plastic tape that they stick to the outside that doesn't leave a residue when you remove it. They have this stuff on the three sides of the speaker not covered by the grill. The grill is full length and has a small Boston logo on the bottom. It has a slight overlap around the outside of the front baffle so that it really holds securely but still sits flush to the walls. There are magnets up the sides to hold the grill securely in place. The grill is fairly flimsy when removed but feels fine when installed. It is constructed out of a plastic rim with thin MDF interior.
The back of the RS 334 has a slot style port near the bottom but above the dual binding posts. If you stick your fingers inside the port, you'll quickly realize that it has a 90 degree turn upward. This increases the length of the port on a speaker that clearly is looking to minimize its footprint. The port is flared at both sides and has about 6-7" additional length after the bend. The plinth at the bottom is removable (which is nice if you want to change it out for an aftermarket outrigger setup) but has no identifiable provision for carpet spikes. In fact, there are installed rubber feet. This is fine if you are setting the speakers on hardwood or tile but for those of us with carpet, it is not optimal. At only 32lbs a piece, the speakers aren't the heaviest and the wide plinth helps a bit with tipablility but we still would have preferred carpet spikes. At $1400 a pair, this is a curious omission. (Note - Boston now says they are shipping carpet spikes but they were not available on the review units.)

The driver compliment is fairly generous in such a small cabinet. Boston has provided the RS 334 with a 1" EWB tweeter (Extended Wide Bandwidth) and four, 4" FCCM woofers (Fiber Ceramic Copolymer Material). One thing I got to experience in my tour of the Boston facilities so many years ago was their driver creation lab. There they could not only design their own drivers, but build and prototype them. You can bet that Boston did a lot of testing with these drivers before they decided on them for the Reflection Series. The tweeter has a dimple in the center - something that people familiar with soft dome tweeters will initially be concerned by. Rest assured, that is part of the design. The woofers all have a pointed dustcap that looks, at first glance, to be a phase plug. It isn't and often we discourage the use of such drivers as the "fake" phase plugs are often added aesthetically instead of for sonic reasons. We will give Boston the benefit of the doubt as in our experience they are above trying to "trick" consumers (other than the sock thing and we'll chalk that up to industry-wide peer pressure) into thinking their speakers are better than they are.
The size of the RS 334s has been mentioned a few times but really needs to be stressed. It is fairly easy for Internet direct companies to through a bunch of drivers into a big box because their customers won't really be able to see them until they arrive at the house. With a company like Boston that often sells in retail settings, that's not really feasible. Instead, they have to make sure not only that the sound is there, but that the form factor will at the very least not turn consumers off. The RS 334s are anything but a turn off. The speaker itself is only ~43" tall, 8.5" wide and 10" deep. Compared to many speakers I've reviewed in this price category, this is positively diminutive. The knock test revealed a very inert box - something you'd expect when Boston is shoving as much technology as they must be into such a small cabinet.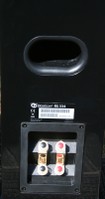 Opening up the speakers, I was surprised at how tight everything was in there. The woofers were all shielded which creates a very large magnet structure in the back. I was only able to remove three of the four woofers because the openings were so tight and I couldn't get the vanity cover off the tweeter to get at the screws. The tweeter did not have a backbox. All the wires were covered in velvet tape to eliminate any possible noise from the wires vibrating against the cabinet, the drivers, or each other. The enclosure was constructed out of 3/4" MDF - about what we'd expect at this price point - with 1/2" MDF braces. I could identify four braces in the cabinet but there may have been a fifth one lower down. The top brace was parallel to the front baffle and seemed to be connected to the top and the sides. This came down to just behind the tweeter. The rest of the braces were parallel to the top and were connected to the sides, front and back of the cabinet with openings in the center. These were situated between the top and second woofer, between the 3rd and 4th woofer, and just below the port (before the binding post insert). There was a ton of dampening material in the enclosure with thick polyfill glued to each of the walls and back of the cabinet in every place I could see or reach. The crossover was attached to the back of the binding post insert. The wire runs were so tight that I couldn't remove the crossover enough to get a good picture. From what we can tell the crossover it was assembled on printed circuit board (PCB) and utilized a combination of air and iron core chokes and polypropylene capacitors and ceramic resistors. I'm guessing the larger iron core choke is part of the woofer crossover which is a good thing since most of the power is in bass and you don't want an underrated iron core going into saturation causing distortion and compression when playing at high listening levels.
See also:
jrf posts on December 04, 2012 07:05
As these speakers are being phased out there are great deals on them to be had. I recently picked up a PAIR and matching center channel for $900.
pzaur posts on March 28, 2010 16:18
Hey, the article title and picture description are spelled incorrectly. "Refection" should be spelled "Reflection" with the "L".

-pat
sholling posts on March 26, 2010 17:33
allargon;703501
Is Tom really suggesting we run these speakers full range with a sub to even out bass response? Or, did he really mean to say you can run these at full range if you don't have a sub.

Also by accentuated highs, does he mean "bright"?
Maybe it's a matter of degree.
Accentuated (i.e. Boston's RS334)

Bright (i.e. Klipsch)

Strident (?)

allargon posts on March 26, 2010 16:23
While you can't expect an offering in this price range to negate the need for a sub with for movies and such, you can expect for most musical content that the speakers will be enough. It will also help with evening out bass response in your room if you can run your speakers full range. I really appreciated the low end extension of the RS 334 speakers.

Is Tom really suggesting we run these speakers full range
with
a sub to even out bass response? Or, did he really mean to say you can run these at full range if you don't have a sub.
Also by accentuated highs, does he mean "bright"?
Seth=L posts on March 26, 2010 13:39
gene;703425
Last time I checked, Bestcovery wasn't writing 3500+ word reviews with measurements.
I was only picking because of the preamptive posting of the incomplete review. It's all there now. It's time to do some reading.