Round 2: Polk Audio Monitor 30 vs. AV123 x-ls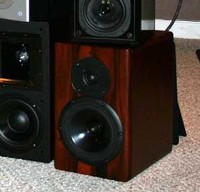 Round 2 Price Category: $200 - $250

Clint DeBoer: I almost hated to say it but the x-ls speakers were a tad boomy to me as well (we were going for a run of boomy speakers it seemed). During "Cousin Dupree" the Polk speakers seemed to hold themselves steady and deliver a tighter low frequency response that didn't extend past its given boundaries. For some, excessive boominess is a plus - but for me I favor accuracy over extension. That's why God invented subwoofers. During "Chant" I felt that the x-ls speakers lost a bit of midrange clarity and balance. Things seemed to come across a bit over-layered and slightly distorted to me. One thing that I could say, however, is that the x-ls was a speaker that you could listen to over a long period of time without getting fatigued, however the uneven response detracted from the overall experience. Of these two I would likely chose the Polk Audio speakers for my money, but neither was a show-stopper.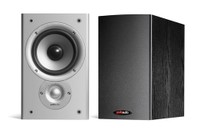 Gene DellaSala: The x-ls fit and finish are an enigma at this price range. I felt they were put together and looked better than any other speaker in this entire face off. My beef with them is they didn't sound nearly as good as they looked. It's not that they sounded bad, but based on their appearance, I was expecting more. The weakest link to these speakers is their woofer. It cannot handle any amount of bass at all and the speakers are tuned way too low for a woofer with such limited excursion capability. Even at moderate listening levels, the woofers continuously broke up and bottomed out. In my opinion, it's a must to bass manage these speakers as I don't feel they should ever be run full range. That being said, the x-ls speakers were much easier on the ears than the Polks, though I didn't feel they imaged nearly as well as the Monitor 30s. Given the choice between these two speakers, I'd pick the x-ls and use them with a sub. I am willing to live with some of the sonic shortcomings of this speaker just for its sheer beauty.
Tom Andry: It's hard to say if the x-ls' were laid back or if they were only laid back in comparison to the Polk Monitor 30's. When directly comparing the two speakers, the Polk's sounded a little hollow on the bottom end while the x-ls' just seemed boomy and muddy. It didn't help that the x-ls' bottomed out a number of times. The Monitor 30's seemed more spacious and accurate though I imagine that the x-ls' provide a very enjoyable overall listening experience. I wasn't able to pick a clear winner of this pairing as I felt that both had design compromises based on the price point. To me, this would be more a matter or personal preference for a certain "sound" though I would bet that the owners of both find them to be a very good value.
J. Walker Clarke: The x-ls has a better bottom end, even if at times in this test it was a bit muddy. I felt that what I loved about the Polks (a sizzling high end) might become something that would turn ugly after extended listening. This was a hard test - I loved the AV123 speakers several months ago when I had a pair in my home, but in this test, the Polks seemed to be equally appealing. The build-quality of the x-ls is much better than that of the Polks, but in the end the Polks may have sounded a tad better to me.
warpdrive posts on September 05, 2007 22:31
Guiria;302038
I find it interesting that reviews away from this one regarding the X-LS are all great, positive, and people boast the ID concept as a better bang for your buck than speaker companies using brick and mortar distribution etc. Then this review has a slightly less expensive (than X-LS) model of Polk's from a line available at Circuit City that appear to be equally if not better than the super valued X-LS.

I now doubt my internet direct beliefs which were "You get more for your dollar going ID".

There is more wisdom in auditioning several speakers before purchasing than many believe.

Thank you for writing a review that challenges my hyped up notions from all the forum buzz out there, and a review that has made me a wiser consumer.
I hope other people read this and come to the realization you did (thanks to this review). There are no absolutes in the audio world.
My observations:
ID brands are not always a better value than B&M brands sonically.
Price only loosely correlates to sound quality when comparing brands.
Sound quality is highly variable among different speaker brands.
Tex-amp posts on September 05, 2007 01:25
Tex-amp posts on September 01, 2007 23:31
PENG;303908
You may be right about the B&Ws, but Paradigm? Don't they offer products from US$120 a pair Cinema series all the way up to US$6,000 top of the line Signature series? I would say they can compete at all levels except the real high end level such as the B&W80X Diamond series and beyond.
I think the poster is referring to Paradigm offerings at the same price point.
This is what a reviewer had to say about the Sierra 1 and where it matches up with Paradigm...
With the Ascend Acoustics, something did: From the very beginning, I could tell that the Sierra-1 had outstanding clarity, and was conveying much more low-level detail than any other under-$1000 two-way I'd ever heard -- qualities that became even more apparent when I sat down to do some critical listening. In fact, the Sierra-1's ability to let me hear into recordings was right up there with Paradigm's Signature S2 and PSB's Platinum M2, two of the best two-way monitors on the market, and each of which sells for about two grand per pair. (I own a pair of Signature S2s.)
http://www.soundstageav.com/onhifi.html
[soundstageav.com]
PENG posts on August 31, 2007 18:11
silversurfer;303610
Have you actually done side by side comparisons?

At the same price points, I would agree that PSB and Energy have comparable product, but not Paradigm and B&W. Again, none of them can touch the finish of the X-LS.
You may be right about the B&Ws, but Paradigm? Don't they offer products from US$120 a pair Cinema series all the way up to US$6,000 top of the line Signature series? I would say they can compete at all levels except the real high end level such as the B&W80X Diamond series and beyond.
silversurfer posts on August 31, 2007 17:34
anamorphic96;303870
But getting back to the main point. All of these speaker companies being talked about are like great bottles of wine. Each has a slightly different character.
It's all subjective. One mans neutral is another man's bright. Just because someone doesn't like a certain companies character does mean its a bad speaker. Their just not the flavor you like.

If that is the case, then everything is comparable.