Video to PC Converter: Testing and Conclusions
The big deal with the Video to PC Converter is that it deinterlaces the input video. This can make a huge difference in the video quality. While I hooked up the VtPC in my office at first, I wasn't really comfortable using that monitor to determine the quality of the deinterlacing. For the purposes of this test, I connected it to my Westinghouse LVM-42w2 through the VGA input. I set the Display setting to SXGA (1280x1024) and calibrated the VtPC with AVIA. Lastly, I ran the HQV tests using both the S-Video and Composite inputs from my OPPO DV-970HD.
The first thing I noticed was that the picture with the S-video appeared to be much sharper and brighter in comparison to the composite input. With the AVIA disc in, I was able to snap a couple of shots of the resolution screen:
Composite S-video
As you can see, there are a lot of visual artifacts on the composite side that just aren't there on the s-Video side (there are still a few on the s-video side though). This would necessarily lead you to believe that the s-video picture was better. And you'd be right. I found the composite picture to be much more muted and soft with many more visual artifacts than the S-video one. Consider this carefully when you are deciding which input to use for each source.
Audioholics/HQV Bench Testing Summary of Test Results
Perfect Score is 130
Impact Acoustics Video to PC Converter Benchmark total score: 40/130.

Test

Max
Points

Results

Composite

Pass/Fail

Results

S-Video

Pass/Fail

Color Bar

10

10

Pass

10

Pass

Jaggies #1

5

0

Fail

0

Fail

Jaggies #2

5

0

Fail

0

Fail

Flag

10

0

Fail

0

Fail

Detail

10

5

Pass

10

Pass

Noise

10

0

Fail

0

Fail

Motion adaptive Noise Reduction

10

0

Fail

0

Fail

Film Detail

10

5

Pass

0

Fail

Cadence 2:2 Video

5

0

Fail

0

Fail

Cadence 2:2:2:4 DV Cam

5

0

Fail

0

Fail

Cadence 2:3:3:2 DV Cam

5

0

Fail

0

Fail

Cadence 3:2:3:2:2 Vari-speed

5

0

Fail

0

Fail

Cadence 5:5 Animation

5

0

Fail

0

Fail

Cadence 6:4 Animation

5

0

Fail

0

Fail

Cadence 8:7 animation

5

0

Fail

0

Fail

Cadence 24fps film

5

0

Fail

0

Fail

Scrolling Horizontal

10

10

Pass

10

Pass

Scrolling Rolling

10

10

Pass

10

Pass

Total Points

130

40




40



Comments on Audioholics DVD Torture Tests
While 40 out of 130 doesn't sound very good, it really isn't that bad. The biggest disappointment here is the lack of 3:2 pulldown (Cadence 24fps film) and jaggy reduction. The S-video did better on the Detail test than the composite but the composite did better on the Film Detail (the reason it got half points was because it locked on in time, lost it, then reacquired). Keep in mind that these tests are all unflagged, so the more common flagged video might yield better real-world results. I wasn't really expecting any noise reduction so that wasn't as surprising to me. While it won't win any awards for its deinterlacing, it does do a fine job especially at this price point. Don't forget that your average computer monitor does zero deinterlacing (garbage in, garbage out) so these 40 points is way better than what you had before.
Viewing Evaluation
Even though I was technically working (preparing for my next episode of AVRant), I went ahead and popped in a movie in the name of doing a thorough review. Ah, the sacrifices we make.
DVD: 300

I didn't know what I wanted to watch. After skipping over endless movies beloved by my wife (seriously, how many times can you watch Pretty Woman before it is considered a mental disorder?) I picked something that would not only hold my attention but give the dark and light scenes that would establish how well the Video to PC Converter was working. I picked a period piece with an epic storyline based on true events. I picked the feel-good movie of the summer (at least I felt good). I picked 300.
I've done a comparison of the video quality of the Blu-ray version of this movie to the DVD version before - and there is no contest. I don't care how good your deinterlacing is, you're never going to get an HD quality picture. But you can get a very good one - especially important when you are blowing it up on a big screen. The VtPC did a reasonably good job of deinterlacing, especially on the S-video input. There were some artifacts, especially with movement, but overall it was a fairly good picture. The composite was definitely inferior to the S-video with the S-video looking sharper, more in focus, and having less artifacts. Since the Westinghouse is a 42" display, everything was a bit exaggerated compared to what you're going to experience on your (most likely extremely) smaller computer display. On a small display, the picture will look much improved over a straight interlaced signal.
Recommendations
It wasn't hard to like the idea of the Video to PC Converter, but that doesn't mean I don't have some recommendations. First, the Menu/Power button is not a great choice to use as a Select button while scrolling through the different menu screens. It's a little confusing. Adding a few buttons might not be a bad choice. While I really like the aesthetics of the VtPC, it is a bit hard to place once you get all those cables hooked into it. The fact that the buttons are on the unit and there isn't a remote means that you'll want it close at hand. It ended up on the floor which meant I had to bend down whenever I wanted to adjust the volume (which needs to be made independent of the PC volume). Some sort of case or magnet to hold it down would make it easier to locate conveniently and counteract the pull of all those heavy cables. Lastly, I'd love to see the menus settings made to be independent for each of the video inputs. Having global settings pretty much guarantees that one of the two sources isn't going to look right. Even during my tests where I had a single source plugged into both video inputs, I found that I would have calibrated each differently if I had the option.
Conclusion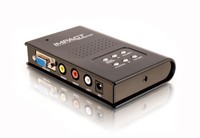 The Video to PC Converter is another great device by Impact Acoustics to make your in-office experience more pleasurable (perhaps at the expense of a little productivity). Take any composite or S-video video source with its accompanied analogue audio and the VtPC will convert your monitor to a display. All this without software or any other "not allowed by IT" programs. The box is small and unobtrusive which you can easily hide away. The deinterlacing on the VtPC may be a bit basic, but it is a world better than the deinterlacing of your monitor. If you're an employee, this should be on your birthday list, if you're an employer, you should be looking for one to confiscate from your employees… so you can use it in your office.
Impact Acoustics Video to PC Converter
$99.99
Impact Acoustics
1501 Webster St.
Dayton, OH 45404
Phone: 877-AV-EXPERT (877-283-9737)
Fax: 800-331-2841
About Impact Acoustics
Since 1984, Lastar has been a leader in the computer connectivity industry. Under the brand name Cables To Go, Lastar created a line of computer connectivity products known for quality and value. CTG uses the finest components and the latest construction technologies to maximize cable performance and ensure compliance to industry specifications for each cable and its designated application. From PC Cables and Adapters to Networking and Data Sharing products, Cables To Go has delivered the best products at an always-competitive price.
The Score Card
The scoring below is based on each piece of equipment doing the duty it is designed for. The numbers are weighed heavily with respect to the individual cost of each unit, thus giving a rating roughly equal to:
Performance × Price Factor/Value = Rating
Audioholics.com note: The ratings indicated below are based on subjective listening and objective testing of the product in question. The rating scale is based on performance/value ratio. If you notice better performing products in future reviews that have lower numbers in certain areas, be aware that the value factor is most likely the culprit. Other Audioholics reviewers may rate products solely based on performance, and each reviewer has his/her own system for ratings.
Audioholics Rating Scale
— Excellent
— Very Good
— Good
— Fair
— Poor
| Metric | Rating |
| --- | --- |
| Calibration Options | |
| Deinterlacing & Scaling | |
| Build Quality | |
| Ergonomics & Usability | |
| Ease of Setup | |
| Fit and Finish | |
| Performance | |
| Value | |