CEDIA Course Learning to Listen Ver. 2.0 Revamped: Register NOW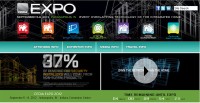 CEDIA Registration
While you're checking out the HiPER demo rooms powered by Audioholics.com at CEDIA this year, you may also want to consider registering for their newly revamped "Learning to Listen Ver 2.0" course.
The 2012 version of this highly successful class, taught by CEDIA Fellow Frederick Ampel, has been completely revised, and updated to include a new section entitled: CLOSING THE SALE WITH MUSIC (SOUND WITHOUT PICTURE). This is followed with a chapter on how to use the subtle and unique audio landscapes created by motion picture sound professionals to demonstrate the residential entertainment experience your designs deliver to your clients.
The new chapter explains how to use your customers' own stereo CD music processed through the extensive expansion and decoding capabilities in today's electronics to bring new life and a new, more immersive experience from the music they already own, increasing the value of the ESC's knowledge and expertise to showcase a vastly underexploited benefit of multi-channel/surround audio systems.
This class is has been updated and redesigned to teach you how to use music and soundtracks as tools to determine any multi-channel audio system's performance, and how to use that same information as an enormously powerful sales tool to showcase your ability to deliver a totally involving entertainment experience. You need this because it is your client's ears (and the listening experience they produce) that will make the final judgment on your work and close the sale.
The class features Triad LCR Gold loudspeakers, GoldDSP Subs, Audio Control Maestro Preamp, Savoy Amp, Diva processor and cabling by Straightwire. Seating is limited for each of the three sessions (Thursday, Friday and Saturday 9Am-11Am course codes:
9/6/2012 9:00:00 AM ESD025-15
9/7/2012 9:00:00 AM ESD025-16
9/8/2012 9:00:00 AM ESD025-17
In the Marriott – BallRoom F
REGISTER NOW