CEDIA High Performance Experience Rooms, Powered by Audioholics!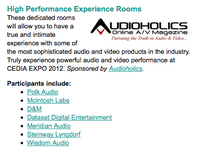 CEDIA HiPER Rooms Powered by Audioholics!
This year CEDIA is debuting its new High Performance Experience Rooms, which are dedicated listening rooms designed to show off the latest two-channel gear, and perhaps even some video products as well. The "HiPER" rooms (your welcome, CEDIA - yes, I just came up with that on the fly) will allow attendees to have a true and intimate experience with some of the most sophisticated audio and video products in the industry. This is a great way to truly experience some of the most powerful and the most impressive audio and video products debuting at CEDIA EXPO 2012. What's triply exciting is that the entire event is sponsored by Audioholics. Audioholics has been a huge supporter of CEDIA for many years and we're excited to be part of the new HiPER rooms coming online this year. Our hope is that this will only be the start of what could explode into a new revival of high end audio and video for the custom installation industry.
This year, the HiPER room participants include:
Polk Audio
McIntosh Labs
D&M
Datasat Digital Entertainment
Meridian Audio
Steinway Lyngdorf
Wisdom Audio
That is an exciting group of companies and we can't wait to set our ears on what they've got in store. Audioholics is planning some excellent coverage of these rooms and we're equally excited that CEDIA EXPO attendees will get a chance to throw down with some of the big names in high-end audio.
There are multiple ways for CEDIA EXPO attendees and media to stay up to date on all the news leading up to and during the show including: The CEDIA EXPO Show Daily, The Virtual Press Office, and the #CEDIATweeps Twitter team. Registration for CEDIA EXPO 2012 is open at www.cedia.net/expo or you can call 877-765-5559.