Axiom Audio Epic 80-600 System Review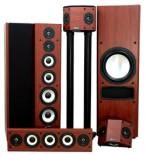 The Axiom Epic 80-600 system was absolutely unbelievable - like having the power of Mother Nature right at my fingertips. The excellent build quality, high performance, and top notch customer support and service offered by Axiom make these an easy recommendation. As good as this system was, Axiom's recent dramatic price increases have put their products into a price class of much higher caliber competitors.
Review: The Axiom Audio Epic 80 with EP600 System offered very good performance but the prices of Axiom speakers have gone up substantially recently putting them up against higher caliber products.