Legacy Audio Focus SE: Listening Tests & Evaluation
Legacy Audio Focus SE: Listening Tests & Evaluation
A review is nothing without listening tests, and so it begins. I have to say, though, I didn't just listen little bit. What I've written here represents a scant 1% of the time I've spent listening to these speakers. This is a case where I don't have to listen—I want to. The Focus SE's have a lot going for them, but above all they are simply wonderful on the ears. Without spoiling the review further, I'll let you read my thoughts on some selected pieces.
BD: Albert lee - Tearing it up

This is yet another great AIX Records album featuring some intense but rockin' guitar work and the voice of Albert Lee. The band has a sort of Eagles flavor-at least on some of the tracks, like "Hangin' On". Randle Currie's pedal steel guitar sounded great on these towers, particularly with respect to how much energy was produced by the mid-tweeter combination that didn't seem edgy or forward in the least. This track has come across as being a tad harsh on some speakers that claim stiffer cone materials but didn't properly voice the system to compensate.
Amidst this perfect blend of guitars, male vocals and piano was the gentle decay of Don Heffington's cymbal crashes and the steady hi-hat that he maintained throughout the entire track. What kept me riveted was the cohesiveness of everything. I mean, we're integrating a pair of 12" subs with a pair of 7" mids and essentially an additional two-way air motion transducer system. It shouldn't blend this seamlessly, should it? And yet it did. It blended wonderfully and, despite my best attempts, I simply couldn't discern any breakup or harshness around the crossover regions. If I had to come up with a word to describe what I was hearing it would have to be "true" or "honest". There is a very natural and authentic characteristic to these speakers that brings out the live experience in recorded music.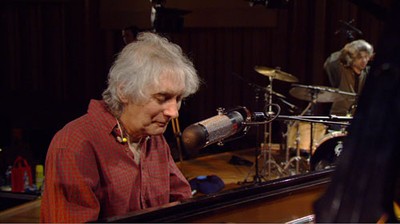 On "Dimming of the Day", Alexandra Lee's guest vocals were slightly forward in the mix, but with none of the dynamic harshness I've heard when playing this track on speakers with conventional tweeter/mid combinations. It was almost as if the Focus SE's were more tolerant of these punctuated dynamics-a characteristic I found exceptionally desirable at elevated listening levels.
BD: AC Timba Jazz - Neurosis

AC Timba Jazz is named for its blending of Afro-Cuban rhythms, Timba, and Contemporary jazz. This album, from AIX Records, features just four tracks, but a full 47 minutes of music. There are no lyrics, so it's sax, piano, bass, congas and drums with no effects boxes, no compression, and no frills. I love every second of it.
The title track features a piano-led rhythmic free-form that, at times, gives way to beautiful sax solos (courtesy of Javier Vergara) and wildly Cuban-influenced congas by Joey De Leon. Since AIX Records produced this high resolution disco with pristine HD video, I was able to watch as I listened. Near the end of the first track I thought Joey was going to lose the congas, his hands moving so fast the limited frame rate of the TV couldn't keep up. On the Focus SE speakers, the congas, which were mic'ed nearfield with four separate condensers, put forth all of the punchy fullness of the strikes, while the fingered rimshots rang generously from the AMT tweeters. There was something about these speakers and percussion. I wanted more. And I knew where to get it.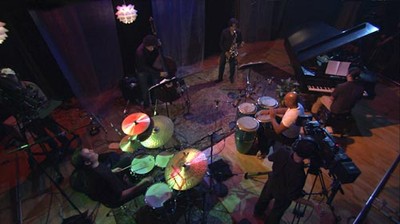 Japanese Taiko Drums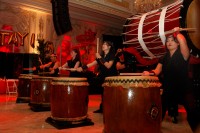 "Explosive" is how I would describe this track. Whereas it decimates smaller speakers and most headphones, the Legacy Audio Focus SEs wouldn't bottom out no matter how hard I drove my reference Emotiva XPA-1 monoblock amplifiers-and I really messed with the gain-staging to try. This track has that deep, resonant tympanic ringing you only get from a solid leather-skinned drum. And some of these drums are over four feet in diameter! Add to that the sheer volume of drums, and the corresponding rimshots and stick work and you're exercising a healthy chunk of the frequency response these speakers can handle.
I was impressed by the dynamic range of the Legacy Audio Focus SE speakers. There's no doubt that they were designed to handle a track like this, which had the dynamics of a symphony orchestra, but the simplicity of a string quartet. Complimenting the deep sub-40Hz bass hits were punctuations of the smaller tsukeshime-daiko drums and rapid strikes of the bachi against each other and the sides of the one-piece taiko shells. Altogether, the presented soundstage was incredibly vast, with reverberations rolling into the room from the mids that almost defied the room acoustics of my listening space, replacing it with its own.
Confused about what AV Gear to buy or how to set it up? Join our Exclusive Audioholics E-Book Membership Program!
Recent Forum Posts:
Bucknekked posts on August 11, 2021 17:31
gene, post: 962605, member: 4348
You need to sit tight. I've been working with our new loudspeaker guru/engineer (Joel Foust) and some former consultants (Mark Sanfilipo) to develop the industry's most comprehensive measurement standard. We will be publishing this standard next week and hopefully I can find time with our new writer Joel to head to Clint's house to measure these beasts before he sends them back.

Dr. Floyd Toole just ripped into our standard and gave us a bit of a bloody nose, so we are making some changes before publishing

Somehow I just love the imagery of Floyd Toole giving an audio standard a bloody nose. That's a great line.
Good to see that some heavy weights are involved.
Epsonfan posts on August 11, 2021 12:41
The sucker is heavy .
Art Vandelay posts on March 07, 2017 06:34
Sonic Guild, post: 1175682, member: 81934
Are they on the warm side or just neutral? I can't stand bright speakers, any thoughts?
I heard them at my local store which is a Legacy dealer, and really liked them.
I certainly wouldn't label them as reserved in the treble, but to my ears they're not overly bright or etched sounding, though I can still imagine them sounding a bit bright in a reflective room.
With some Legacy speakers in the past I've been aware of a slight discontinuity in the treble due to the high crossover point to the super tweeter, but with this latest SE model it was difficult to fault the treble at all.
Sonic Guild posts on March 02, 2017 15:43
Are they on the warm side or just neutral? I can't stand bright speakers, any thoughts?
Thunder240 posts on August 28, 2016 09:56
Clint, if you still have your notes from your listening sessions 3 years ago, can you compare to the Salk SS8, which the intro to your review you stated were in your house immediately prior to the Focus SEs? Also, any chance you can offer a comparison to the XTZ 100.49 Divine? These have been reviewed before on Audioholics, though I don't recall who was the reviewer.

Of course if anyone else is able to offer a comparison besides Clint, feel free to chime in.


Sent from my iPhone using Tapatalk
Post Reply