Moshi Audio Vortex Pro Sound Quality
Moshi Audio Vortex Pro Sound Quality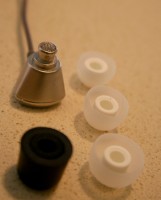 Moshi brags about the inclusion of their latest XR9 extended bandwidth drivers in the Vortex Pro. These are 9mm, neodymium, full-range drivers with a spec'ed frequency response from 10Hz to 22kHz. Of course, that is -10dB and at 1kHz. They have a 14 ohm impedance and the memory-foam tips will block out up to 23dB of noise. The cable is the standard 1.2 meters though you can eek out a few more inches if you don't wrap them around your ears. 
The Vortex Pro sports an in-line microphone for use with your iDevice or smartphone. I tested it out and was described as "robotic" by those on the other end of the line. Universally, the phone alone was preferable to the in-line mic though I never had a problem with intelligibility. The soft buttons (as I mentioned) were hard to locate by touch alone and I wished Moshi had made them more obvious.
The first thing I noticed about the Vortex Pro headphones was the bass. There is a lot of it. TONS. If you love bass or bass-heavy music, these are your earbuds. Look no further. There were a number of tracks that I listened to with bass runs that extended further down than I'd ever heard before - even in a room with two subwoofers. The bass was linear and not at all bloated (if a little boosted). It didn't sound like the bass was being boosted as if by one of those DSP modes on your receiver - just that Moshi had made sure that every bit of bass that was available was heard.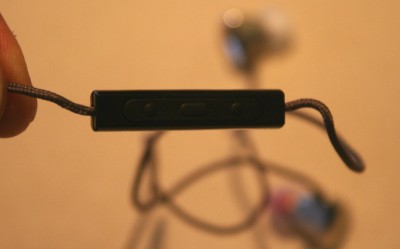 Without anything playing and with only one Vortex Pro headphone installed, it sounded like I had an echo chamber on my ear. My guess is that Moshi was utilizing that space inside of that pyramid-shaped earbud just like a normal speaker enclosure. This is a great way to increase the bass and is used all the time in speaker manufacturing. It also turned out that Moshi used a ported design on the Vortex Pro headphones, another way to increase bass. It also explained the echo-sensation I experienced. This didn't, in anyway, show up during listening, however.
The top end was overall pleasant and I'd describe them as a bit laid back. While headphones like the Pioneer SE-MJ591 were unforgiving of poorly recorded music, I found the Moshi Vortex Pro to sound great with almost everything. They were not at all fatiguing, the bass was full and lively, and the midrange sounded full but not bloated.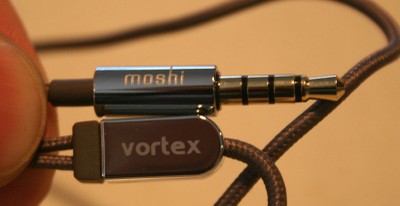 When describing the Moshi Vortex Pro earbuds to a friend, I used the term "engaging". I can describe them in no other way. The Vortex Pro earbuds are a very friendly earphone and I found myself really enjoying all my music regardless of encoding method. Does this preclude them from critical listening of high quality music? Not really. But they aren't the most revealing earbuds. To me, that's just fine. Because most people don't want to fight with their headphones. They just dropped $150 on a set of earphones, they don't want to find out that they have to re-import all their music in lossless in order to enjoy it. With the Moshi Vortex Pros, you'll find that all you'll need to do is stick them in, press play, and enjoy.
Confused about what AV Gear to buy or how to set it up? Join our Exclusive Audioholics E-Book Membership Program!
See also:
Recent Forum Posts: