Apple iPod Operation: Web Browser and iPod
Apple iPod Operation: Web Browser and iPod
The Web Browser
To surf the web, you touch the Safari icon at the bottom of the page.  Up comes a web browser.  And it is important to point out, this is a full strength web browser, not a WAP page viewer.  You have forward and backward navigation buttons at the bottom of the screen, as well as a bookmarks button (that accesses your synced bookmarks from your desktop), and finally a button that allows you to open multiple pages on the screen that you can "flick" through.  Want to zoom in on something on the page?  Just double tap the area you want enlarged, or use the squeeze/expand motion with your thumb and forefinger.  These motions will zoom in and out of the page.  Otherwise, it works as you would expect from a normal web page on your laptop or desktop.  You can scroll up or down or side to side using your finger and the flicking motions. 

One of the cooler features of the display is the ability to turn the phone from vertical to horizontal orientation while viewing web pages or photos.  The iPhone automatically senses the shift in orientation and adjusts the screen accordingly to a widescreen format.  (This is nice for reading reviews on Audioholics.com, especially when you want to zoom in on that rear panel photo of a new receiver!)

The browser is currently not compatible with Adobe Flash technology - yet.  This is one of the many issues that I would hope Apple will improve with future software updates.

The iPod
The iPod section of the phone is what Apple calls the best iPod ever.  It certainly is not the largest capacity iPod, as it is available in either 4GB ($499) or 8GB ($599) models.  But the interface is certainly new and cool, employing touch screen control of your music and video.  The iPod button brings up the iPod main screen with the following buttons at the bottom:  Playlists, Artists, Songs, Videos, and More.  From the More button, you get a screen with Albums, Audiobooks, Compilations, Composers, Genres and Podcasts (where you should find your catalog of AVRant.com episodes.  What?  You have not subscribed to the hottest new podcast out there?  Go to www.avrant.com and get plugged in!!!)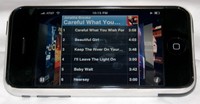 The interface is new, as there is no scroll wheel.  Instead, you use taps and flicks to navigate the playlists, songs, artists, etc.  Once you have flicked your way through your playlist or song list and tapped on the song you want to hear, the album cover appears on the display with a reverse/pause/forward and volume display on the bottom of the screen.  If you turn the iPhone to a horizontal orientation, the display shifts accordingly to the familiar iTunes cover flow.  Scroll (flick) through the album cover art to the record you want to hear, tap on it, and it flips over revealing the song list.  Tap the song you want to hear and you are good to go.  It is really impressive.  One other cool feature is that when you are listening to the iPod on the built-in speaker (which is not bad, considering) and a phone call comes in, instead of instantly pausing the song, it fades the song out before sounding your selected ring tone (at which time it pauses the song).  When you hang up, the song ramps back up.

Conclusion
The iPhone is chock full of fun and surprises, and I am sure that I will find many more things I like, as well as shortcomings, over the next few weeks.  It is great, but not without some flaws and room for improvement.  It will be interesting to see how many things Apple can or will fix through software updates. 

In first full day of use on the road, I left the house around 9AM with a full charge.  Throughout the day I received and made several calls, listened to one or two songs using the built-in speaker, browsed the web in both Wi-Fi and EDGE environments, checked, read, composed and sent several emails.  Around 8PM back at the house, I got a message that I had 20% of my battery left.  So in fairness, I had a pretty average day of use with the phone and did not run out of battery.  But I will invest in a car charger, as I can see a really busy day draining the battery.

I have made note of several complaints over the first full day of use.  AT&T's activation delays stunk.  How could they have not been prepared for the glut of activations over the launch weekend?  There is no good excuse for this, and it makes both Apple and AT&T look bad. 

As for the design, it is a beautiful little device, but I would like to see rubberized edges so if you dropped it there would be a chance of not damaging it.  I purchased a hard, form-fitting leather case (that allowed full use of the screen and buttons) to keep it in as a precaution.  I just feel that it could get damaged or scratched in my pocket or backpack without one.  If you have a friend like my buddy JD, who seems to have sudden urges to throw his phone to ground while say, walking across a busy intersection, I would worry about their $500 investment. 

The headphone jack is recessed and will require an adaptor for many, if not most headphones or car adaptors.  This really stinks.  I saw that Griffin has already announced one as I am sure many third-party vendors will, but really Apple, what were you thinking here?

I would also like to see the multiple Inbox situation in the Mail application addressed.  It requires too many touches to navigate through your new messages from multiple accounts. 

There is no instant messaging available.  The SMS Text feature is designed to look like iChat, but it is really just traditional texting.  And since most packages allow only a certain number of text messages, a "chat" using text messaging can get expensive with lots of "okay," "yes," or "no" messages going back and forth.

Finally, while battery life seemed okay, and certainly better than your laptop would fare doing the same tasks, I am not sure what a heavy day of use will do to your mileage.  And as is the case with iPods, you cannot change a dead battery yourself.  You will need to send it in to Uncle Steve and pay a heavy price, I am sure - at least until third party vendors provide cheaper, albeit warranty-voiding solutions.

Overall, the iPhone is a great product.  It is really more of a handheld computer than a phone.  Apple has once again innovated in a way that all other manufacturers will most certainly begin to immediately follow (and copy).  My guess is that software updates will continue to improve the iPhone.  After five years, was it worth the wait?  For me, yes indeed.

Drool Factor
you'll need a towel

With This Gadget, You Will Be The Envy Of:
anyone who sees it

Is It Easy To Use?
if you have a pulse

Price:
pricey!


Specs
Size and weight
    •    Height: 4.5 inches (115 mm)
    •    Width: 2.4 inches (61 mm)
    •    Depth: 0.46 inch (11.6 mm)
    •    Weight: 4.8 ounces (135 grams)
In the box
    •    iPhone
    •    Stereo Headset
    •    Dock
    •    Dock Connector to USB Cable
    •    USB Power Adapter
    •    Documentation
    •    Cleaning/polishing cloth
Capacity
    •    4GB or 8GB flash drive1
Display
    •    3.5-inch (diagonal) widescreen multi-touch display
    •    480-by-320-pixel resolution at 160 dpi
    •    Support for display of multiple languages and characters simultaneously
Operating system
    •    OS X
GSM
    •    Quad-band (850, 900, 1800, 1900 MHz)

Wireless data
    •    Wi-Fi (802.11b/g)
    •    EDGE
    •    Bluetooth 2.0+EDR
Camera
    •    2.0 megapixels
Audio
    •    Frequency response: 20Hz to 20,000Hz
    •    Audio formats supported: AAC, Protected AAC, MP3, MP3 VBR, Audible (formats 1, 2, and 3), Apple Lossless, AIFF, and WAV Video
    •    Video formats supported: H.264 video, up to 1.5 Mbps, 640 by 480 pixels, 30 frames per second, Low-Complexity version of the H.264 Baseline Profile with AAC-LC audio up to 160 Kbps, 48kHz, stereo audio in .m4v, .mp4, and .mov file formats; H.264 video, up to 768 Kbps, 320 by 240 pixels, 30 frames per second, Baseline Profile up to Level 1.3 with AAC-LC audio up to 160 Kbps, 48kHz, stereo audio in .m4v, .mp4, and .mov file formats; MPEG-4 video, up to 2.5 Mbps, 640 by 480 pixels, 30 frames per second, Simple Profile with AAC-LC audio up to 160 Kbps, 48kHz, stereo audio in .m4v, .mp4, and .mov file formats

Headphones
    •    Stereo earphones with built-in microphone
    •    Frequency response: 20Hz to 20,000Hz
    •    Impedance: 32 ohms
Mac system requirements
    •    Mac computer with USB 2.0 port
    •    Mac OS X v10.4.10 or later
    •    iTunes 7.3 or later
Windows system requirements
    •    PC with USB 2.0 port
    •    Windows Vista Home Premium, Business, Enterprise, or Ultimate Edition; or Windows XP Home or Professional with Service Pack 2 or later
    •    iTunes 7.3 or later
    •    Input and output
    •    iPhone
    •    30-pin dock connector
    •    3.5-mm stereo headphone minijack
    •    iPhone Dock
    •    Dock connector
    •    Power and battery
    •    Built-in rechargeable lithium ion battery
    •    Talk time: Up to 8 hours
    •    Standby time: Up to 250 hours
    •    Internet use: Up to 6 hours
    •    Video playback: Up to 7 hours
    •    Audio playback: Up to 24 hours
   

For More Information:
Apple
1 Infinite Loop
Cupertino, CA 95014-2084
408/996-1010
www.apple.com

About Gear Corner
Welcome to the Gear Corner, where we give you a quick but comprehensive look at consumer electronics from several different categories. All products in the Gear Corner have been individually evaluated through hands-on testing by our reviewers in order to give you a quick but detailed overview that we hope will help you in your purchasing decisions.
Confused about what AV Gear to buy or how to set it up? Join our Exclusive Audioholics E-Book Membership Program!
Recent Forum Posts:
avaserfi posts on July 10, 2007 15:44
birdonthebeach posts on July 10, 2007 15:42
Very good points, dvolk. I agree with your observations, and they line up with Apple's recent history of product introductions. Innovate and price accordingly, and they will come.
dvolk posts on July 10, 2007 15:07
GSM-only strategy makes sense for iPhone

There are a few points to highlight when discussing the "shortcomings" of the iPhone. In reality, they may prove to be shrewd business decisions by Apple, but only time will tell. In no particular order…
1. Apple likely chose the GSM-Edge network due to the worldwide size of that market – the vast majority of European and Asian markets use the GSM technology, not the EVDO standard in much of North America. This choice expands the number of markets and potential for rapid growth, economies of scale, and establishing a foothold in multiple regions before competitors copy the technology and introduce their own knock-offs.
2. Feature set – smartphone, email, iPod, video – these features are targeted at the upper end of the consumer segment and not at business users. This segment is highly mobile, has a greater amount of personal time, likely spends more time than average commuting (via public transit or in groups), and has a relatively high level of disposable income. The target is likely the 16-34 year olds who are already users of the iPod and are OK spending >$500 on the latest technology (iPod, PS3, or the original web phones).
3. Manufacturing limitations – you can only build so many units in a given time frame, so why not position your product at the high end of the market and get the feedback from people with a history of using high-end products and make adjustments over time.
4. Mid-market consumers and business users are more price sensitive and less tech-savy than most people realize. If Apple tried to be everything to all people, they would satisfy no one and end up tossing their iPhone on the pile of "nice ideas" like the Newton. Different versions on other networks are likely to arrive in the coming years as the bugs are worked out and the adoption rate increases.

Final comments: The wealth of new technologies in this device are likely to raise the bar for all manufacturers. The key for Apple is to position this device as a good phone with a great combination of iPod and email features. If they are successful, they have a chance at competing in a much larger market – cellphones – rather than being relegated to a niche device manufacturer (iPod).
birdonthebeach posts on July 05, 2007 15:49
I certainly agree that this is a first generation product with things missing. And it is not for everyone. But it is always funny to me that people are saying "don't jump on the bandwagon" and things like that.

It is what it is. Not perfect, not the end-all, but a cool little device. People don't say not to jump on the Treo or Blackberry bandwagons ("they don't have an iPod" or "they don't have visual voicemail" or "the email is not full-featured," etc.).

It's a matter of taste. The price will keep many people away. The lack of alternate carriers will keep many away. The list goes on. Those that buy one will probably love it. Those that don't will probably be pretty critical of it. Both opinions are justified.

The more I use it, the more things I find that I wish were better or different. But I also find more and more that I love about it.
zoran posts on July 05, 2007 13:56
mine got shipped from china, will be here tomorrow
Post Reply