Qualcomm Commits to Sound Quality in Next-Gen Audio Gadgets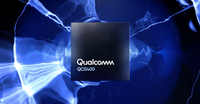 Chip-supplier, Qualcomm says its new QCS400 line of processors will not only make new devices run better with new and interesting features, but will introduce the best sound quality yet in the next-generation of wireless & smart speakers, soundbars and A/V receivers designed by many of your favorite brands. See what may be coming to these products.
Qualcomm says your next wireless speaker system will be smarter, faster and sound even better thanks to its new QCS400 series System-on-a-Chip (SoC). Read how this will impact many AV products.