Legacy Audio Studio HD Conclusion
Legacy Audio Studio HD Conclusion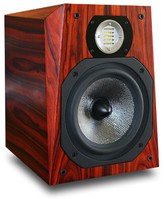 Can I just say these are amazing speakers and a great value, and leave it there?  Probably not.  After all, there are plenty of speakers that deliver fantastic detail, dynamics, and imaging.  However, to my ears, the Legacy Studio HDs provided the best mid and high frequency detail that I've ever heard in my room.  They cast a huge image that is forgiving of positioning, and they reproduce frequency range and dynamics on par with some of the best bookshelves (though a subwoofer is still required for full-range impact.)  Simply put, at the end of several nights of listening sessions since these speakers arrived, I've fallen asleep each time thinking about how good these speakers sounded while I was listening.  I've had to fight the urge to get out of bed and go back to listening, beauty rest be damned.  If this is Legacy's entry level, I'd hate to think about how much sleep I'd lose listening to their higher-end models.
Of course, they should sound good.  Despite being downright modestly priced compared to some high end offerings, they are also the second-most expensive bookshelf speakers I've had in my room.  Nonetheless, I consider them one of the best values I've heard, especially, when taking into account the return on a long-term investment for a lifetime of good sound and pride of ownership of having a  US-made speaker so well crafted.
If I were talking to myself from 10 years ago, past-Marshall would think I was crazy for calling an $1,800/pair speaker a remarkable value.  Of course, he also thought Canadian LTD was "good hooch" and only owned two pairs of shoes.  But, present-day-Marshall finds himself appreciating the vast distance between "good" and "good enough".  The Legacy Studio HDs are exciting and refined speakers, but priced at a point that even past-Marshall could have afforded if he'd only redirected some money from his whiskey budget.  If he had, he'd still be happy listening to them 10 years later.  I can't give the Legacy Audio Studio HD speakers anything less than my highest recommendation for speakers in the $1,000/each or less category.
Legacy Audio Studio HD Bookshelf/Monitor Speaker Youtube Video Review

Legacy Audio Studio HD Review
MSRP: $1795/pair

Address:
3023 E Sangamon Ave.
Springfield, IL 62702
United States of America
Contact Details:
E-mail: [email protected]
Telephone:  800-283-4644 or (217) 544-3178
Web: http://www.legacyaudio.com

Sales: [email protected]


The Score Card
The scoring below is based on each piece of equipment doing the duty it is designed for. The numbers are weighed heavily with respect to the individual cost of each unit, thus giving a rating roughly equal to:
Performance × Price Factor/Value = Rating
Audioholics.com note: The ratings indicated below are based on subjective listening and objective testing of the product in question. The rating scale is based on performance/value ratio. If you notice better performing products in future reviews that have lower numbers in certain areas, be aware that the value factor is most likely the culprit. Other Audioholics reviewers may rate products solely based on performance, and each reviewer has his/her own system for ratings.
Audioholics Rating Scale
— Excellent
— Very Good
— Good
— Fair
— Poor
| Metric | Rating |
| --- | --- |
| Build Quality | |
| Appearance | |
| Treble Extension | |
| Treble Smoothness | |
| Midrange Accuracy | |
| Bass Extension | |
| Bass Accuracy | |
| Imaging | |
| Soundstage | |
| Dynamic Range | |
| Fit and Finish | |
| Performance | |
| Value | |
Confused about what AV Gear to buy or how to set it up? Join our Exclusive Audioholics E-Book Membership Program!