Tip of The Day: Mixing and Matching Speakers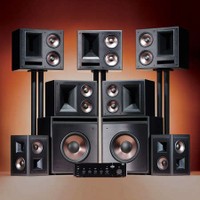 Tip of The Day: Mixing and Matching Speakers
As a general rule, we do not recommend mixing and matching different brands of speakers in a surround sound system. Even mixing different lines within a particular brand can present problems. In order to maintain a reasonably consistent timbre (sonic signature) between different speakers, it's a good idea to have a matched system. Matching your front three speakers is most important, but if the manufacturer of your front speakers doesn't make a suitable surround speaker you can consider going with a different brand for surround speakers. Still, we recommend trying to stay within the same brand and series for all of your speakers. Choosing speakers with similar output capabilities above the crossover point to preserve dynamic range for the entire system response is a sound idea.
A notable exception to the matching rule is the subwoofer, which fills in the low end. In fact, there is rarely any reason to keep your subwoofer the same brand as your main speakers, perhaps other than cosmetics. There are several companies specializing in subwoofers, such as SVS, Hsu Research, Velodyne, Rythmik, and Epik, whose products have consistently proven to offer better performance/value than many of the alternatives on the market.
Please share with us your mix and match speaker stories in the associated thread for this article tip.
Credit: forum member Steve81

skipnie posts on February 18, 2013 12:38
HSU, I highly recomend them for subs. I find they present the most accurate (timbraly accurate), natural sound (not bloated) than many subwoofers "out there".
nleksan posts on January 28, 2013 14:58
First of all, HELLO! Long time lurker/stalker/knowledge-absorber, first-time poster! Thanks for having me on your wonderful forums!

Regarding the topic at hand...

I have gone through about 5-dozen sets of speakers, from low-end Sony/Polk/etc to Sonus Faber Cremora and the like, but I am currently getting ready to move and so I decided to sell off all my "nice" home theater/"audiophile" (I hate using that word... it's gotten such a bad rap in the last few years/last decade) speakers.
Thus, I am back to using my "budget" home theater setup, which works great for movies, video games, and even music, considering the cost.
It consists of:
55" LG LED-LCD Television
Pioneer VSX-D509S 5.1Ch DD/DTS Receiver (110W/Ch, I believe... I took a multimeter to it about 2yrs ago and was surprised to find that it was actually within 2% of the rated RMS over a 30min reading!)
2x Cerwin Vega VE-12 Speakers (FR/FL; used just in stereo for a while, these are "fun" speakers because they WILL shake the 5200sq-ft house WITHOUT a subwoofer! Fantastic film speakers)
2x JBL Cinema-Series 500 Bookshelf Speakers (SR/SL; 2-way speakers with 5.25" mids/woofers and 1.25" tweeters, these serve very well as surrounds, filling the room with ambient sounds but being "undetectable" at the same time)
2x RTR Series V Model20 4-Way Towers (using just 1 as the Center; has a 10" woofer, a 5.25" mid, a 4.5" mid, and a 1.25-1.5" (not sure) ribbon tweeter; got these, in almost perfect condition, for free; surprisingly excellent voice-match to the Cerwin Vega's, and the one sounds so good as a center channel that I wish I could use both!)

I have the CV's about 4.5' to either side of the TV (about 10-11' total space between) and toed-in about 20-25*, the RTR Tower Center is directly in front of the TV and angled up about 3-5*, and the JBL surrounds are to the exact left and right of the main seating area (line up with my head) but not quite as far out as the CV's (about 3.5-4' on either side) and they sit about 14-16" higher than my head, with a very slight toe-in of maybe 5-10* (otherwise they are too localized).

Sure, they are not all voice matched, but it's a DA*N FUN system to listen to! Watching any kind of Blu-Ray or DVD with a good audio track makes the room just come alive with sound, and all of this equipment cost less than $400 TOTAL (well, can't remember how much the receiver was... had it since new, same with the Vega's; price not including TV).

I think having three towers in the front is the better alternative to trying to find the "closest voice match", if it comes down to it....
ARES24 posts on January 25, 2013 20:21
I think that a very important method has been over looked, get lucky!!

I picked up a monitor center at a lost freight auction and it goes remarkably well with the ER18's. I would say that it is a bit harsh sounding (exaggerated in words compared to reality) compared to the fronts but I would say that I am in love
twoeyedbob posts on January 25, 2013 18:31
Of all the changes to my system...matching the centre was probably the most benificial....feels like a wall of sound now
...whereas before it was almost 3 different sources....
Although recent repostioning of the front spkr's and nice wire,.
Also made a very noticeable difference.



Sent from my HTC Vision using Tapatalk 2
English210 posts on January 25, 2013 15:50
I keep wanting to get a center speaker, but the very limitted space available in the 'easy' location, and the difficulty of placing a good one where I want it has made me hold off. Plus, I've noticed during movies, or even regular TV, the dialog is rooted to the center, and I haven't had difficulty discerning what's being said. I am in a position where I haven't had a center before, so perhaps it would make more of a difference than I can anticipate. My mains right now are old speakers that will be upgraded, to PSB Synchrony towers, so when I found a set of Synchrony S surrounds at a good used price, I grabbed them in anticipation of getting the towers up front. The main fronts are old Infinity Kappa's, and from what I've heard so far, I'm not hearing anything to indicate 'Oh the rears don't match the fronts!' audibly.