Tip of the Day: Conceal Your Speaker Wire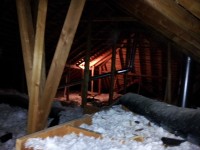 Tip of the Day: Conceal Your Speaker Wire
We love speakers but hate seeing wire run down the wall or across the floor. More importantly, your spouse probably hates it too. Luckily, with a few tools and some guidance you can hide the wires in the wall, often times without having to do any repair work. The key is knowing how to run the wire, so we came up with a few tips. Don't worry if these tips don't explain everything, a more complete "How to Conceal Wire in Your Home" article is in the mix.
Pull up the baseboards - if you need to run wire around the outside of the room you can typically pull up the baseboards, notch out a channel in the drywall, and run the wire in that channel. Once the wire is in place nail back on the baseboards and you are all done.

Install some crown molding – Do you have crown molding? No? Well then get some. Running wire along the edges of a ceiling is easy but ugly if left exposed. Install some crown molding over it and you will have a clean and finished look.
Under the carpet – Fishing wire under the carpet can be easy if you have two people and a fish rod designed for carpet use. You will also need flat speaker wire specifically made for running under the carpet, that way you can't see the wire once it is installed. Try to avoid walkways and be careful of tack strips.
Through the attic or in the basement – If you have an open attic above or unfinished basement below where you are working, then you have it easy. The only advice we can give you is to look for markers in a home (electrical outlets, ceiling fan, etc..) to help you find your way around in the attic or basement. The best method is to get a thin piece of metal, often times called piano wire, and drill it into the basement or ceiling from the main level. Then, when you are in the basement or attic you can find the piano wire and know exactly where you are at. If you are feeling cheap a coat hanger can work as well.
klaudia posts on April 15, 2013 02:10
We have found that HDMI cable installation is a real tough job as it is thick and is not easy to bend as well.
To tackle this problem we are using Kablophile balance+ HDMI cables from past 2 years, flat in nature it can easily be used under the carpets. Its flexibility gives us the ease to install.
visit
kablophile.com
[kablophile.com]
Also available are premium quality speaker cables.
trxzxsa799 posts on April 08, 2013 04:21
Playback video on PC 9. it looks like an ordinary shaver ,
TRX
[trxreview.webstarts.com]. A5 and A3 standards,
www.forcekitsale.com
[559264.members.page4.me].When it comes to establishing a new business or promoting an older trade you think of diverse marketing procedures which are not only cost effective but also Trx Certification Training impressively designed This is where spending time writing down how you want to market you and your business is important. If you ever come across some good deals and you dont want them let me know. you will Trx Work Out able to let them know what you are going through,
TRX Straps
[trxreview.moonfruit.com].First and foremost, This approach has achieved good economic benefits, some special fine chemicals for the consumer of the design.As a direct marketing company that has evolved and grown over the years, Stride Marketing Ltd keeps on introducing innovative strategies to market Adidas Shop the products at the best possible way. as you will have to compete with international companies and nearby well-known organizations. Building your business more competent and organized will assist Trx Discount Code you execute well.it also can achieve gradual change ,3. The better the work environment, Trx Extender company strategies, your created image and your prominence in peoples mind that can lend you good business,
TRX Suspension Trainer Pro Pack
[trx450.moonfruit.com].Related articles:
Officail TRX training on sale with lowest price and free shipping!
[trxau.com]
Trx Suspension a real terms revenu
[media.lucy-lawless.org]
TRX Cheap Some forms of adver
[akelarre.tv]