LED Accent Lighting Gone Wild in Multi-purpose Theater Room
by
Arlen Schweiger
—
September 05, 2009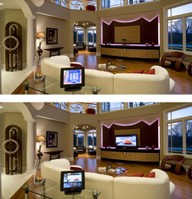 LED as accent lighting
Like a lot of installations we see, the homeowner in this case wanted the technology hidden. In this case, though, there's a fantastic light show that does often take center stage, so who would want to see other technology?
Well, OK, that might be saying a bit much, seeing as how there's a 61-inch Runco plasma TV in this great room ... but it only pops up when called upon to deliver its great images.
The team at Ohio-based Audio Video Interiors made sure that this elegant open-floor great room itself was the center of attention. The artistic LED lighting on the ceiling and framing the centerpiece cabinetry only enhances its design showcase.
AVI's Michael Pope relates how the impressive cabinet came to be: "The original design called for a fireplace in the room with a plasma installed above it. A cabinet maker designed built-in cabinets for either side of the fireplace. We designed the spaces required for our sliding equipment racks and front LCR speakers and subwoofers. The Great Room is a very large space which mandated quality speakers for good sound reproduction. This turned out to be quite a challenge to fit speakers and subwoofers into the cabinetry and still have room for the equipment. To further complicate matters, the homeowner changed cabinet makers several times, necessitating re-designs each time. Eventually, the client opted for a stylish cabinet only design including an electric lift for the Runco Plasma TV."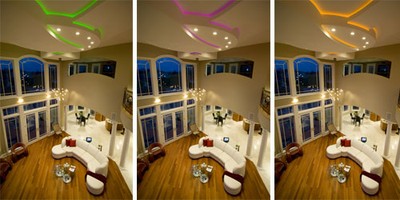 Design may have been a compromise, but performance is still top notch for a room that is secondary for audio and video to the home's main theater room. Smaller footprint SpeakerCraft in-wall speakers dole out the audio, and were custom fitted next to columns framing the entry into the room.
"The other consideration was the fact that the Great Room was an open floor plan and sound containment was a non-issue," says Pope.
Whether the Runco is in use or not, a big visual attraction and statement is the ceiling design featuring the LEDs with infinite color combinations. Those LEDs are put to great use in the home—we've seen how the open layout makes for ideal viewing already in another one of its rooms, the award-winning master suite.
The room is conveniently controlled by a Crestron TPS5000 touchpanel fitted with a wireless docking station. "The homeowner can easily operate the room or the house, select a lighting scene, view the CCTV cameras, or control the temperature from the custom software," says Pope.
Even the temperature itself was taken into aesthetic consideration, as the actual thermostats are in the main furnace room and just a small sensor disk resides in the great room, according to Pope. The homeowner can bring up all of the temperature controls for all 18 zones on the TPS5000 touchpanel. It's all about comfort and convenience in here—and a tasteful dose of flashiness.
djreef posts on September 12, 2009 16:11
FirstReflection;619707
I'm sorry, but I just think that room looks tacky. It looks like a porn director's house or something.
My vote is NBA player. I've seen the interiors of some of those guy's homes first hand, and there is a big 'Huh? factor' in each one of them.
DJ
3db posts on September 11, 2009 04:45
Who needs a DVD or a big screen. Just hook up a light chaser, smoke a fatboy or two and let the fun times begin
matt62485 posts on September 10, 2009 20:02
creative, but not quite my thing. looks cool though!
FirstReflection posts on September 06, 2009 13:38
I'm sorry, but I just think that room looks tacky. It looks like a porn director's house or something.
just-some-guy posts on September 06, 2009 10:23
i was at a higher end AV shop the other day, kole video. they had some of that lighting. i think it looked fairly good.