Building a Spouse Approved Home Theater Solution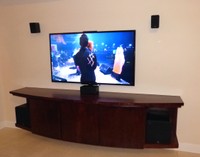 My family and I have been going to a friend for all of our dental work for the last 12 years or so. He is simply the finest dentist I've ever been to, very meticulous about the quality of his work and the products he uses on his patients. It pained me each time I'd visit his office to see Bose speakers sprinkled all over the place. When I told him what my line of work was, of course his reaction was to let me know the brand of speakers he uses throughout his office and at home, and how proud of them he was. My knee jerk reaction was to say "People that don't know audio know Bose." At first he smiled as if it were a compliment, but after about 1.5 seconds, it kicked in and he asked me "So what do you recommend?" The conversation continued over the course of the next year or so with each bi-annual visit. Finally with my last visit, he mentioned he was ready to build a new surround system in his family room. With that I went to his home to scope out the environment and assess his needs.
The room is not without its problems. It has tiled flooring and opens to a kitchen. Since his wife is extremely concerned with aesthetics, I knew it would be an uphill struggle to get them to make any acoustical improvements to the room. So, I had to carefully choose the components based on the environment. What made this struggle even greater was the fact they built an existing on-wall unit to house all of the equipment and didn't want to have big speakers anywhere in the room. In fact, if I didn't come up with a similar sized alternative to the very popular "cubed" system, that was going to be the route they would have taken. Knowing this, I had two options, a small cubed speaker system alternative, or in-ceiling/in-wall speakers. In-wall speakers for the front wall wasn't an ideal option since the wall was completely redone with an internal solid structure to support the on-wall cabinet and 60" LED display, and I didn't have enough space to route an in-wall center channel below the TV anyways.
Design Objectives
The goal of this system was design a compact, reasonably priced solution that provided surround sound in the main family room and distributed audio throughout the home. There were 5 pairs of additional speakers located in other parts of the home.
The Speaker Selection: EMP Cinema Compact System & SVS SB-1000 Subwoofers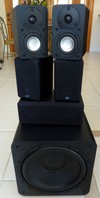 I proposed a few speaker options to our friend and he was insistent upon having the smallest speakers possible. This led me to recommend the new Cinema Compact 5 Home Theater system from EMPtek. The E3b mini-monitor is roughly the same size as the Bose Acoustimass satellite speaker and the E3c center channel is a bit deeper and wider than the Bose counterpart, but the height is the same. Considering the center channel was to be placed on top of the wall unit which had tons of horizontal and vertical space, this worked out nicely. Our dentist friend wanted the sub to be placed inside of the cabinet, which was roughly a 14" enclosure. This meant the matching EMP e10S subwoofer wasn't an option, nor ironically was the Bose bass module they wanted to use from the very beginning. The new SVS SB-1000 fit the bill nicely being a 13" cube and also being a very affordable $500/ea shipped!
I explained to our dentist friend that a small speaker system like this doesn't produce much bass and needs dual subs to compensate. In addition, having dual subs would produce a more consistent and even bass response throughout the room. He understood this very well, especially considering the subs wouldn't be obtrusive sitting inside of the on-wall cabinet. I did ask him to leave the two subwoofer locations completely open at the front and sidewalls for performance reasons and he obliged. Success so far.
Editorial Note about Small Speakers with Dual Powered Subs
Anytime I do an install of a small speaker system (especially in large listening spaces, I always employ dual subs located on the front wall directly under the main left/right speakers. This allows you to set a higher crossover point (say 120-150Hz) and run the subs in mono without any concerns of localization. In fact, if properly set up, it will produce the illusion of listening to a pair of large speakers.
The Components: Denon, Samsung, Panamax, & Dayton Audio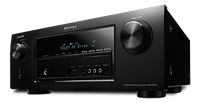 Denon AVR-2313CI A/V Receiver
MSRP: $899
I'm a big fan of Denon A/V receivers. They have solid amplification, great bass management, high reliability and they're jam packed with features. The AVR-2313CI is rated at 105wpc x 7, supports all the latest HD audio and video formats with 4k video pass-thru for the future. It has dual subwoofer output connections so you don't need a y-splitter when installing dual subs. The inclusion of Air Play allows you to stream audio to the receiver from your Apple device. The Denon Remote App also allows you to control the receiver from your Apple or Android device.
Samsung Display & Blu-ray Player
I won't even bother to mention the model# of either of these devices as they will likely be obsolete by the time this posts. The Samsung Display was a 60" LED that had all of the latest networking features and great picture quality. The Samsung Blu-ray player was probably the cheesiest Blu-ray players I've ever seen. It was literally about the size of a small box of chocolates and had no analog audio connections on it whatsoever. This is a real bummer for those wanting to use the player for a zone 2 analog device, which is what I was planning until I realized that this player simply didn't support it. I strongly encouraged my dentist friend to consider upgrading to an Oppo BDP-103 in the near future.
Panamax MR4300 (left pic) ; Dayton Audio SS6 (right pic)
The Panamax MR4300 Power Center
MSRP: $299
This is a neat, affordable power conditioner/surge suppressor that boasts 8 outlets and 1 USB charger. It also has front panel rotary lights for easy viewing and is designed to meet UL safety and regulatory tests, which is often not the case with competitor products at this price point.
Dayton Audio SS6 Speaker Selector
MSRP: $49
There is nothing fancy about the Dayton Audio SS6 Speaker Selector. It is basically a 6 zone speaker selector switch box with manual (and defeatable) impedance matching protection. It accommodates up to 14 AWG speaker cable and also features a loop-through output so you can directly connect the amplifier to an additional pair of speakers without being in the selector loop. I would have liked to utilize a separate amplifier to drive the whole home audio system, as be less taxing on the Denon receiver, but budget restrictions kept this from being possible.
Cables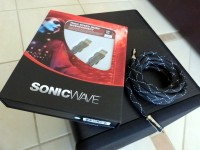 I used Impact Acoustics Sonicwave HDMI cables for all HDMI connections, Dayton Audio 16/2 white speaker cable (part# 101-223), Diamondback banana plugs (available from Sewelldirect.com) and the new SVS Soundpath subwoofer cables to connect the SB-1000 subwoofers to the Denon A/V receiver. I really like Sonicwave HDMI cables and the new SVS Soundpath subwoofer cables are both beautiful and very functional. They don't rip off connectors on your A/V equipment like some "turbine" connectors often do. Instead, these cables make a great connection, and are very flexible and durable in use.
Packaged System
This is a breakdown of all of the components sans the display and Blu-ray player which my dentist already had in his possession.
| | | | |
| --- | --- | --- | --- |
| Category | Manufacturer | Model# | MSRP |
| A/V Receiver | Denon | AVR-2313CI | $899 |
| Power Center | Panamax | MR4300 | $300 |
| Speaker Selector | Dayton Audio | SS6 | $51 |
| Speakers | EMP | Cinema 5 Compact | $500 |
| Brackets | RBH | SB-1B x 4 | $160 |
| Subwoofers | SVS | SB-1000 x 2 | $1,000 |
| Remote | Harmony | 900 | $299 |
| Cables | HDMI x 4, Analog & SPK Wire | Various | $240 |
| | | Total | $3,449 |
deepak posts on April 15, 2013 02:17
Well not practically invisible, but at EzHomz Solutions Delhi, India, we use Artcoustic Speakers which are easily approved by everyone including interior designers and of course your wife as they look very beautiful on wall, have amazing prints to match any color or any type of interior.
And all this is without any loss of sound quality.
Click here to visit
EzHomz
[ezhomz.in] website.
bobnegi posts on March 18, 2013 18:13
And that folks, is why I no longer do this type of work for anyone except myself
bobnegi posts on March 18, 2013 18:12
Know thats customer service on your part, half the job seems to be convincing people that they are missing out.

If it had been me, I would have suggested to the dentist, to just get a new wife, cause this one ain't worth it!
haraldo posts on March 13, 2013 13:41
Very very nice Gene, you're the man :-)

The problem you face many times is that people who want small invisible speakers don't really know what a well performing system can do and the pleasure you get from a really good sound system, only one way of doing this, prove it to them..... you should have invited his wife to listen to her favorite music in your rig Gene, then probably his wife would demand big speakers
As a dentist I'm sure he can pay a bill for quite descent speakers
Marshall_Guthrie posts on March 13, 2013 13:36
j_garcia;956694
Link hasn't been changed lol.
Looks fixed now.
As for the actual install, I think the SVS subs were a great choice. Truthfully, there isn't much in the small/sealed category that also performs well. The Aperion Bravus II 8D would be another great option as it's small and beautiful, but doesn't dig as deep. Did you consider any other subs before landing on the SVS?