Schumakubins Description and Setup
Introduction
As a Do-it-yourself speaker builder I have found myself wondering many times as I perused the internet's vast sea of home speaker builder's selections as to what some of the DIY speaker kits would sound like. I finally had the opportunity to do exactly that with The Audiologic Schumakubins. The Schumakubins are not just another DIY speaker from a home speaker builder. They are available in various kit options. First, let me give a little background about the designer and how these speakers ended up in my Reference System for review. The designer, Pete Schumacher, is someone I met many years ago as a work acquaintance. Pete and I used to discuss speaker building among other topics and we quickly became friends. In fact he is the person that sparked my interest in the Dynaudio drivers that have ended up as my main speakers which I like so much. Gene still likes to poke fun at me for my fondness of my own design. Well Pete and I only worked together for a few years before we departed the company which we were working and he moved out of state. I thought about Pete over the years because of our discussions and the hospitality that he and his family offered back then, wondering what he had been up to. About 15 years later, I was looking through the Parts Express speaker forum where I saw Pete's name and I knew there could only be one Pete Schumacher interested in speaker building. I contacted him and we quickly became reacquainted and we have been in contact with one another for a couple of years now. One of the strange things in our absence was that we independently had designed and built very similar speakers. We have discussed many projects over the last couple of years and in that course Pete was contacted by The Audiologic company to design a kit for them. The speakers were basically born from a request on the PE forum from Rudy Jakubin. As I understand it Rudy had a lot of the Dayton woofers and he posted a request on the PE forum asking if anyone had a design for these woofers. Well Pete spends most of his life on these forums and since he had been working a lot with the crossover design software he offered to design the speaker with a SEAS tweeter but then decided to go with a Dayton tweeter. Jordan Roy from The Audiologic saw these posts and asked if Pete would like to make his designs available to the public via a kit. Hence, the Schumakubins were born.
Description and Inspection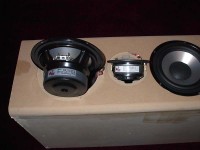 The Schumakubins are a floor standing speaker with a WTWWW (woofer-tweeter-woofer-woofer-woofer) configuration. The four 7 inch woofers and the 1" dome tweeter are aluminum from Dayton which is a Parts Express only brand. They are all fairly low cost drivers and in the past I personally would not have considered them but once I saw the distortion plots for these drivers I was very impressed. The tweeter is from the Dayton Reference Series but the woofer is not. In fact the woofer is only made from a stamped frame meaning it is not as rigid as more expensive cast aluminum frame drivers. This system is a 2.5 way design where the lower two woofers are the .5 way. They are cut off at a lower frequency than the upper two and are used to compensate for baffle step loss (when the wave front goes from half space to full space). This techno-babble translates to a smoother overall bass response. The crossovers were designed using free software that was written in an Excel spreadsheet. I have personally started experimenting with this software and it seems fairly robust. To use it you need a pretty good understanding of each crossover section. Pete has used it for several of his own designs and other DIYers via the forums. I have comparisons with the modeled plots and the actual measurements which you can see at the end of this article.
The design is very versatile. If they are built completely from scratch the drivers can be configured a few different ways. The cabinets can be ported or sealed depending on the desired bass response. The pair that Pete sent to me was sealed. I also told Pete not to put an aesthetic finish on them because I was more interested in their performance and the finish is completely up to the builder (no kit options as of this writing offers any aesthetic finish). It does make sense to mention their profile though. They are narrow and tall and there is no flexibility for the builder on the baffle width because it is part of the crossover design. To change the width would change the sound. Any speaker builder knows that the hardest part of building a speaker is cutting a perfect hole with a recess. One of the coolest options for purchasing this kit is that just the front baffle in the kit can be purchased with precut holes. The builder is only left to build a rectangular box, put it together and then put a finish on it. The front baffle if purchased is 1 inch thick and the recesses and holes are perfect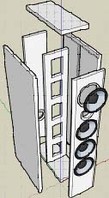 because they are cut on a CNC machine. When I installed the drivers they fit in their respective holes with ease. If you are new to speaker building do not under estimate the value in purchasing the precut front baffle. I have built many speakers with recessed holes and I usually spend a full day just cutting holes. By the way, the recess is a must in any decent quality speaker because without it there will be ripple diffraction. You only have one chance of getting the recess right and you need a plunge router and a good circle jig to do it. Once the main hole is cut after the recess I don't know of any way to fix the recess if it is wrong; if you do please let me know. Two sizes of the baffle are available, one for a sealed box and one for a ported box. If all pieces for the full kit are purchased it is important to know that they are also cut from the CNC machine and that the joints are rabbeted. This means that all the pieces fit together well to make assembly easy. I was not concerned about the aesthetics but I did take a good look at the cabinet's construction. Pete built this pair himself but he built it just like the complete cabinet that is available as an option. It had sufficient bracing and it included fiberglass plus some foam on the walls which eliminated internal reflections.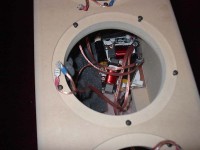 The crossovers were not much to look at because Pete threw them together for the review. He had not yet arranged who would be building them for the kit. Of course the design of the crossover is a different story. As was mentioned before they were designed around the front baffle shape and size and these particular crossovers were designed for this baffle/driver layout. So although different driver layouts can be done, a slightly different crossover design would be needed which I'm sure Pete would make available. I was a bit surprised to see iron core inductors in these crossovers; higher end speakers use air core inductors with heavier gage wire to keep the dc resistance low. The iron core inductors have a hysteresis which gives a non-linearity and might explain some of the missing detail I talk about later. If the crossover is built instead of bought then the inductors can surely be upgraded.
Configuration and Setup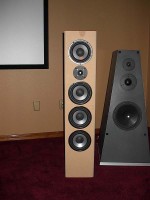 I had my processor set up as "small" for these speakers but it also allows me to listen to them in direct mode which plays "two channel" stereo with no crossovers. I mostly listened to them in direct mode which also doesn't play the subwoofers. I always try different speaker positions to find the best setup which usually involves placing them somewhere around my own speakers. I never know what the off axis response is like for a speaker at this point so whether they are set up to reflect or absorb early reflections is found by listening. In this case they sounded best with reflecting the sound and it was consistent with the measurements which were made later and are given below. The shape of the off axis curves should be the same as the on axis 0° response curve. If the off axis curves vary greatly then the speaker's reflections should be absorbed or diffused for the best sound.
They didn't have any kind of feet or spikes but obviously the kit builder has complete freedom in this choice. I placed them on some plywood to try to decouple them from the carpet. Keep in mind that this setup could have some big impacts on the bass and mid-bass response.
I tried placing them on the outside of my speakers which put them closer to the absorption panels but they were too far apart. Most speakers I set up end up on the inside of my own speakers and how far forward or back will either let me absorb the side reflections or not. The Schumakubin's sounded best here on the inside and more forward than my speakers.
Pete S posts on May 22, 2008 21:00
There is a common belief that iron cores are inferior to air core inductors. To an extent, that is true. But an iron core inductor used well below saturation will exhibit distortion levels orders of magnitude lower than the drivers they're connected to.

With the prices of copper these days, keeping the price of a passive crossover low almost mandates the use of iron/steel/ferrite as an inductance booster to lower the amount of copper required to achieve the desired result. The lower in frequency you go, the more it matters since the part values become quite large and expensive. Price out a 6mH air core inductor of 15ga or lower and you'll get a real shock.

The kit comes with many options, including one with no crossover, allowing the builder to simply use the accompanying schematic to construct the crossover with the parts they like the best. Low gauge air core inductors, boutique caps and metal film resistors may, or may not help in the overall production of sound, but it's a sure bet that the wallet will be a lot lighter.

The intention of the Schumakubins is bang for the buck, and a big sound in a small footprint at a low price. On that account, they really do shine. Crank them up and you'll really get a shock when you realize that those smallish 7" woofers are producing that full range sound.
Swerd posts on May 12, 2008 15:22
wadeh911;411033
Surprised to see iron core inductors still used, what was the crossover designer's explanation for this rather than air core?
The common belief is that air core inductors are better than any other kind for speaker crossovers is generally true, but not always. In 3-way speakers, or in this case a 2.5-way speaker, air core inductors are usually used everywhere in the crossover, except for the low-pass filter of the woofer, without significantly impacting the overall sound quality.
Iron core inductors use less copper wire, and as a result have much less resistance than equivalent air core inductors. For low-pass crossovers used with bass drivers, the lower resistance of an iron core inductor is worth it. The higher resistance of a large air core inductor would have a greater negative impact on the sound of a woofer that is probably already less sensitive than the other drivers in the speaker.
wadeh911 posts on May 10, 2008 11:19
Nice to see a loudspeaker review this thorough, particularly the recognition by the author for different listening tastes. Surprised to see iron core inductors still used, what was the crossover designer's explanation for this rather than air core? Also, what happened to the sand-filled wharfendale cabinet philosophies of yesteryear?