Pimp Mom's Car - How Pioneer Transformed a Jeep Liberty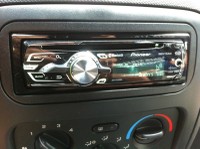 Pimp Mom's Car - How Pioneer Transformed a Jeep Liberty
At Audioholics we love audio. We love it. Wait, scratch that... we love GOOD audio. And with that said, it's with great pain that we ride in a vehicle that doesn't live up to the standards of an audioholic. And believe me when I say that MOST vehicle sound systems don't live up to those standards. But even taking into account that most vehicles will never sound as good as a well-tuned home theater system, there was one car that was absolutely horrendous. This car was the worst. It had boomy bass that didn't play low, nor did it know enough to call it quits when it received frequency content it had no business trying to reproduce. A car with high frequencies that used to attract cats in heat from across the neighborhood and cause bleeding in the ears of small children. A car who's audio system could turn even your favorite song into a poisonous cacophony of grating chord-filled agony.
Mom's car.
Now, this mom is around 40 years old (gosh, I hope she doesn't read this) but she drives a 2003 Jeep Liberty. A Jeep Liberty with a stock CD player and AM/FM radio. Now apart form the fact that this system doesn't feature any of the modern amenities expected in the digital age it had one more feature: it cost about $20. And I 'm talking for the whole thing. Head unit... speakers... there couldn't possibly have been more than $20 worth of parts in this radio in terms of its mass-production cost. It was that bad. Just look at it... it's laughing at you: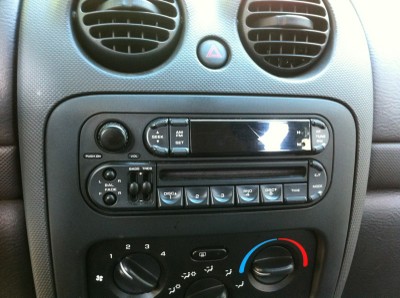 So what do you do? Well, we decided that an upgrade would be just the ticket for this year's Mother's Day. After all, we don't want mom's ears to bleed - right? "Enough!" I exclaimed. The pain was going to stop... whether you know your experiencing it or not, it's going to stop.
And so we turned to Pioneer. Pioneer had a new CD receiver that hit the market this year, dubbed the MIXTRAX. The model number is DEH-P8400BH and it's a CD receiver with a full color LCD display, built-in Bluetooth and an HD Radio tuner. With 50W x 4, it's also powerful enough to drive the efficient speakers we picked up to levels that were plenty loud for our Mom. For speakers, we went with the D-Series Component Speaker Package for the fronts as well as a pair of 2-ways for the rear speakers. So let's get into the details...
The Vehicle
The vehicle is a 2003 Jeep Liberty Sport 2WD 6-cylinder model with the stock stereo system that makes great music sound like it was played through an elephant's trunk... and the elephant was deaf... and its trunk was tied in a knot... you get the idea. In any case, the system uses a stock head unit without any frills, unless you call a CD player that doesn't reliably play CD-Rs a "frill". The speakers are paper cone drivers that are "full range" save for the fronts, which send a parallel feed through a single capacitor to a pair of half-decayed "tweeters". These tweeters are also paper cone, reminiscent of those oversized three-way speakers your dad insists are the best speakers ever made, but which you realize can now be outperformed by anything sold out of a white van in the parking lot of Best Buy.
The Pioneer DEH-P8400BH MIXTRAX CD Receiver
The Pioneer DEH-P8400BH MIXTRAX CD Receiver has a lot going for it, so we'll start there. First off, it has a ton of truly useful features, like Bluetooth audio and HD Radio. On top of that, it lets you connect your iPhone, iPod or other MP3 player to the radio to run your playlist through your car speakers. And, of course, the CD Player works with anything, including CD-Rs and MP3/WMA/WAV files. On the power side, it offers 4 channels of 50W MOSFET amplification, so you don't need an external amplifier unless you're running a subwoofer or really want some additional power. But in addition to that, the preamp outs run at 4V max output, so you can get incredible amounts of gain from this head unit.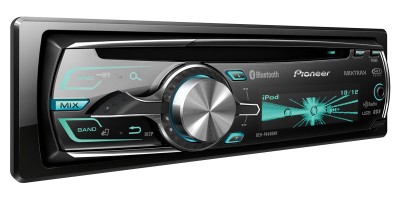 It also has a 5-band digital graphic EQ, subwoofer control, loudness mode and bass boost which, remarkably, seemed to work pretty well. The display is what really sells it, though. The display is a color LCD capable of reproducing 210,000 colors. That means that getting the 8400 to match your vehicle's interior lighting isn't going to be an issue.
The Pioneer D-Series Speakers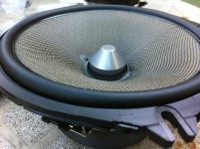 Pioneer's D-Series speakers are made with dual-layer Basalt Fiber IMX speaker cones and the component system uses real phase plugs in the woofers. They handle up to 260 watts of max power (60 watts nominal) and the tweeter is a 1-1/8" fabric dome that mounts to either the dash, the A-frame, or your front door pillar. The crossover frequency is right around 2800Hz, so it's about right with respect to vocals and what we'd want for a close-quarters system like this. Sensitivity is 88 dB @ 1W/1m and they are 4-ohm, so combined with the amplifier, they are designed to play really well with just the CD receiver and no external amplification (though you can always upgrade later). Frequency response is a stated 30Hz to 33kHz, but since Pioneer doesn't give us any graphs or output volume at those specs, we'd have to guess they are likely quite generous.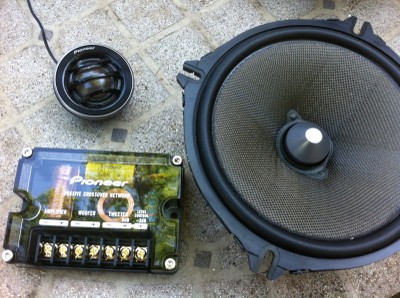 For the front Component speakers, Pioneer includes external crossovers that look to be well-made and far surpass the single high-pass capacitor that was in Mom's current system. The crossover has screw-down connections that are perfect for crimp-on spade terminals or, if necessary, bare wire. For the full-range coaxial D-Series speakers, the components used in those crossovers are equally impressive, particularly when compared to the stock speakers which might as well be made out of construction paper. Even the internal speaker terminals were properly configured so that vehicle vibration wouldn't eventually loosen the connections. Build quality was top-notch.
Installation
Installing the system was very easily accomplished. We did it in phases, largely so that we could progressively listen to improvements in the system. We started with the speakers, wanting to know just how significant the difference would be when we fired up the existing head unit into the new drivers. To begin, we popped off all four door panels and replaced the rear coaxial speakers first. This was the easiest job because it only involved crimping the new speakers to the old cables and drilling new holes for the screws to secure the replacement speakers into the holes left by the stock drivers. While the slots of the new coaxial speakers didn't line up with the existing holes, the speakers were big enough that their flanges covered the entire opening, thus allowing us to pilot new holes into the door and secure the speakers quite easily.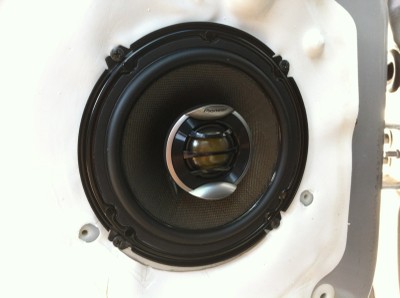 Once the rears were installed, we moved to the fronts, which were only slightly more complicated. Here we needed to wire up the new speakers to the crossover, decide on a position for the tweeters and also mount the crossover within the door frame. What we did was first size up the tweeters and mark the front pillars of the driver and passenger side doors. Having done that we ran wire up to that location and attached it to the tweeters' leads. Next, we secured mounting positions for the crossover by marking the hole positions and using a bolt and nut to fasten it to the inside of the door panel. Since we could reach into the front speaker holes, this wasn't difficult to do. Before we mounted everything, however we connected the leads to the crossover (using crimp-on spade connectors) so everything was ready.
Editor's Note: You may encounter several different difficulties or issues when installing speakers. If you're doing it on your own, be sure to keep a 9V battery handy so you can check and mark the polarity of the old speakers. You'll need to know this when you connect the wires up to the new drivers. There's nothing worse than having to rip apart the door again because you wired a speaker out of phase... except, of course, having to do it twice.
When we were finished, we noted, with delight, the fact that the new Pioneer tweeters looked right at home with the "round" stylings of the Jeep Liberty. Round AC vents, round door handles... and, now, round tweeters in the door posts. It's almost like they came that way from the factory... almost.
Listening Tests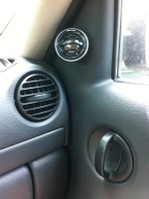 We started our listening tests with the factory CD receiver still installed. In fact, we listened to the factory system, warts and all, for quite some time in order to familiarize ourselves with the stock configuration. It was only then that we swapped out the speakers. We wanted to hear how the new D-Series sounded as an upgrade in and of themselves. Turns out, upgrading just the speakers was amazing. We queued up one of our favorite tracks, "New York Minute", which is perfect for testing high frequency response and a speaker's ability to be delicate and not brittle. With the tweeters elevated to the front pillars we though they were a bit too bright for our tastes. What's cool, however, is that Pioneer's crossovers have a -3dB output that drops the level of the tweeters. We decided it would be worth the trouble and reopened the doors, removed the panels and reset the crossover. The result was much improved. Now the tweeters weren't as overpowering and the bass and midrange had more presence.
We next selected some Toto tracks, which have excellent kick and snare. With "Pamela" and "Hold the Line" we realized that the new speakers had much more presence and male vocals in particular began, for the first time in the history of this car, to pop with true definition. It was time to flip out the head unit.
Installing the DEH-P8400BH involved pulling out the center trim panel, connecting the new wiring harness and antenna adapter we purchased from Crutchfield, and attaching the USB cable. We ran that cable back to the center console beside the front seats and added the iPod cable to that, readying our system for charging and playing tunes from Mom's phone. We also ran the microphone up the 'A' pillar and positioned the mic so that calls could be made using the integrated hands-free Bluetooth system.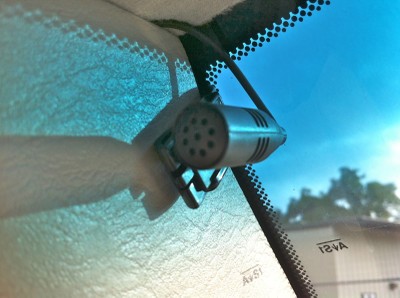 We then put everything back together and took a deep breath. This was the moment of truth. Would the $229 MixTrax CD receiver be a worthwhile upgrade, or did just the speaker upgrade do all the work? Well, in terms of just sound quality alone, the receiver upgrade was spectacular. It added depth and clarity to the tracks, plus the graphic EQ let us tweak the sound slightly to better fit the acoustics associated with the interior of the Jeep. Let me tell you, though, there is nothing like hearing some of your favorite tracks with actual detail and fidelity while driving. Sure, there are other factors like road noise, but everything gets better when you upgrade the output devices and source components.
Using the System
While the system sounded excellent, there's also usability. What's it do? How well does it do it? Turns out, the Pioneer DEH-P8400BH does a lot. A whole lot. Perhaps too much, in fact... OK, before I get onto that, let's look at what you have in terms of really cool features. The CD Receiver has an AM/FM tuner, but it also supports HD Radio. We found that to be excellent and loved that we could get some meta data to display on the screen with compatible stations. Plus, the system automatically switched over to analogue radio as needed whenever the digital signal strength was insufficient. You can store tons of presets, and the presets are independent for the three FM banks and single AM bank.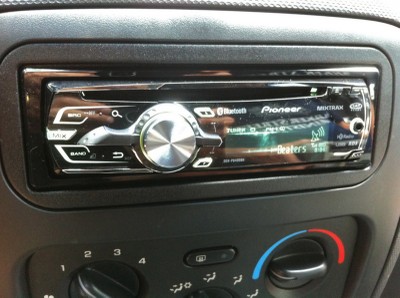 For getting music from our iPhone to the receiver, there were two options. First, we could use the USB cable (which we added an Apple cable to, making it fully play-and-charge compatible, or you can stream music over Bluetooth. If you stream music, as we did most of the time, the receiver will literally trigger your phone to start playing music each time it makes the connection. That means that I just kept the phone in my pocket and when I started the car, the tunes resumed where they had let off. That is so cool, words don't suffice - you just have to experience it for yourself.
When physically connecting an iPhone to the Pioneer CD receiver, we loved to use the MIXTRAX EZ mode... OK, the kids loved to use the MIXTRAX mode, which lights up the receiver like a Christmas Tree in rhythm and intensity with the music and auto-mixes your library with effects and crossfades. You can also skip forward or back, which causes the receiver's color scheme to go haywire as the unit emits a sound like a DJ shuffling a record on the turntable in reverse. It's pretty cool as a party trick, but once the intrigue wore off, it was pretty much only the kids who wanted that feature.
Hands-free calling is a god-send. Once paired, Mom could get into the vehicle and automatically take calls, regardless of what mode or setting the receiver was on. The audio would pause, allowing the ring tone to come through the speakers. Then, you could push the volume/control button to take the call. What we also liked was that the volume automatically reconfigured itself, even if you had previously turned down the music. It's like the Pioneer DEH-P8400BH knew you needed to be able to hear the conversation and adapted accordingly.
CDs played flawlessly and we didn't have skips and jumps, meaning the error correction is pretty sophisticated - at least compared to our stock system which seemed to only want to play mint-condition discs that were sterilized in holy water drained from St. Peter's Cathedral. The system does more as well, lots more. The LCD screen has multiple backgrounds, there's a credit-card style remote, you can detach the face...
Which brings me to my only gripe. The Pioneer DEH-P8400BH seemed like it belonged in a space shuttle. There seemed to be no consistent user interface. The main knob didn't do the same thing all the time. The hard buttons are very mode-dependent. We couldn't even turn the system off consistently. We found ourselves wishing that it was more easy to use... like the stock radio it replaced. Why is this such a big deal to me? Simple. It took us longer to train our Mom to use her new system than it did for us to install it!
Conclusion
Pioneer is NOT alone in developing confusing user interfaces for CD receivers. So that means that the problem is really industry-wide. With that said, when comparing the DEH-8400BH to the other products on the market - they have a LOT going for them. This is a solid CD receiver that absolutely redefined audio in the 2003 Jeep Liberty. Hands down this is the greatest "excitement" upgrade you could make to that car. And really, we found that upgrading both the speakers AND the head unit are worthwhile. We'd say that we heard a true night and day difference when we upgraded the speakers, and then half again that amount when the head unit was replaced. Dynamic range increased as did the ability to reproduce audio without distortion.
This was a great experience for our Mom and one that you should consider replicating in your own vehicle. You will NOT be disappointed.
Check out the Pioneer DEH-8400BH here.
ChrisFox posts on May 11, 2012 10:50
All I really ask in a car radio is a knob for volume, large easy to fell buttons for presets,an aux port and seek/scan buttons. If I could only find one that only had those and not the 300 things I'll never use. One I have now uses the one huge knob for everything. Volume, left and right without pushing in goes through presets. Pushing in brings up the menu. I've never figured out how to get out of the menu except for turning it off. Up and down without pushing in is for fade balance. Can't get out of that one either.
STRONGBADF1 posts on May 11, 2012 08:16
Inconsistent functions and ridiculously bad manuals are a way of life in the car audio world. I have one in my truck that is so bad that I need to get another. Just tuning the radio is a chore.
GranteedEV posts on May 11, 2012 01:01
Yeah, it's big what just swapping speakers will do for you..
But unfortunately, I'm starting to be convinced that the absolute most difficult thing for a car stereo to reproduce, is god-damn AM Radio
I think it's because male vocals resonate greatly with door-panels. You really need to do something about that aspect if you can.
My 2cents for a good car setup:
A bit of CLD is a good place to start to reduce those door panel resonances.
Road noise is of course an issue, because it raises the SPLs you try to force out of your driver. Mass Loaded Vinyl + Closed Cell Foam are never a bad idea in the doors, and anywhere else you can put them.
As far as speakers go, I think what you need is a larger driver that can cover as wide a range as possible. Something like this in a box:
Scan Discovery, 10F/4424G
[meniscusaudio.com]
Aim them so they cross in front of the middle driving seat it will be directional in the treble. That's got its pros however as it should improve imaging a bit . The main thing is that it's covering much of the whole midrange without space issues. If you need to add a supertweeter, that can be your call. I wouldn't bother.
Add in some decent 6.5" woofers to cover 100hz to 400hz. Don't need to go overboard
Dayton RS180S-8 7" Reference Shielded Woofer 8 Ohm 295-364
[parts-express.com]
And cross them together near 500hz to your woofer, digital/actively with as much control as you get. Ability to measure is of course very important. Something like a miniDSP:
miniDSP 2x8 kit | miniDSP
[minidsp.com]
Will handle this part.
Finish it off with a decently sensitive subwoofer, like this,
Peerless 830669 12" Paper Cone SLS Subwoofer 264-1118
[parts-express.com]
in as large a sealed box as you can personally deal with, that will benefit greatly from pressure vessel gain inside the car. If you can mostly seal off part of the trunk, that may be best. Sensitivity in the 50hz to 100hz region is probably a lot more useful than deep extension, as you don't really want to need a lot of power for the sub.
The hard part? Figuring out a place to put the 3.5" mid-tweeter and an "enclosure" for it.