Multifunction Seat Riser - Construction Procedure
Step 1:  Lay out all of your materials in a big open area and begin planning where to make your cuts.
Since the width of my riser is bigger than two 2' x 4' sheets of plywood, I had to determine the best place for placing the extra oddball piece which was roughly 9" in width.  I placed it between the two 2' x 4' sheets which happened to perfectly line up with one of my 2' x 8' joists.  Placing this piece on the extreme side of the riser is not advised as you risk compromised structural integrity, especially as someone steps off the riser platform.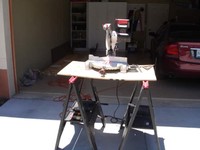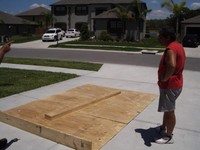 Step 2:  Layout the plywood base in your theater room, strap it together and begin framing the joist structure.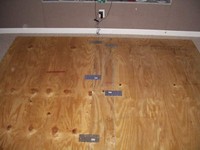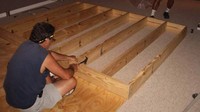 We used hurricane straps with small nails to secure the particle board base sheets together.  We then framed out the riser in my theater room.  I'd advise you do it here rather than another location as the finished structure will be big and heavy and most difficult to transport, especially if your theater room is on the second floor like mine. 
Step 3: Fasten the structure and drill the ports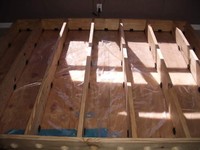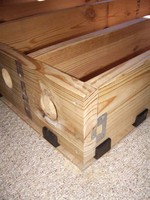 Before setting down the joist structure on top of the plywood flooring, I suggest placing plastic on top of the plywood.  This will make your life much easier when inserting the Auralex mineral fiber and prevent fibers from seeping out of the riser.  I used 4" screws to join each 2 x 8 joist member in addition to wood clips on the edges to firmly secure and square the structure.
Once the framing was completed, we drilled out the two 1-1/2" ports using a hole saw.  This deviated a bit from the Auralex plan of 2" holes, but I felt the greater volume of air flow would be beneficial while also maintaining excellent structural integrity of the front face plate by not drilling overly large holes.  A word to the wise, use an electric drill as most non-professional battery powered drills will discharge after drilling one or two of these holes into a 2 x 8.
Step 4: Install the U-Boats and Cut to Finish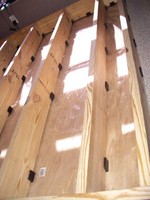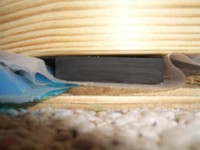 The best method I found was to stand the joist structure up on its face and place the U-Boats on each joist every 16" or so.  Then carefully set the structure down back on the plywood flooring.  You may find some of the U-Boats will shift or fall off while doing this which is why it's a good idea to have a friend or two handy to help you lift this heavy structure to reset them in place.
After you have your U-Boats positioned, you will need to cut the front face off each of them around the entire perimeter of the structure so that you can flush-mount the carpet during the final finish stage.  I used a razor knife to cut them since the rubber is fairly pliable.
What are Auralex U-Boats?

Made of a specially-formulated rubber compound, U-Boat Floor Floaters are Auralex's proprietary U-shaped channels used to support framing members and float (isolate and decouple) them from the surrounding structure. 
Size: 2 1/8" wide x 1 1/2" high x 2" long
Color: Black
Thickness: sides=5/16" and base=1/2"
Box Quantity: Available in lots of 50 or more
What is Auralex Mineral Fiber?

A very dense insulation type material specifically designs for acoustical usage. It yields better bass trapping, overall absorption, thermal characteristics, moisture absorption and sound transmission loss (isolation) than the typical "pink stuff" insulation.
NRC: 1.00 (2" and 4")
Qty. Per Box: 2" - 6 (48 sq. ft.); 4" - 3 (24 sq. ft.);
Flame Retardancy: Class A
Step 5: Cut the Mineral Fiber and Stuff the Riser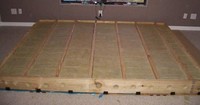 Yea I know the face mask I am wearing looks cheesy, but it's better than inhaling strands of mineral fiber which can cause Fibrosis of your lungs and eventual Emphysema.  The mineral fiber allegedly puts off 90% less airborne particles than traditional fiberglass but I play it on the safe side when it comes to health.  I used my handy razor knife again to cut the sheets of mineral fiber to fill each cavity of the riser.  Note the spacing left between the top of the mineral fiber and the edge of the raiser framing.  Once we place our MDF flooring down, we will have the necessary air gap required to create the tactile response.