HTPC 2003 - Video and Audio
The Video Card - ATI Radeon 9800 Pro AIW
For our HTPC I have chosen the ATI Radeon 9800 Pro All-In-Wonder. A few of the basic video card functions have already been explained earlier in the article but I will do a brief recap here.
This card offers:
Wireless Remote control (incredibly useful feature!)
TIVO and live TV pausing / recording to HDD
S video / component video / DVI connections
Minimum of 128 megabytes DDR RAM
Interactive progamming guide
If you want to save a significant amount of money here, and wont be using this HTPC for gaming, you can go with the ATI Radeon 9600 AIW card. If you could care less about using your HTPC as a PVR, then grab a Radeon 9200 SE or an nVidia GeForce4 MX4000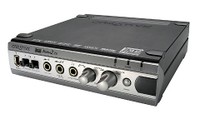 The Sound Card - Sound Blaster Audigy 2 ZS Platinum Pro
Considering the purpose of this project, the soundcard is obviously one of the most important choices for our HTPC. The basic functions that the soundcard should serve have already been covered earlier in this article, so I will just recap a few features that should be included in the decision.
Multichannel support, up to 7.1 channels.
Dolby Digital or DTS decoding.
A digital optical or digital coaxial output
Great supporting software with lots of audio/music features
EAX sound processing
24 bit / 192 kHz audio
DVD audio
Wireless Remote control (incredibly useful feature!)
For this article we are going with the Sound Blaster Audigy 2 ZS Platinum Pro.
Certain individuals or elite audiophiles may be turned off by my choice of consumer soundcard, but you save a tremendous amount of money staying with consumer audio solutions. In addition, there is an ongoing debate on the driver issues and such, but we have found the newer line of Creative Products to be fairly friendly - at least with regards to WindowsXP. You can also save some money here and go with the Sound Blaster Audigy 2 ZS or, If you really want to save some money, you can scoop up a 16-bit Sound Blaster Live! 5.1 card
Hard Drive(s) - Two (2) Maxtor DiamondMax Plus9 80G
If you decide to go SATA, as I did, you have three main choices using the configuration I've spec'd out. First, you can go with a single IDE (parallel ATA) drive, install a single SATA drive, or install two SATA (serial) drives set up in a RAID configuration. The main differences between the three options are:
The IDE (PATA) configuration will cost the least.
The single SATA solution will be a bot faster, but cost a little more
Dual S ATA drives can be easily set up in one of two available RAID configurations (RAID 1 mirroring and RAID 0 striping). Mirroring (Raid 1) copies the data to both drives, offering unbeatable safety of your data. Striping (RAID 0) splits the data in half and copies a half to each drive therefore making access times and performance much faster. However, if one drive suffers a failure, all data is lost (there are more advanced solutions that prevent this, but for now we'll just keep it simple). The cost is also a very significant factor here, as RAID configurations are quite expensive.
Of course, the cheapest solution above is to use IDE drives which can be purchased for much less. Whatever the choice, I would suggest purchasing a HDD that is no less than 80 gigabytes. The price for a quality hard drive is at an all time low (especially if you look out for rebates), and an endless amount of room for all your MP3's, movies and games is desirable.
Optical Drive(s) - Samsung SD616T DVD-ROM Drive
A CD-ROM is essential for several reasons. It will be needed to install drivers and the operating system. Most, if not all drivers and software are only available on CD-ROM nowadays. That being said, I would opt for a good DVD drive. This drive will include all of the features of the CD-ROM, plus you will be able to play DVDs on it and it enables the system for future formats. Soon, a lot of media and software will be going to DVD format, not to mention that a DVD-ROM drive is only marginally more expensive than a CD-ROM. You will also be able to play DVD-Audio discs with a compatible sound card. Personally I am not going to sit in front of the TV to burn CD's therefore that eliminates the need for a CD burner. If, however, you want to store your entire music collection on the hard drive and make compilations CDs, then this might be something you'll want to add.
Option: Lite-On 52x/32x/52x CDRW
Floppy Drive
Huh? What's a floppy drive?